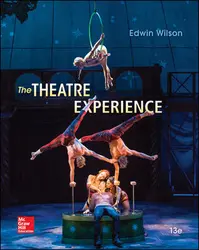 The Theatre Experience
Copyright: 2015
Publication Date: March 18, 2014
MHID: 0073514276
ISBN 13: 9780073514277
Price :

$111.83

Qty :

Total :

$111.83
The purchase quantity range should be
1
-
29
for this product.
Pricing subject to change at any time. We only ship to US locations
New Features
"Playing Your Part" features in each chapter consist of two sets of critical thinking questions:

"Experiencing Theatre" activities help students actively to engage with the concepts of the text. These exercises ask students to undertake activities within the classroom or to understand how aspects of their everyday lives connect to core concepts discussed in the text.

"Thinking about Theatre" questions challenge students to analyse and examine elements of a theatre experience.

New "In Focus" features include two categories:

"Global Connections" present the global reach and influences of theatre from various cultures. Topics include Augusto Boal's "Theatre of the Oppressed" (Chapter 1), Asian influences on the playwrights Brecht and Wilder (Chapter 6), and global influences on Julie Taymor (Chapter 12),

"Historical Perspectives" features bring relevant topics about the past to life: women in Greek and Elizabethan theatres, performers' status at different points in time, the evolution of the director.
---
Key Features
The global, universal nature of theatre takes center stage in a number of new sections and features. This edition takes students around the globe and across time to demonstrate the universality of theatrical expression, whether on stage or through rituals. In addition to the chapter on Today's Global Theatre, Global Cross-Current boxes build on these themes by highlighting influential practitioners.
New coverage of postmodern and non-text-based theatre productions provide students with insights into contemporary theatre movements.
Updated Online Leaning Center offers a wealth of additional student and instructor resources, including an electronic version of the McGraw-Hill Theatergoer's Guide and a detailed glossary of Major Theatrical Forms and Movements. There are also self-tests and internet activities that help students to evaluate their understanding of the concepts in each chapter.
Engages students by putting them in the audience and showing them that as audience members they are active participants in the performance which helps to open their eyes to theater and to the impact of live performance.
A superb, colorful, and comprehensive photo illustration program engages students and faculty with striking contemporary images and examples, as well as historical context, to demonstrate the diverse range of productions.
Historical Perspective boxes emphasize historical context where appropriate, providing students with the background necessary to understand everything from classic to avant-garde productions.
Dynamics of Drama boxes illustrate difficult theatre concepts throughout the text, making it easier for students to understand and apply them as audience members.
Learning Solutions Best Bet: 1. Add Plays - There are 65 plays in CREATE that can be used to create a reader or bind the plays into the current text. 2. Theatre Goer's Guide - Attending a live performance is central to this course. Best bind options are chapters 1 & 2 from this guide. Chapter 1 provides audience etiquette on what to expect while chapter 2 helps students construct a Theatre Report (a common writing assignment).
"The Audience's Response" boxes feature critical-thinking questions that challenge students to apply the concepts from each chapter to their own experiences as audience members. Whether they attend local, university, or Broadway productions, students can use these questions to gain a framework for responding to the productions they attend.
The Theatre Experience
PART ONE:The Audience Chapter 1:The Audience: Its Role and Imagination Chapter 2:The Background and Expectations of the Audience Chapter 3:Theatre Spaces:The Audience Views the Stage PART TWO:The Performers and the Director Chapter 4:Acting Chapter 5:The Director and the Producer PART THREE:The Playwright and the Play Chapter 6:Creating the World of the Play Chapter 7:Dramatic Structure and Dramatic Characters Chapter 8:Theatrical Genres PART FOUR:The Designers Chapter 9:Scenery Chapter 10:Stage Costumes Chapter 11:Lighting and Sound PART FIVE:The Theatre Today Chapter 12:Musical Theatre
Chapter 13:Global Theatre Today
Chapter 14:Contemporary Theatre in the United States