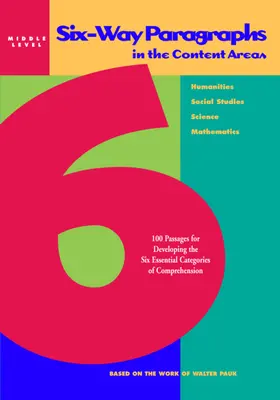 Six-Way Paragraphs in the Content Areas: Middle Level
MHID:
0809203723 |
ISBN 13:
9780809203727
Product Description
Six-Way Paragraphs in the Content Areas teaches the essential skills and techniques needed to organize, understand, and apply information in four general categories: the humanities, social studies, science, and mathematics.
Purchase this product
Price :

$21.09

Quantity :

Total :

$21.09
The purchase quantity range should be
1
-
29
for this product.
Pricing subject to change at any time. We only ship to US locations.
Key Features
Concentrated skills. Focuses on the six skills that will help students read successfully.
High-interest nonfiction at every level. Engages students with a wide variety of readings in each category.
100 passages in every book. Four reading levels in each book with 25 passages at each level improve reading skills and ensure mastery.
Comprehensive lesson on the six vital skills. Provides in-depth explanations and examples for each of the targeted skills.
Diagnostic Chart and Progress Graph in each book. Help monitor progress and determine which skills need additional practice.
Six-Way Paragraphs in the Content Areas: Middle Level
To the Student
To the Teacher
Life Science and Physical Science
A Great American Playwright
How Much Do You Save?
Gold and Silver Worth $30 Million
Plate Tectonics: A Very Slow Ride
Cubism
Not Just a White Man's War
Beyond the Domino
An Essential Scientific Process
Scraping the Sky
Prime and Composite Numbers
Pavlov's Bewitched Dogs
Black Holes
The Nuyorican Poets Cafe
Random Numbers
Where in the World?
Unlocking the Human Genome
Novels of War
"Monday's Child Is Fair of Face"
Shirley Chisholm, Political Trailblazer
Sunspots
Classical Music
Making a Budget
The Homeless
Recognizing Volcanoes
The Art of Frida Kahlo
The Quadragenarian in the Quadrangle
The Sahara
Making Silicon Chips
The Harlem Renaissance
The Highest Court
Converting Measurements
A Little Lamp to Read By
Native American Pottery
The British in India
Storing a Million Dollars at Home
The Good Mother Dinosaur
The Romantic Poets
Cargo Cults
Patching Things Up with Your Bank
How Snow Begins
Cajun and Zydeco
Xi'an Warriors
Tracking Down HIV
Playing Havoc with Generations
Thirteen Days in October
The Development of Ballet
Chemical Compounds
If This Is San Francisco, It Must Be Yesterday
The Bones Tell Another Story
Shakespeare's Tragedies
Whatever Floats Your Boat
Working Through a Math Puzzle
Port Chicago
A Malaria-Carrying Mosquito
The Gothic Cathedral
Happy 22nd Birthday, Great-Great-Uncle Mike!
The Global Positioning System
Images of Migration
Carbon Is Everywhere
Riding the Stock Market Roller Coaster
An Independent Woman
Telling Tales About People
Newton's Laws of Motion
The Binary Number System
Separate No More
Tales from Ovid
Mr. Jefferson's Moose
Buying and Maintaining an Economy Car
The Changing Middle Class
The Photography of Manuel Alvarez Bravo
Cryosurgery
Adding 100 Numbers in Minutes
The Seneca Falls Convention
Tap Dancing
George Washington and the Gregorian Calendar
Hurricanes
Brazil's Favelas
Caribbean Writers
Who Drinks Mineral Water?
Kinds of Rock
"Don't Ride the Buses"
ArtDeco
Getting Out of Credit Card Debt
Endangered Amphibians
Antarctica Is There Something There?
Thinking in the Metric System
A New Vision of Nature
Come In. It's COOL Inside!
Evacuation from Saigon
Winning Combinations
Native American Literature
Can You Hear This?
Resurrecting a Spanish Galleon
What a Coincidence!
Dance, Medieval Style
Genetic Engineering
Who Planned This Park?
Avoiding Supermarket Booby Traps
A Play for Every Decade
Answer Keys
Diagnostic Charts
Progress Graphs