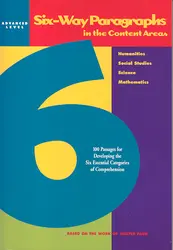 Six-Way Paragraphs in the Content Areas: Advanced Level
Copyright: 2001
Publication Date: February 12, 2001
MHID: 0809203731
ISBN 13: 9780809203734
Price :

$21.09

Qty :

Total :

$21.09
The purchase quantity range should be
1
-
29
for this product.
Pricing subject to change at any time. We only ship to US locations
Key Features
Concentrated skills. Focuses on the six skills that will help students read successfully.
High-interest nonfiction at every level. Engages students with a wide variety of readings in each category.
100 passages in every book. Four reading levels in each book with 25 passages at each level improve reading skills and ensure mastery.
Comprehensive lesson on the six vital skills. Provides in-depth explanations and examples for each of the targeted skills.
Diagnostic Chart and Progress Graph in each book. Help monitor progress and determine which skills need additional practice.
Six-Way Paragraphs in the Content Areas: Advanced Level
To the Student
To the Teacher
Not Quite as It Seems
Descended from Dinosaurs
Space Invaders
Get Me to the Airport on Time
Famous Fiddles
Seasons
City Planning
Brother, Can You Spare $100,000?
What Is a Wat?
Blankets of Ice
Archaeological Fact or Fiction?
The Golden Rectangle
A New Kind of Play
In or Out of the Water?
A Deadly Game of Hide and Seek
Double or Nothing
To Focus or Not to Focus
Peering into the Sky
Can the Earth Feed Its People?
Can We Get Rid of Some Zeros?
A Little Book of Poetry
The Earth's Blankets
The Family
Birthday Twins
Nigerian Bronzes
To Soar Like a Bird
Alexandria's Sunken City
Geometry on the Floor
Asian-American Themes
Physical, Chemical, or Nuclear?
Please Continue
Good for Nothing?
To Whom Are You Speaking?
Falling from the Skies
The Mystery of the Ancient Ones
Two Types of Spirals
Which House Is the Bauhaus?
Achieving Cardiovascular Fitness
Bigger and Bigger
The Romance of Arthur
Just Like Jack and the Beanstalk
The Earth Moved
Very Separate, Very Unequal
Theater from the Heart
An Intense Beam of Light
The Toss of a Coin
You Have the Right to Remain Silent
Stepping Lively
Is lt Real, or Is lt...?
Drawing on the Definition
1968: A Watershed Year
Squiggles and Colors on Canvas
Weathering
Zeno's Paradoxes
Good, Bad, or in Between
Tales of the Terrible Past
Bacteria Killers
A Creative Leap
Looking for Mr. Spenser
Making Drama from History
A Multiuse Substance
What's Rational About That?
Suu Kyi's Struggle
Getting Inside Characters' Head
Infection Makers
Precision and Common Sense
Domestic Violence
Building the Wright Way
Seeing Double
What's It Worth to You?
Unwritten History
It's Not What You Say, but How You Say It
A Chain of Life
A Visual Illusion
Growing Your Brain
Equilateral and Equiangular
Time Passes, Seasons Change
Real-World Robots
Psychological Research
Looking Across for Answers
Water to Drink
Flying People and Never-Ending Storms
The End of a Friendship
Only Length Times Width?
Polymers
All That Jazz
A Constant Battle
Helpful or Harmful?
Making Patterns with Numbers
Seeing the World Centuries Ago
¡Huelga!
The Impossible Equation
Forever Warm
Isn't It Absurd?
Phobias
Just Rolling Along
Keep Those Teeth Clean!
The City on the Rise
The Challenge of Fitting In
Putting the Pieces Together
Answer Keys
Diagnostic Charts
Progress Graphs