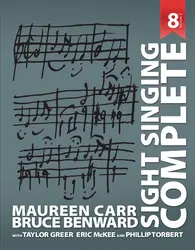 Sight Singing Complete
Copyright: 2015
Publication Date: March 19, 2014
MHID: 0073526657
ISBN 13: 9780073526652
Price :

$88.55

Qty :

Total :

$88.55
The purchase quantity range should be
1
-
29
for this product.
Pricing subject to change at any time. We only ship to US locations
New Features
New! A more comprehensive approach to rhythmic studies, including units on 3 against 2, hemiola, 4 against 3, irregular/additive meter, and poly-meter.
New! "Play + Sing" exercises that integrate sight singing, score reading at the keyboard, and rhythmic fluency into a singly activity in all sixteen units spanning Bach to Brubeck.
New! Selections from a wide range of sources, supplementing those retained from the previous edition, including Scottish, Russian, Native American folk songs, and excerpts from operas, symphonies, and choral repertoire.
---
Key Features
Builds on real repertoire.
A systematic organization.
Diversity of examples.
Sight Singing Complete
Unit 1 A. Rhythm—Simple Meter: One-, Two-, and Three-Beat Values and Duple Division of the Beat B. Diatonic Models and Melodic Fragments:M2 and m2 C. Melodies by Bruce Benard(Major):M2 and m2 D. Melodies E. Ensembles and Play + Sing Unit 2 A. Rhythm—Compound Meter B. Diatonic Models and Melodic Fragments: P5, P4, M3, m3, M2, and m2 C. Melodies (Major): P5, P4, M3, and m3 within the Tonic Triad and M2 and m2 D. Melodies (Major): P5, P4, M3, and m3 within the Diatonic Scale E. Ensembles and Play + Sing Unit 3 A. Rhythm—Simple Meter: Duple Division of the Beat B. Diatonic Models and Melodic Fragments for Interval Singing: P8, P5, P4, M3, m3, M2, and m2 C. Melodies (Major): P5, P4, M3, m3, M2 and m2 with the Diatonic Scale D. Melodies (Minor): Mostly by Bruce Benward E. Ensembles and Play + Sing Unit 4 A. Rhythm—Simple Meter: Quadruple Subdivision of the Beat B. Diatonic Models and Melodic Fragments: m10, P8, P5, P4, M3, m3, M2, and m2 C. Melodies (Major and Minor): P5, P4, M3, m3, M2, and m2 D. Melodies (Major and Minor): P5, P4, M3, m3, M2, and m2 E. Ensembles and Play + Sing Unit 5 A. Rhythm—Simple Meter with the Triplets B. Diatonic Models and Melodic Fragments: M6 and m6 C. Melodies (Major and Minor): M6 and m6 D. Melodies (Major and Minor): M6 and m6 E. Ensembles and Play + Sing Unit 6 A. Rhythm—Simple Meter: Further Subdivision of the Beat in Simple Meter B. Diatonic Models and Melodic Fragments: M6 and m6 C. Melodies (Major and Minor): M6 and m6 D. Melodies (Major and Minor): M6 and m6 E. Ensembles and Play + Sing Unit 7 A. Rhythm—Hemiola B. Diatonic Models and Melodic Fragments: M7 C. Melodies (Major and Minor: M6 and m6 D. Melodies (Major and Minor): M6 and m6 E. Ensembles and Play + Sing Unit 8 A. Rhythm-Simple Meter:The Supertriplet B. Diatonic Models and Melodic Fragments:m7 and M7 C. Melodies (Major and Minor): m7 D. Melodies (Major and Minor): m7 E. Ensembles and Play + Sing Unit 9 A. Rhythm—Further Subdivisions of the Beat in Compound Meter and 3 against 2 B. Diatonic Models and Melodic Fragments: A4 and d5 C. Melodies (Major and Minor): Chromatic Alterations, Modulating and Nonmodulating D. Melodies (Major and Minor): Chromatic Alterations, Modulating and Nonmodulating E. Ensembles and Play + Sing Unit 10 A. Rhythm—Changing Meter with Triplets and Aligned and Displaced Hemiolas B. Diatonic and Chromatic Models and Melodic Fragments: A4 and d5 C. Melodies with Chromatic Alterations D. Melodies with Chromatic Alterations E. Ensembles and Play + Sing Unit 11 A. Rhythm—Subdivisions of the Beat into eight parts B. Diatonic and Chromatic Models and Melodic Fragments: d7 and A2 C. Melodies with Modal Characteristics D. More Melodies E. Ensembles and Play + Sing Unit 12 A. Rhythm—The Quartolet B. Chromatic Models and Melodic Fragments: A6 and d3 C. Melodies with Modal Characteristics D. Melodies E. Ensembles and Play + Sing Unit 13 A. Rhythm—Further Subdivisons of the Beat:4 against 3 B. Diatonic and Chromatic Models and Melodic Fragments: d4 C. Melodies Related to Jazz D. Melodies by Duke Ellington E. Ensembles and Play + Sing Unit 14 A. Rhythm—Irregular of Additive Meter B. Modal Mixtures and Enharmonic Modulation Models and Melodic Fragments C. Twentieth-Century Cabaret Songs by Arnold Schoenberg D. Twentieth-Century Songs E. Ensembles and Play + Sing Unit 15 A. Rhythm—Changing Meterswith Constant Pulse B. Whole-Tone, Octatonic, and Atonal Models and Melodic Fragments:All Intervals C. Twentieth-Century Melodies D. Vocalises by Honegger and Martinu E. Ensembles of the Twentieth Century Unit 16 A. Rhythm—Polymeter B. Twelve-Tone Models and Melodic Fragments for Interval Study C and D. Twentieth-Century Melodies E. Ensembles of the Twentieth Century