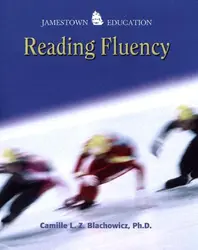 Reading Fluency: Reader, Level H
Copyright: 2004
Publication Date: April 4, 2003
MHID: 0078456983
ISBN 13: 9780078456985
Price :

$19.62

Qty :

Total :

$19.62
The purchase quantity range should be
1
-
29
for this product.
Pricing subject to change at any time. We only ship to US locations
New Features
Three simple components offer a world of help for fluency
Seventy-two high-interest 200-word passages per level encourage fluent oral reading
Ten readability levels match students' independent reading levels
Extensive Teacher Notes with research background and classroom-tested ideas
Extensive Teacher Notes include
Research background on the importance of fluent reading
Techniques for using the materials
Ideas for using the materials for placement and assessment
Other ways to develop oral reading fluency
Research references
New Audio CDs model fluent oral reading
Students can hear fluent reading models for all selections at all levels
Reading Fluency: Reader, Level H
The passages in this book are taken from the following sources.
Remember Me to Harold Square by Paula Danziger
"Last Cover" by Paul Annixter
Louis Armstrong: An American Success Storyby James Lincoln Collier
Depend on Katie John by Mary Calhoun
A Sense of Where You Are by John McPhee
Reapers of the Dust by Lois Phillips Hudson
Haunt Fox by Jim Kjelgaard
Stealing Home: The Story of Jackie Robinsonby Barry Denenberg
Harriet Tubman: Conductor on the Underground Railroad by Ann Petry
The Prizefighter and the Kangaroo
Shirley Chisholm, Political Trailblazer
The Coming of the Bear by Lensey Namioka
Rabbit Hill by Robert Lawson
Will Rogers, American Humorist
Dinosaur Parents
Scorpion Man: Exploring the World of Scorpionsby Laurence Pringle
"The Devil and Tom Walker" by Washington Irving
Ajeemah and His Son by James Berry
Bees Dance and Whales Sing by Margery Facklam
Once Upon a Farm by Bob Artley
Sugaring Time by Kathryn Lasky
"King Arthur" retold by Donna Rosenberg
Ties That Bind, Ties That Break by Lensey Namioka
Great Expectations by Charles Dickens
Knee-Knock Rise by Natalie Babbitt
A Young Patriot: The American Revolution as Experienced by One Boy by Jim Murphy
Base Jumping
Prairie Visions: The Life and Times of Solomon Butcher by Pam Conrad
An American Childhood by Annie Dillard
Sea Otter Rescue by Roland Smith
The Dollmaker by Harriette Arnow
Saving the Peregrine Falcon by Caroline Arnold
Listening to Crickets: A Story about Rachel Carsonby Candice F. Ransom
Silent Spring by Rachel Carson
John Muir by Sally Tolan
Lincoln: A Photobiography by Russell Freedman
"The Californian's Tale" by Mark Twain
Pinocchio by Carlo Collodi
"The Egg" by Sherwood Anderson
"The Moustache" by Robert Cormier
Don Quixote by Miguel de Cervantes
Over Niagara Falls
"Mama and the Spy" by Eva Manoff
John James Audubon by Joseph Kastner
Benjamin Banneker: Genius of Early Americaby Lillie Patterson
Alice in Wonderland by Lewis Carroll
The Life and Death of Crazy Horseby Russell Freedman
From Immigrant to Inventor by Michael Pupin
The Founder of Modern Dance
Valley Forge by Libby Hughes
River Runners by James Houston
The Sword in the Stone by T. H. White
Tyke: Killer-Elephant
Grandma Moses by Tom Biracree
Volcano by Garrett Hongo
"Rikki-tikki-tavi" by Rudyard Kipling
"A Visit of Charity" by Eudora Welty
The Cay by Theodore Taylor
"The Duke's Children" by Frank O'Connor
Eben Holden: A Tale of the North Countryby Irving Bacheller
Pardon Me, You're Stepping on My Eyeball!by Paul Zindel
To Live in Two Worlds by Brent Ashabranner
J. M. Barrie: The Magic Behind Peter Pan by Susan Bivin Aller
"The Monkey's Paw" by W. W. Jacobs
Jacob Have I Loved by Katherine Paterson
"The Million-Pound Bank Note" by Mark Twain
"The Open Boat" by Stephen Crane
"How I Served My Apprenticeship" by Andrew Carnegie
And Then There Was One: The Mysteries of Extinction by Margery Facklam
The Killer Angels by Michael Shaara
"Contents of the Dead Man's Pocket" by Jack Finney
Pedro's Journal: A Voyage with Christopher Columbus by Pam Conrad
Acknowledgments