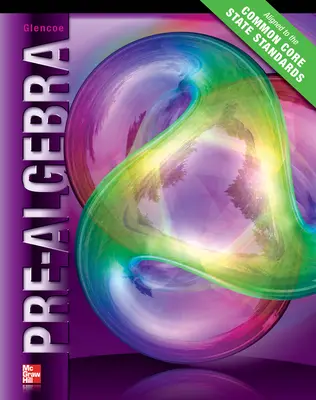 Pre-Algebra Student Edition
MHID:
0078957737 |
ISBN 13:
9780078957734
Payment Options:
During checkout, you can pay with a P.O. (simply enter the number), Credit Card, or PayPal.
Product Description
One Program, All Learners!
Flexibility
Print and digital resources for your classroom today and tomorrow
Appropriate for students who are approaching, on or beyond grade level
Differentiation
Integrated differentiated instruction support that includes Response to Intervention (RtI) strategies
A complete assessment system that monitors student progress from diagnosis to mastery
More in-depth and rigorous mathematics, yet meets the needs of all students
21st Century Success
Preparation for student success beyond high school – in college or at work
Problems and activities that use handheld technology, including the TI-84 and the TI-Nspire
A wealth of digital resources such as eStudent Edition, eTeacher Edition, animations, tutorials, virtual manipulatives and assessments – right at your fingertips
Includes print student edition
Purchase this product
Price :

$85.71

Quantity :

Total :

$85.71
The purchase quantity range should be
1
-
29
for this product.
Pricing subject to change at any time. We only ship to US locations.
Pre-Algebra Student Edition
Chapter 0 Preparing for Pre-Algebra
0-1 A Plan for Problem Solving
0-2 Problem-Solving Strategies
0-3 Number and Operations
0-4 Algebra
0-5 Geometry
0-6 Measurement
0-7 Data Analysis
Unit 1 Rational Numbers and Equations
Chapter 1 The Tools of Algebra
1-1 Words and Expressions
Explore 1-2 Algebra Lab: Rules and Expressions 1-2 Variable and Expressions Extend 1-2 Spreadsheet Lab: Expressions and Spreadsheets 1-3 Properties 1-4 Ordered Pairs and Relations Explore 1-5 Algebra Lab: Relations and Functions 1-5 Words, Equations, Tables, and Graphs Explore 1-6 Algebra Lab: Scatter Plots 1-6 Scatter Plots Extend 1-6 Graphing Technology Lab: Scatter Plots Chapter 2 Operations with Integers 2-1 Integers and Absolute Value Explore 2-2 algebra Lab: Adding Integers 2-2 Adding Integers Explore 2-3 Algebra Lab: Subtracting Integers 2-3 Subtracting Integers Extend 2-3 More About: Adding and Subtracting with Matrices Explore 2-4 Algebra Lab: Multiplying Integers 2-4 Multiplying Integers Explore 2-5 Algebra Lab: Dividing Integers 2-5 Dividing Integers 2-6 Graphing in Four Quadrants 2-7 Translations and Reflections on the Coordinate Plane Chapter 3 Operations with Rational Numbers Explore 3-1 Algebra Lab: Fractions and Decimals on the Number Line 3-1 Fractions and Decimals 3-2 Rational Numbers 3-3 Multiplying and Rational Numbers 3-4 Dividing Rational Numbers 3-5 Adding and Subtracting Like Fractions 3-6 Adding and Subtracting Unlike Fractions Chapter 4 Expressions and Equations 4-1 The Distributive Property Explore 4-2 Algebra Lab: Simplifying Algebraic Expressions 4-2 Simplifying Algebraic Expressions 4-3 Solving Equations by Adding and Subtracting 4-4 Solving Equations by Multiplying or Dividing Explore 4-5 Algebra Lab: Solving Two-Step Equations Using Algebra Tiles 4-5 Solving Two-Step Equations 4-6 Writing Equations Chapter 5 Multi-Step Equations and Inequalities 5-1 Perimeter and Area Extend 5-1 Spreadsheet Lab: Perimeter and Area 5-2 Solving Equations with Variables on Each Side 5-3 Inequalities 5-4 Solving Inequalities 5-5 Solving Multi-Step Equations and Inequalities Unit 2 Proportions and Similarity Chapter 6 Ratio, Proportion, and Similar Figures 6-1 Ratios 6-2 Unit Rates 6-3 Converting Rates and Measurements Extend 6-3 Geometry Lab: Accuracy and Precision 6-4 Proportional and Nonproportional Relationships 6-5 Solving Proportions Extend 6-5 Algebra Lab: Inverse Proportions 6-6 Scale Drawings and Models Explore 6-7 Geometry Lab: Similar Figures 6-7 Similar Figures 6-8 Dilations 6-9 Indirect Measurement Chapter 7 Percent 7-1 Fractions and Percents 7-2 Fractions, Decimals, and Percents Explore 7-3 Algebra Lab: Using a Percent Model 7-3 Using the Percent Proportion 7-4 Find a Percent of a Number Mentally 7-5 Using Percent Equations Explore 7-6 Algebra Lab: Modeling Percents and Change 7-6 Percent of Change 7-7 Simple and Compound Interest Extend 7-7 Spreadsheet Lab: Compound Interest 7-8 Circle Graphs Unit 3 Linear and Nonlinear Functions Chapter 8 Linear Functions and Graphing 8-1 Functions 8-2 Sequences and Equations 8-3 Representing Linear Functions Extend 8-3 More About: Representing Linear Inequalities 8-4 Rate of Change 8-5 Constant Rate of Change and Direct Variation Explore 8-6 Graphing Technology Lab: Scope and Rate of Change 8-6 Slope Explore 8-7 Algebra Lab: Proportional and Nonproportional Linear Relationships 8-7 Slope-Intercept Form Extend 8-7 Graphing Technology Lab: Family of Linear Graphs 8-8 Writing Linear Equations 8-9 Prediction equations Extend 8-9 Graphing Technology Lab: Linear Regression 8-10 Systems of Equations Chapter 9 Powers and Nonlinear Functions Explore 9-1 More About: Factors 9-1 Powers and Exponents 9-2 Prime Factorization Extend 9-2 More About: Applying Prime Factorization 9-3 Multiplying and Dividing Monomials 9-4 negative Exponents 9-5 Scientific Notation Extend 9-5 More About: Computation with Scientific Notation 9-6 Powers of Monomials 9-7 Linear and Nonlinear Functions Extend 9-7 More About: Geometric Sequences 9-8 Quadratic Functions Extend Graphing Technology Lab: Family of Quadratic Functions 9-9 Cubic and Exponential Functions Extend Algebra Lab: A Half-Life Simulation Unit 4 Two- and Three-Dimensional Space Chapter 10 Real Numbers and Right Triangles Explore 10-1 Algebra Lab: Squares and Square Roots 10-1 Squares and Square Roots Extend 10-1 More About: Cube Roots Explore 10-2 More About: Sets 10-2 The Real Number System Explore 10-3 Geometry Lab: Angles in a Triangle 10-3 Triangles Extend 10-3 Geometry Lab: The Triangle Inequality Theorem Explore 10-4 Algebra Lab: The Pythagorean Theorem 10-4 The Pythagorean Theorem Extend 10-4 Algebra Lab: Graphing Irrational Numbers 10-5 The Distance Formula 10-6 Special Right Angles Extend 10-6 More About: Trigonometric Ratios Chapter 11 Distance and Angle Explore 11-1 More About: Measuring and Drawing Angles 11-1 Angle and Line Relationships Extend 11-1 Geometry Lab: Constructing Angles and Lines 11-2 Congruent Triangles 11-3 Rotations Explore 11-4 Geometry Lab: Angles in Polygons 11-4 Quadrilaterals 11-5 Polygons Extend 11-5 Geometry Lab: Constructing Congruent and Similar Polygons 11-6 Area of Parallelograms, Triangles, and Trapezoids Extend 11-6 More About: Perimeter and Area of Similar Figures 11-7 Circles and Circumference Extend 11-7 Geometry Lab; Intersections of Geometric Figures 11-8 Area of Circles 11-9 Area of Composite Figures Extend 11-9 Spreadsheet Lab: Changes in Scale Chapter 12 Surface Area and Volume Explore 12-1 Geometry Lab: Drawing Three-Dimensional Figures 12-1 Three-Dimensional Figures Explore 12-2 Geometry Lab: Volume 12-2 Volume of Prisms 12-3 Volume of Cylinders Explore 12-4 Geometry Lab: Volume of a Pyramid 12-4 Volume of Pyramids, Cones, and Spheres Explore 12-5 Geometry Lab: Surface Area of Prisms 12-5 Surface Area of Prisms Explore 12-6 Geometry Lab: Surface Area of Cylinders 12-6 Surface Area of Cylinders 12-7 Surface Area of Pyramids and Cones Extend 12-7 Geometry Lab: Surface Area of Spheres Explore 12-8 Geometry Lab: Similar Solids 12-8 Similar Solids Unit 5 Data Sets Chapter 13 Statistics and Probability Explore 13-1 Algebra Lab: Analyzing Data 13-1 Measures of Central Tendency Extend 13-1 Graphing Technology Lab: Mean and Median Explore 13-2 More About: Statistical Displays 13-2 Stem-and-Leaf Plots 13-3 Measures of Variation 13-4 Box-and Whisker Plots Extend 13-4 Graphing Technology Lab: Box-and Whisker Plots 13-5 Histograms Extend 13-5 Graphing Technology Lab: Histograms 13-6 Theoretical and Experimental Probability Extend 13-6 More About: Geometric Probability 13-7 Using Sampling to Predict 13-8 Counting Outcomes Extend 13-8 Algebra Lab: Probability and Pascal's Triangle 13-9 Permutations and Combinations Explore 13-10 Graphing Technology Lab: Probability Simulation 13-10 Probability of Compound Events Extend 13-10 Algebra Lab: Simulations Chapter 14 Looking Ahead to Algebra 1 14-1 Polynomials 14-2 Adding Polynomials 14-3 Subtracting Polynomials 14-4 Multiply a Binomial by a Monomial 14-5 Multiply Two Binomials 14-6 dividing a Polynomial by a Monomial 14-7 Using GCF to Factor Polynomials 14-8 Factoring Trinomials