Patterns for A Purpose: A Rhetorical Reader
https://www.mheducation.com/cover-images/Jpeg_250-high/0073383953.jpeg
13
December 20, 2010
9780073383958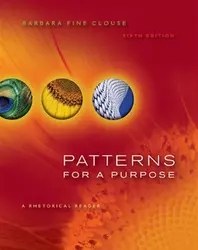 Patterns for A Purpose: A Rhetorical Reader
Copyright: 2011
Publication Date: December 20, 2010
MHID: 0073383953
ISBN 13: 9780073383958
With a diverse selection of readings chosen to serve as both models for and springboards into student discussion and writing, Patterns for a Purpose is a rhetorically-arranged reader that encourages thoughtful use of the rhetorical patterns—either alone or in combination—to achieve various writing purposes. The detailed coverage of the writing process emphasizes the importance of critical reading and thinking, offers a rich variety of writing opportunities - including specific material on argument and persuasion.
Language: English
Page Count: 784
Dimension: 6.4 x

9.4 IN
Price :

$100.00

Qty :

Total :

$100.00
The purchase quantity range should be
1
-
29
for this product.
Pricing subject to change at any time. We only ship to US locations
New Features
A new chapter, "Writing in Academic Settings," focusing on the kinds of writing students will use across the curriculum: personal response, summary, critical analysis, synthesis, paraphrasing, and quoting.
A new focus on critical analysis, including critical analysis topics appearing after each reading and "Thinking Critically" sections for each pattern of development.
Expanded coverage of MLA style, including more information on online sources.
Twelve new professional readings, three new student essays, and several new images throughout, introducing even more variety into the book's potent mixture of selections, focusing on high-interest themes including campus issues, Internet dangers, gay marriage, consumerism, hoarding behavior, and graphic novels.
Expanded coverage of plagiarism helps students understand what constitutes plagiarism and giving strategies for avoiding it. Using Sources for a Purpose sections illustrate how students can quote, paraphrase, and summarize material from the readings as supporting details in their own essays.
---
Key Features
Combining Patterns for a Purpose sections demonstrate how professional writers combine patterns to achieve a range of writing purposes.
Emphasis on Visuals: A detailed explanation of how to read visuals critically appears in Chapter 1, and an appendix on document design gives students guidance on incorporating visual material into their writing.
Patterns for A Purpose: A Rhetorical Reader
* New to this edition 1. Reading Critically Critical Reading Distinguishing Facts from Opinions Making Inferences Synthesizing Information Evaluating Quality Detecting Errors in Logic Strategies for Critical Reading Approach Your Reading with a Reflective and Questioning Attitude Preview the Material Do a First Reading Reread and Study A Sample Marked Essay Keeping a Reading Journal Strategies for Reading Visual Material Critically Reading All Images Reading Charts and Graphs Reading Photographs Reading Advertisements Reading Selection: Mortimer Adler, How to Mark a Book 2. Planning an Essay and Using the Patterns of Development Identifying and Considering Your Writing Context Purpose Audience Role Generating Ideas Shaping a Writing Topic Discovering Ideas to Develop Your Topic Developing a Thesis Location of the Thesis Qualities of an Effective Thesis Composing Your Thesis Ordering Ideas Outlining The Scratch Outline The Informal Outline The Outline Tree The Formal Outline Using the Patterns of Development Reading Selection: Gail Godwin, The Watcher at the Gates 3. Writing and Rewriting Writing Your First Draft Tips for Drafting Essay Structure The Introduction Body Paragraphs The Conclusion The Title Visualizing an Essay Revising Your Draft Tips for Revising Revising with Peer Review Editing Your Draft Tips for Editing Proofreading An Essay in Progress: "The Not-so-ideal Male" Reading Selection: Christopher Buckley, College Essay* 4. Writing in Academic Settings* Writing in Response to Reading Writing a Personal Response Writing a Summary Writing a Critical Analysis Writing a Synthesis Using the Readings in This Book as Sources Paraphrasing Summarizing Quoting Integrating Paraphrases, Summaries, and Quotations Avoiding Plagiarism Writing to Learn Keeping a Learning Log Rewriting Lecture Notes and Class Readings in New Ways Using the Idea Generation Strategies Writing with Your Classmates Writing Explanations and Definitions for Different Audience Reading Selection: Alan Brinkley, The Mall* 5. Description The Pattern Using Description for a Purpose Combining Patterns for a Purpose Description beyond the Writing Classroom Deciding on a Dominant Impression Supporting Details Objective and Expressive Details Descriptive Words Similes and Metaphors Organizing Details Visualiing a Descriptive Essay* Thinking Critically about Description* Process Guidelines: Strategies for Writing Description Checklist for Revising Description Using Sources for a Purpose Annotated Student Essay: The Gendarme Examining Visuals: Description in Corporate Logos N. Scott Momaday, The Homestead on Rainy Mountain Creek Diane Akcerman, The World at Dawn: The Pleasure of Life Rekindled* Annie Dillard, The Deer at Providencia Gretel Ehrlich, Struck by Lightning Barry Corbet, Embedded Alberto Riós, The Vietnam Wall Additional Writing Assignments Responding to an Image* 6. Narration The Pattern Using Narration for a Purpose Combining Patterns for a Purpose Narration beyond the Writing Classroom Writing Dialogue Organizing Details Visualizing a Narrative Essay* Thinking Critically about Narration* Process Guidelines: Strategies for Writing Narration Checklist for Revising Narration Using Sources for a Purpose Annotated Student Essay: The Family Reunion, Revisited Examining Visuals: Narration in a Cartoon Chris Abani, The Lottery Langston Hughes, Salvation Shawn MacComber, Stripping Away Free Expression John Schwartz, The Poncho Bearer Natalie Kusz, Ring Leader Lee K. Abbott, The View of Me from Mars Additional Essay Assignments Responding to an Image* 7. Exemplification The Pattern Using Exemplification for a Purpose Combining Patterns for a Purpose Exemplification beyond the Writing Classroom Hypothetical Examples Organizing Details Visualizing an Exemplification Essay* Thinking Critically about Exemplification* Process Guidelines: Strategies for Writing Exemplification Checklist for Revising Exemplification Using Sources for a Purpose Annotated Student Essay: Food for Thought Examining Visuals: Exemplification in a Cartoon Cullen Murphy, Lifosuction Jennifer Saranow, The Snoop Next Door Ralph Ellison, On Being the Target of Discrimination Jeffrey Kluger, The Art of Simplexity Jonathan Kozol, Untouchables John Cheever, Reunion Additional Essay Assignments Responding to an Image* 8. Process Analysis The Pattern Using Process Analysis for a Purpose Combining Patterns for a Purpose Process Analysis beyond the Writing Classroom Supporting Details Organizing Details Visualizing a Narrative Process Analysis* Thinking Critically about Process Analysis* Process Guidelines: Strategies for Writing a Process Analysis Checklist for Revising a Process Analysis Using Sources for a Purpose Annotated Student Essay: A Visit to Candyland Examining Visuals: Process Analysis in a Photograph Dave Barry, Science: It's Just Not Fair* Diane Cole, Don't Just Stand There Henry Louis Gates, Jr., In the Kitchen Timothy Harper, Shoot to Kill Jessica Mitford, Behind the Formaldehyde Curtain Naomi Shihab Nye, The Traveling Onion Additional Essay Assignments Responding to an Image* 9. Comparison-Contrast The Pattern Using Comparison-Contrast for a Purpose Combining Patterns for a Purpose Comparison-Contrast beyond the Writing Classroom Choosing Subjects Supporting Details Organizing Details Visualizing a Comparison-Contrast Essay* Thinking Critically about Comparison-Contrast* Process Guidelines: Strategies for Writing Comparison-Contrast Checklist for Revising Comparison-Contrast Using Sources for a Purpose Annotated Student Essay: No Body's Perfect: Femael Self-Image in Two Narratives* Examining Visuals: Comparison-Contrast in a Photograph Bruce Catton, Grant and Lee: A Study in Contrasts Anne Fadiman, Never Do That to a Book* Alice Walker, Am I Blue? *Deborah Siegal, The New Trophy Wife Deborah Tannen, Squeaky Wheels and Protruding Nails: Direct and Indirect Speech Arthur L. Campa, Anglo vs. Chicano: Why? Robert Frost, Fire and Ice Additional Essay Assignments Responding to an Image* 10. Cause-and-Effect Analysis The Pattern Using Cause-and-Effect Analysis for a Purpose Combining Patterns for a Purpose Cause-and-Effect Analysis beyond the Writing Classroom Supporting Details Avoiding Errors in Logic Organizing Details Visualizing a Cause-and-Effect Analysis* Thinking Critically about Cause-and-Effect Analysis* Process Guidelines: Strategies for Writing Cause-and-Effect Analysis Checklist for Revising Cause-and-Effect Analysis Using Sources for a Purpose Annotated Student Essay: Why Athletes Use Steroids Andrew Sullivan, Why the M Word Matters to Me Brad Stone, Web of Risks James Surowiecki, Paying to Play Carlin Flora, The Beguiling Truth about Beauty* Brent Staples, Just Walk on By: A Black Man Ponders His Power to Alter Public Space Dorothy Siegel, What Is Behind the Growth of Violence on College Campuses? Leslie Marmon Silko, Lullaby Additional Essay Assignments Responding to an Image* 11. Classification and Division The Pattern Using Classification and Division for a Purpose Combining Patterns for a Purpose Classification and Division beyond the Writing Classroom The Principle of Classification and Division Supporting Details Organizing Details Visualizing a Classification and Division Essay* Thinking Critically about Classification and Devision* Process Guidelines: Strategies for Writing Classification and Division Checklist for Revising Classification-Division Using Sources for a Purpose Annotated Student Essay: Strictly Speaking Examining Visuals: Classification-Division in an Advertisement Sissela Bok, White Lies Martin Luther King, Jr. The Ways of Meeting Oppression Bill Bunn, What's Really in Your Shampoo* Thomas Friedman, Globalization: The Super Story William Zinsser, College Pressures Dylan Thomas, Do Not Go Gentle into That Good Night Additional Essay Assignments Responding to an Image 12. Definition The Pattern