PreK–12 educators will see school pricing in their cart after logging in.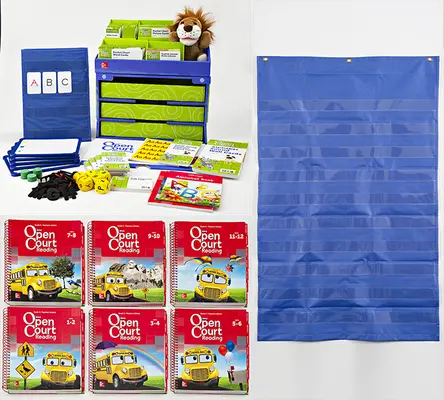 Open Court Reading Grade K Non-CCSS Complete Digital and Print Classroom Package, 6-year subscription
MHID: 0076696820 | ISBN 13: 9780076696826
Payment Options: During checkout, you can pay with a P.O. (simply enter the number), Credit Card, or PayPal.
Product Details:
| Title | ISBN 13 | Quantity |
| --- | --- | --- |
| Open Court Reading Alphabet Big Book, Grade K | 9780021310951 | 1 |
| Open Court Reading, Pickled Peppers Big Book, Grade K | 9780076805310 | 1 |
| Open Court Reading, Core PreDecodable and Decodable 4-color Takehome, Grade K | 9780076718993 | 25 |
| Open Court Reading First Reader, Grade K | 9780076691081 | 25 |
| Open Court Reading Benchmark Assessment, Grade K | 9780076663521 | 1 |
| Open Court Reading Big Book, Grade K Unit 3 What's the Weather? | 9780076664054 | 1 |
| Open Court Reading Big Book, Grade K Unit 4 Pushes and Pulls | 9780076664108 | 1 |
| Open Court Reading Skills Practice Workbook, Book 2, Grade K | 9780076669615 | 25 |
| Open Court Reading Big Book, Grade K Unit 5 Home Sweet Home | 9780076669721 | 1 |
| Open Court Reading Big Book, Grade K Unit 8 Animal Homes | 9780076669790 | 1 |
| Open Court Reading Big Book, Grade K Unit 2 Let's Be Kind | 9780076674961 | 1 |
| Open Court Reading Big Book, Grade K Unit 10 Great Americans | 9780076677375 | 1 |
| Open Court Reading Big Book, Grade K Unit 11 Color Your World | 9780076677450 | 1 |
| Open Court Reading Big Book, Grade K Unit 1 Off To School | 9780076685950 | 1 |
| Open Court Reading Big Book, Grade K Unit 12 Stripes, Spots and Dots | 9780076689705 | 1 |
| Open Court Reading Skills Practice Workbook, Book 1, Grade K | 9780076691883 | 25 |
| Open Court Reading Big Book, Grade K Unit 6 Our Country, Our Cultures | 9780076692866 | 1 |
| Open Court Reading Big Book, Grade K Unit 7 Ready, Set, Grow | 9780076693016 | 1 |
| Open Court Reading Big Book, Grade K Unit 9 Rules We Follow | 9780076698387 | 1 |
| P/N Open Court Reading Foundational Skills Kit K Subassembly 1 | N/A | 1 |
| P/N Open Court Reading Foundational Skills Kit K Subassembly 2 | N/A | 1 |
| Open Court Reading Social Studies Big Book 1, Grade K | 9780021373451 | 1 |
| Open Court Reading Science Big Book, Grade K | 9780021373468 | 1 |
| Open Court Reading, Grade K, Intervention BLM with Answer Key | 9780021427109 | 1 |
| Open Court Reading, Grade K, Lesson and Unit Assessment BLMs with Answer Key, Book 2 | 9780021433728 | 1 |
| Open Court Reading, Grade K, Skills Practice BLM with Answer Key, Book 1 | 9780021452477 | 1 |
| Open Court Reading, Grade K, Skills Practice BLM with Answer Key, Book 2 | 9780021452521 | 1 |
| Open Court Reading, Grade K, Lesson and Unit Assessment BLMs with Answer Key, Book 1 | 9780021463541 | 1 |
| BSUBSC Open Court Reading Grade K Student License, 6-year subscription bundle component | 9780076663477 | 25 seats |
| BSUBSC Open Court Reading Grade K Teacher License, 6-year subscription bundle component | 9780076663538 | 1 seat |
| Open Court Reading Non-CCSS Teacher Edition, Volume 6, Grade K | 9780076689897 | 1 |
| Open Court Reading Non-CCSS Teacher Edition, Volume 2, Grade K | 9780076690053 | 1 |
| Open Court Reading Non-CCSS Teacher Edition, Volume 3, Grade K | 9780076693177 | 1 |
| Open Court Reading Non-CCSS Teacher Edition, Volume 1, Grade K | 9780076693184 | 1 |
| Open Court Reading Non-CCSS Teacher Edition, Volume 4, Grade K | 9780076693207 | 1 |
| Open Court Reading Non-CCSS Teacher Edition, Volume 5, Grade K | 9780076693214 | 1 |
| Open Court Reading Grades K-5, Program Overview | 9780079001665 | 1 |