PreK–12 educators will see school pricing in their cart after logging in.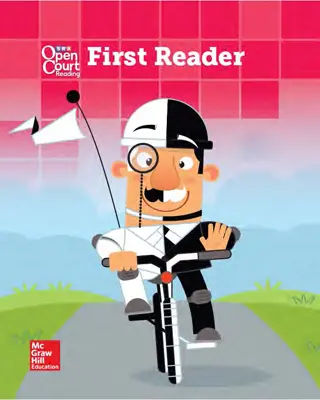 Open Court Reading Grade K Complete Digital and Print Classroom Package, 3-year subscription
MHID: 0076918971 | ISBN 13: 9780076918973
Payment Options: During checkout, you can pay with a P.O. (simply enter the number), Credit Card, or PayPal.
Product Details:
Open Court Reading delivers a legacy of success spanning over 50 years and continues to evolve to meet the needs of today's student and teachers. Technology makes instruction more effective and engaging. Classic print delivers learning in a way that feels familiar. It's your call: digital, print, or a blend that gives you the best of both.
| Title | ISBN 13 | Quantity |
| --- | --- | --- |
| Open Court Reading Alphabet Big Book, Grade K | 9780021310951 | 1 |
| Open Court Reading, Pickled Peppers Big Book, Grade K | 9780076805310 | 1 |
| Open Court Reading, Core PreDecodable and Decodable 4-color Takehome, Grade K | 9780076718993 | 25 |
| Open Court Reading Teacher Edition, Volume 1, Grade K | 9780076677054 | 1 |
| Open Court Reading Teacher Edition, Volume 2, Grade K | 9780076677078 | 1 |
| Open Court Reading Teacher Edition, Volume 3, Grade K | 9780076679706 | 1 |
| Open Court Reading Teacher Edition, Volume 4, Grade K | 9780076679836 | 1 |
| Open Court Reading Teacher Edition, Volume 5, Grade K | 9780076679867 | 1 |
| Open Court Reading Teacher Edition, Volume 6, Grade K | 9780076679911 | 1 |
| Open Court Reading First Reader, Grade K | 9780076691081 | 25 |
| Open Court Reading Benchmark Assessment, Grade K | 9780076663521 | 1 |
| Open Court Reading Big Book, Grade K Unit 3 What's the Weather? | 9780076664054 | 1 |
| Open Court Reading Big Book, Grade K Unit 4 Pushes and Pulls | 9780076664108 | 1 |
| Open Court Reading Skills Practice Workbook, Book 2, Grade K | 9780076669615 | 25 |
| Open Court Reading Big Book, Grade K Unit 5 Home Sweet Home | 9780076669721 | 1 |
| Open Court Reading Big Book, Grade K Unit 8 Animal Homes | 9780076669790 | 1 |
| Open Court Reading Big Book, Grade K Unit 2 Let's Be Kind | 9780076674961 | 1 |
| Open Court Reading Big Book, Grade K Unit 10 Great Americans | 9780076677375 | 1 |
| Open Court Reading Big Book, Grade K Unit 11 Color Your World | 9780076677450 | 1 |
| Open Court Reading Big Book, Grade K Unit 1 Off To School | 9780076685950 | 1 |
| Open Court Reading Big Book, Grade K Unit 12 Stripes, Spots and Dots | 9780076689705 | 1 |
| Open Court Reading Skills Practice Workbook, Book 1, Grade K | 9780076691883 | 25 |
| Open Court Reading Big Book, Grade K Unit 6 Our Country, Our Cultures | 9780076692866 | 1 |
| Open Court Reading Big Book, Grade K Unit 7 Ready, Set, Grow | 9780076693016 | 1 |
| Open Court Reading Big Book, Grade K Unit 9 Rules We Follow | 9780076698387 | 1 |
| Open Court Reading Social Studies Big Book 1, Grade K | 9780021373451 | 1 |
| Open Court Reading Science Big Book, Grade K | 9780021373468 | 1 |
| Open Court Reading, Grade K, Intervention BLM with Answer Key | 9780021427109 | 1 |
| Open Court Reading, Grade K, Lesson and Unit Assessment BLMs with Answer Key, Book 2 | 9780021433728 | 1 |
| Open Court Reading, Grade K, Skills Practice BLM with Answer Key, Book 1 | 9780021452477 | 1 |
| Open Court Reading, Grade K, Skills Practice BLM with Answer Key, Book 2 | 9780021452521 | 1 |
| Open Court Reading, Grade K, Lesson and Unit Assessment BLMs with Answer Key, Book 1 | 9780021463541 | 1 |
| Open Court Reading Grade K Student License, 3-year subscription | 9780076665570 | 25 seats |
| Open Court Reading Grade K Teacher License, 3-year subscription | 9780076665617 | 1 seat |
| Open Court Reading Grades K-5, Program Overview | 9780079001665 | 1 |
| P/N Open Court Reading Foundational Skills Kit K Subassembly 1 | N/A | 1 |
| P/N Open Court Reading Foundational Skills Kit K Subassembly 2 | N/A | 1 |