Looseleaf for New Worlds: An Introduction to College Reading
https://www.mheducation.com/cover-images/Jpeg_250-high/1259169952.jpeg
13 - 17
July 24, 2013
9781259169953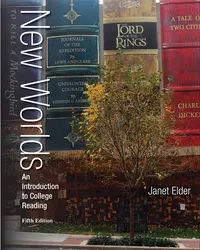 Looseleaf for New Worlds: An Introduction to College Reading
Copyright: 2014
Publication Date: July 24, 2013
MHID: 1259169952
ISBN 13: 9781259169953
CONNECT READING provides a personalized learning plan for each student, continually developed and refined as students achieve mastery.  Each student plan is created through an individualized diagnostic that evaluates skills from 7th-grade level through college-readiness, for second-language learners, international students, adult students, and traditional high-schoolers.  Offered completely online, CONNECT READING can be used in conjunction with NEW WORLDS or OPENING DOORS, which provide a printed experience that teaches critical reading skills through close reading of anthologized chapters from best-selling undergraduate texts in Psychology, Sociology, Business, and more.
Language: English
Page Count: 1376
Dimension: 7.8 x

10.0 IN
Price :

$60.00

Qty :

Total :

$60.00
The purchase quantity range should be
1
-
29
for this product.
Pricing subject to change at any time. We only ship to US locations
New Features
More than 150 new and updated example and exercise paragraphs throughout the book.
A new, short section in Chapter 1 that tells how to locate and evaluate material online.
Three additional Test Your Understanding vocabulary exercises in Chapter 2, one each on using context clues, word-structure clues, and interpreting figurative language.
Seven new Checkpoint exercises, one each in chapters 3-9 that check to be sure students understand the chapter skills before applying them in the Test Your Understanding exercises.
Coverage of all the skills necessary for reading in college, including vocabulary, comprehension, critical reading and thinking, and study techniques.
Eleven new reading selections with accompanying activities, exercises, and quizzes.
Nine updated chapter reading selections with accompanying activities, exercises, and quizzes:
1.2: Fire Up Your Memory with Proven Strategies (Student Success)
1.3: The When and How of Preparing for Tests (Study Skills)
3.1: Parenting Style: Does It Matter? (Human Development)
3.2: Giving a Speech? If You're Nervous, You're Normal! (Speech)
4.1: Who's the Boss? Leaders, Managers, and Leadership Styles (Business)
5.1: Two Artistic Tributes: The Vietnam Memorial and the AIDS Quilt (Art Appreciation)
6.1: "Hold It! You Can Recycle That!" Recycling: A Twenty-First Century Necessity (Environmental Science)
7.2: The Right to Vote: Valued but Underutilized (Government)
8.3: You? A Millionaire? Yes! (Business)
All new examples of the chapter features presented in Chapter 10.
New Assignment Sheet and Progress Record
New Reading Skills and Competencies Chart
Ten new Essential Skills Review Tests
Expanded sections on interpreting visual aids in Chapter 10, as well as new photographs, cartoons, and other visuals throughout the text.
Connect Reading 3.0 supports complete reading curriculum from reading skills to active reading strategies using adaptive technology to address a wide range of reading levels. This total course solution provides revolutionary learning technology to better support course redesign with several toolsets.
---
Key Features
Systematic Approach: New Worlds offers a systematic approach to essential comprehension skills. Part II (Chapters 3-7) presents basic comprehension skills that students then practice and use cumulatively throughout the text (i.e., scaffolding). This thorough, logical approach helps students to bootstrap themselves into comprehension of textbook material. Part III (Chapters 8-9) focuses on reading and thinking critically. These two parts comprise the important comprehension core of the text. Part I (Chapters 1-2) focuses on getting a successful start in college and developing a college-level vocabulary. Part IV (Chapters 10-11) introduces basic study skills.
Competencies for State Reading Tests: New Worlds addresses the four essential competency areas on most state reading tests (such as the Texas THEA Test and the Florida CLAST Test):
Vocabulary Skills
Basic Comprehension Skills
Critical Reading Skills
Study Skills
Clear explanations of each skill and understandable examples.
Scores of textbook excerpts for application of reading and study skills.
"It's Your Call" feature in Chapter 1 that refers students to more complete discussions of study skills and test-preparation skills that appear later in the book, should they wish to explore them in depth at the beginning of the semester.
An extensive, thorough, 7-chapter Comprehension Core: basic comprehension skills (Chapters 3 to 7) and critical reading and thinking skills (Chapters 8 and 9).
Approximately 50 brief embedded exercises for on-the-spot application of new skills presented in the chapters.
Other Things to Keep in Mind, a short section in each chapter that presents additional pointers and supplemental information related to the chapter skill(s).
A Chapter Review Card activity for every chapter.
Twenty-one Test Your Understanding Exercises in Chapters 2 to 10. Some contain objective (multiple-choice) items; others require fuller written responses.
Twenty-seven full-length Reading Selections (three in each of the first nine chapters).
Two Chapter-length Reading Selections (in Chapters 10 and 11).
Feature Category/Need :
: Comprehension and Vocabulary Quizzes for the 27 reading selections in Ch. 1 to 9. These 20-item quizzes contain 4 sections:
Comprehension: 5 types of questions an instructor would expect students to be able to answer after reading this selection.
Vocabulary-in-Context: 5 questions that test the ability to use context clues to determine the meaning of words.
Word Structure: 5 questions that test the ability to use word-structure clues to help determine meaning. Students learn the meaning of the root word and apply the meaning to other words with a similar root.
Reading Skills Application: 5 questions test the ability to apply various reading skills to material in this selection. These questions appear on standardized reading tests, exit tests, and state-mandated basic skills tests.
For every chapter reading selection, Annotation Practice Exercises and Respond in Writing exercises that integrate writing and reading by calling for written responses and the formulation of the selection's overall main idea.
Twenty-question Practice Chapter Quiz for the chapter-length 11-1 reading selection, "Information Technology, the Internet, and You." This provides students with an opportunity to test their comprehension and retention of material presented in the selection.
One or more websites for each reading selection so students can read more about the selection's topic or author, along with suggested keywords to use with online search engines.
Cumulative review and continued application of skills taught in the comprehension core.
Presentation of vocabulary and study skills as they relate to learning from college textbooks and other college-level materials.
Comprehension monitoring questions for reading comprehension, critical reading, and critical thinking are featured throughout the book in the margins.
Coverage of the skills typically included on standardized reading tests, exits test, and state-mandated reading competency tests.
Looseleaf for New Worlds: An Introduction to College Reading
* - New reading selections To the Instructor To the Student

PART ONE: A NEW WORLD OF LEARNING: READING AND STUDYING IN COLLEGE

CHAPTER 1: INTRODUCTION TO READING AND STUDYING: BEING SUCCESSFUL IN COLLEGE NEW INFORMATION AND SKILLS What do you need to know about the reading and studying process? What are the keys to studying college textbooks? What is comprehension monitoring and why is it important? How can you be selective as you read and study? How can you organize as you read and study? How can you rehearse information to remember it? What is the SQ3R study system? How can you adjust your reading rates when you study? How can you improve your reading speed? What do you need to do to be successful in college? Why is it important to set goals? What are learning preferences? Chapter Review Cards How can you find information online? READINGS Selection 1-1: "A Mother's Answer" from The Big Picture: Getting Perspective on What's Really Important" by Ben Carson and Gregg Lewis (Nonfiction) *Selection 1-2: "Fire Up Your Memory with Proven Strategies!" from Peak Performance: Success in College and Beyond" by Sharon Ferrett(Student Success) *Selection 1-3: "The When and How of Preparing for Tests" from P.O.W.E.R. Learning: Strategies for Success in College and Life by Robert S. Feldman(Study Skills)

CHAPTER 2: DEVELOPING A COLLEGE-LEVEL VOCABULARY: A NEW WORLD OF WORDS NEW INFORMATION AND SKILLS Why is it important to develop a college-level vocabulary? What are context clues and how do you use them? What are word-structure clues and how do you use them? How do you use a dictionary pronunciation key? What is figurative language and how do you interpret figures of speech? Other things to keep in mind when developing your college-level vocabulary. The most common and helpful roots, prefixes, and suffixes in English come from Latin and ancient Greek. A word's etymology (origin and history) indicates the word parts it was created from, including Latin or Certain punctuation marks in a sentence can signal a definition. Chapter Review Cards Test Your Understanding: Using Context Clues, Part 1 Test Your Understanding: Using Context Clues, Part 2 Test Your Understanding: Using Word-Structure Clues, Part 1 Test Your Understanding: Using Word-Structure Clues, Part 2 Test Your Understanding: Interpreting Figurative Language, Part 1 Test Your Understanding: Interpreting Figurative Language, Part 2 READINGS *Selection 2-1: "Overwhelming Obstacles" from Peak Performance: Success in College and Beyond by Sharon Ferrett (Student Suscess> *Selection 2-2: "Autism: A Public Health Emergency" from selected Internet Sources (Public Health) *Selection 2-3: "Thinking in Pictures: Autism and Visual Thought" from Thinking in Pictures: My Life with Autism by Temple Grandin

PART TWO: A NEW WORLD OF UNDERSTANDING: USING CORE COMPREHENSION SKILLS WHEN YOU READ COLLEGE TEXTBOOKS

CHAPTER 3: DETERMINING THE TOPIC What is the topic of a paragraph, and why is it important? What are the clues for determining the topic of a paragraph? Clue 1: Look for a Heading or Title That Indicates the Topic Clue 2: Look for a Word, Name, or Phrase in the Paragraph That Appears in Special Print Clue 3: Look for a Word, Name, or Phrase That Is Repeated throughout the Paragraph Clue 4: Look for a Word, Name, or Phrase Referred to throughout the Paragraph by Pronouns or Other Words Other things to keep in mind when determining the topic You should use a name, word, or phrase, but never a sentence, to express the topic. This means you must know the difference between a phrase and a sentence. You must know the difference between "general" and specific." A longer passage has an overall topic. Checkpoint: Determining the Topic Chapter Review Cards Test Your Understanding, Determining the Topic, Part One Test Your Understanding: Determining the Topic, Part Two READINGS *Selection 3-1: "Parenting Style: Does it Matter?" from Human Development by Diane Papalia, Sally Olds, and Ruth Feldman (Human Development) Selection 3-2: "Giving a Speech? If You're Nervous, You're Normal!" from Public Speaking for College and Career by Hamilton Gregory (Speech Communication) *Selection 3-3: "State-of-the-Art and High-Tech Ways of Dealth" from Understanding Your Health by Wayne Payne, Dale Hahn, and Ellen Lucas(Health)

CHAPTER 4: LOCATING THE STATED MAIN IDEA NEW INFORMATION AND SKILLS What is a stated main idea sentence, and why is it important? What is the method for identifying the stated main idea sentence? Which sentence in a paragraph can be the stated main idea sentence? First Sentence of the Paragraph Last Sentence of the Paragraph A Sentence within the Paragraph Other things to keep in mind when locating the stated main idea sentence All stated main idea sentences have certain characteristics in common. Avoid these three common mistakes when locating the stated main idea Signal words or phrases can help you locate a stated main idea and locate a stated main idea that is presented as a conclusion. A longer passage often has an overall main idea that is stated, too. Checkpoint: Locating the Stated Main Idea Chapter Review Cards Test Your Understanding: Locating the Stated Main Idea, Part One Test Your Understanding: Locating the Stated Main Idea, Part Two Readings *Selection 4-1: "Who's the Boss? Leaders, Managers, and Leadership Style" from Understanding Business" by William Nickels, James McHugh, and Susan McHugh (Business) *Selection 4-2: "Arranged Marriage: Adventures and Changes" from Marriages and Families: Intimacy, Diversity, and Strengths by David Olson, John DeFrain, and Linda Skogrand (Marriage and Family) *Selection 4-3: "Concussions: Don't Shrug them Off" from Selected internet sources (Health)

CHAPTER 5: FORMULATING AN IMPLIED MAIN IDEA NEW INFORMATION AND SKILLS What is an implied main idea, and why is it important? Three formulas for using information in a paragraph to formulate an implied main idea Formula 1: Add an Essential Word or Phrase to a Sentence in the Paragraph That Almost States the Main Idea Formula 2: Combine Two Sentences from the Paragraph into a Single Sentence Formula 3: Summarize Important Ideas into One Sentence or Write One Sentence That Gives a General Inference Based on the Details Other Things to Keep in Mind When Formulating an Implied Main Idea Sentence You must always use a sentence—not just a phrase—to express a formulated main idea. This means you must know the difference between a sentence and a phrase. All formulated (implied) main idea sentences have certain characteristics. A longer passage often has an implied overall main idea that you must formulate, too. Checkpoint: Formulating an Implied Main Idea Chapter Review Cards Test Your Understanding: Formulating an Implied Main Idea, Part One Test Your Undersanding: Formulating an Implied Main Idea, Part Two READINGS Selection 5-1: Two Artistic Tributes: The Vietnam Memorial and the AIDS Quilt from Living with Art by Rita Gilbert(Art Appreciation) *Selection 5-2: "Companies Struggle with 'Inside Jobs' and Outside Threats" from Management Information Systems for the Information Age by Stephen Haag and Maeve Cummings (Management Information Systems) Selection 5-3: "Avian Flu: A Coming Pandemic?" from Biology by Sylvia Mader (Biology)

CHAPTER 6: IDENTIFYING SUPPORTING DETAILS NEW INFORMATION AND SKILLS What are supporting details, and why are they important? What is the method for identifying supporting details? Major and minor details Other Things to Keep in Mind When Identifying Supporting Details Watch for clues that indicate a list of details. Avoid overmarking your textbook by numbering the supporting details in a paragraph rather than highlighting or underlining them. Listing the details on separate lines in your study notes or on review cards can help you learn the information more efficiently. Checkpoint: Identifying Supporting Details Chapter Review Cards Test Your Understanding: Identifying Supporting Details, Part One Test Your Understanding: Identifying Supporting Details, Part Two READINGS Selection 6-1: "Hold It! You Can Recycle That! Recycling: A Twenty-First Century Necessity" from Environmental Science: A Study of Interdependence by Eldon Enger and Bradley Smith (Environmental Science) Selection 6-2: "The Life of Buddha" from The 100: A Ranking of the 100 Most Important People in History by Michael Hart (History) Selection 6-3: "The New Immigrants: Asian Americans and Latinos from Nations to Nations: A Narrative History of the American Republic by James Davidson et al.(History)

CHAPTER 7: RECOGNIZING AUTHORS' WRITING PATTERNS NEW INFORMATION AND SKILLS What are authors' writing patterns and why are they important? Transition words that signal the relationship of ideas within sentences and between sentences Five Common Writing Patterns Definition pattern List pattern Sequence pattern Comparison-contrast pattern Cause-effect pattern Additional Paragraph Patterns Definition and Example Pattern Generalization and Example Pattern Location or Spatial Order Pattern Summary Pattern Classification Pattern Addition Pattern Statement and Clarification Pattern Other things to keep in mind when recognizing authors' writing patterns Lists and sequences differ in an important way. Avoid identifying every paragraph as having a list pattern. Authors often mix patterns in the same paragraph. A longer selection may contain several patterns and have an overall pattern as well. Checkpoint: Recognizing Authors' Writing Patterns Chapter Review Cards Test Your Understanding: Recognizing Authors' Writing Patterns, Part One Test Your Understanding: Recognizing Authors' Writing Patterns, Part Two Reading Selections: *Selection 7-1: "Viruses: Easily Spread and Ever Evolving" from Connect Core Concepts in Health by Paul Insel and Walton Roth (Health) Selection 7-2: The Right to Vote: Valued but Under Utilized from We the People: A Concise Introduction to American Politics by Thomas E. Patterson(Government) *Selection 7-3: "Are you Shopping Smart?" from Personal Finance by Jack Kapoor, Les Dlabay, and Robert Hughes

PART THREE: A NEW WORLD OF READING AND THINKING CRITICALLY

CHAPTER 8: READING CRITICALLY NEW INFORMATION AND SKILLS What is critical reading, and why is it important? What is author's point of view, and how can you determine it? What is author's purpose, and how can you determine it? What is author's intended audience, and how can you determine it? What is author's tone and how can you determine it? Other things to keep in mind when reading critically You should avoid seeing the purpose of everything you read as to inform. If the author's purpose is to persuade you to adopt his or her point of view, you should determine which side of an issue he or she favors. Understanding the author's tone will enable you to grasp the true or intended meaning, even when the author's words may appear to be saying something different. There are two forms of irony: irony in tone and irony in situations. Sarcasm and irony are not the same thing. Checkpoint: Reading Critically Chapter Review Cards Testing Your Understanding: Reading Critically, Part One Testing Your Understanding: Reading Critically, Part Two READINGS Selection 8-1: From For One More Day by Mitch Albom(Literature) Selection 8-2: "I Never Made It to the NFL" from The Last Lecture by Randy Pausch with Jeffrey Zaslow(Memoir) Selection 8-3: "Dispelling the Myths about Millionaires" from Understanding Business by William Nickels, James McHugh, and Susan McHugh (Personal Business)

CHAPTER 9: THINKING CRITICALLY NEW INFORMATION AND SKILLS What is thinking critically, and why is it important? What are facts and opinions, and why is it important to be able to distinguish between them? What are inferences, and why is it important to make them? Other things to keep in mind when thinking critically Facts and opinions may or may not appear together. Authors sometimes present opinions in such a way that they appear to be facts. There are other critical thinking skills, such as recognizing propaganda devices and recognizing fallacies, that can also be used to evaluate written material. Checkpoint: Thinking Critically Chapter Review Cards Test Your Understanding: Thinking Critically: Fact and Opinion Test Your Understanding: Thinking Critically: Making Logical Inferences READINGSb> *Selection 9-1: "Taboos and Myths about Conflict and Anger" from Marriages and Families: Intimacy, Diversity, and Strengths by George Johnson (Marriage and Family) Selection 9-2: "Planet Under Stress: Curbing Population Growth" from The Living World: Basic Concepts by George Johnson (Biology) *Selection 9-3: "For Better or Worse: Divorce" from Human Development by Diane Papalia, Sally Olds, and Ruth Feldman (Human Development)

PART FOUR: A NEW WORLD OF STUDYING: EFFECTIVE AND EFFICIENT STUDY TECHNIQUES

CHAPTER 10: APPROACHING COLLEGE READING AND STUDYING NEW INFORMATION AND SKILLS What is the three-step process for studying college textbooks? Step 1: Prepare to Read Step 2: Ask and Answer Questions to Guide Your Reading Step 3: Review by Rehearsing Your Answers What are textbook features? Chapter Introductions and Chapter Objectives Chapter Outlines Vocabulary Aids and Glossaries Boxes Chapter Summaries Study Questions and Activities Other Textbook features How can you interpret visuals and graphic aids? How can you interpret visual aids? Photographs Diagrams Maps Cartoons How can you interpret graphic aids? Line graphs Pie charts Bar graphs Flowcharts Tables Other things to keep in mind when studying textbook material. You will benefit from examining the features in all of your textbooks at the beginning of the semester. Chapter Review Cards Test Your Understanding: Interpreting Graphic Aids READING Selection 10-1: "Living with Stress" from P.O.W.E.R. Learning: Strategies for Success in College and Life by Robert Feldman (Student Success)

CHAPTER 11: PREPARING FOR TESTS: STUDY-READING, REHEARSAL, AND MEMORY NEW INFORMATION AND SKILLS How are rehearsal and memory related? How can you underline, highlight, and annotate your textbooks? How can you take notes from textbooks? Guidelines for Outlining Guidelines for Mapping Guidelines for Summarizing Guidelines for following directions Other things to keep in mind as you prepare for tests by applying Core Comprehension Skills When you study, choose the study techniques (underlining, highlighting, annotating, outlining, mapping, summarizing, making review cards or test review sheets) that (a) are appropriate to the type of material you are studying, (b) correspond with how you will e tested on the material, and (c) best suit your learning style. Learn how to handle outline, summary, and mapped notes questions on standardized reading tests. Chapter Review Cards