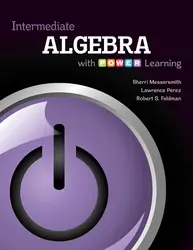 Intermediate Algebra with P.O.W.E.R. Learning
Copyright: 2014
Publication Date: February 6, 2013
MHID: 0073406279
ISBN 13: 9780073406275
Price :

$124.43

Qty :

Total :

$124.43
The purchase quantity range should be
1
-
29
for this product.
Pricing subject to change at any time. We only ship to US locations
New Features
The P.O.W.E.R. Learning Framework P.O.W.E.R. is a method for accomplishing any task based on five basic steps. Prepare. Organize. Work. Evaluate. Rethink. It is integrated at the section level in the Messersmith paperback series to guide students through learning math concepts. The P.O.W.E.R. framework was developed by Dr. Robert Feldman and integrated into his first year experience/student success books, POWER Learning: Strategies for Success in College and Life and POWER Learning and Your Life: Essentials of Student Success. The framework has also been integrated into Dr. Feldman's Psychology and Your Life text and is the basis for the student success program at UMass at Amherst where he is Dean.
Connect Math hosted by ALEKS is the combination of an online homework manager with an artificial-intelligent, diagnostic assessment. Each homework problem is consistent with the problem included in the text and was hand-picked by instructors and subject matter experts. Instructors will have a platform that was designed through a comprehensive market development process involving full-time and adjunct math faculty to better meet their needs. -Instructors can deliver assignments, quizzes, and tests easily online -Students have 24/7 online access to an integrated, media-rich eBook -Online study assets are specifically tied to the textbook
Worksheets for EVERY Section of the Textbook Worksheets fall into three categories: review worksheets/basic skills, worksheets that teach new content, and worksheets to reinforce/pull together different concepts. These worksheets are a great way to both enhance instruction and to give students more tools to be successful in studying a given topic. They are ready-made materials for instructors! Perfect for adjuncts! Especially those who teach at more than one school and don't have time to create tools for their classes. The worksheets help to standardize the level at which the course is taught. To help adjuncts keep pace with full-time instructors. *Available in Connect hosted by ALEKS and ALEKS.
Guided Student NotesThis is a silver bullet for the Messersmith series and the supplement has been enhanced and "powerized" for the softcover books. The GSNs are an amazing resource for instructors to help their students become better note-takers. They are a note-taking template containing in-class examples provided in the margin of the text along with additional examples not found in the book. Result #1? Students spend less time copying down information and more time engaging within the classroom. Result #2? Students notes are more organized and more easily accessible and understandable when studying for an exam or going back over homework.
Fun with technology! Students with iPads or other tablets can download the Guided Student Notes through the Evernote app and keep them organized digitally. Available in Connect Math hosted by ALEKS and ALEKS. Check out the new Lecture Videos for even more Guided Student Notes resources.
Chapter-Opening Vignettes Each chapter opens with a real-world vignette to capture the student's attention and engage them in the upcoming material. The openers all center around different careers where understanding math is an asset. The openers also introduce the Study Strategy for that chapter.
Study Strategy Continuing the integration of student success within the text, each chapter has a Study Strategy theme that is presented in the opening material. Themes are diverse and cover areas such as time management, strategies for taking a math test, vetting and using online resources, speaking in public and more.
Putting It All Together • Most chapters contain a Putting It All Together section. In keeping with the author's philosophy of breaking sections into manageable chunks, Messersmith includes this section where applicable to help the student synthesize key topics before moving onto the rest of the chapter. Unlike the competition, this Putting It All Together section is not only an exercise set but also an explanation of how to distinguish between different types of problems, and therefore it tries to get students to think through solving problems as an instructor would. This is a good example of where Messersmith helps students learn how to have an internal conversation by teaching them to ask themselves the questions that instructors ask themselves.
Group Activities Group Activities are available for each chapter. These will be found either in the end of chapter material or online through Connect Math Hosted by ALEKS.
Intermediate Algebra with P.O.W.E.R. Learning
Intermediate Algebra with P.O.W.E.R. Learning, First Edition
Chapter 1: Real Numbers
Section 1.1 Set of Numbers
Section 1.2 Operations on Real Numbers
Section 1.3 Order of Operations
Section 1.4 Algebraic Expressions and Properties of Real Numbers
Chapter Summary
Chapter Review
Chapter Test
Chapter 2: Linear Equations in One Variable
Section 2.1 Linear Equations in One Variable
Section 2.2 Formulas and Percent
Section 2.3 Applications of Linear Equations
Section 2.4 Applications Involving Percents
Section 2.5 More Applications of Linear Equations
Chapter Summary
Chapter Review
Chapter Test
Cumulative Review for Chapters 1 and 2
Chapter 3: Linear Inequalities and Absolute Value
Section 3.1 Linear Inequalities in One Variable
Section 3.2 Compound Inequalities in One Variable
Section 3.3 Absolute Value Equations and Inequalities
Chapter Summary
Chapter Review
Chapter Test
Cumulative Review for Chapters 1 – 3
Chapter 4: Linear Equations in Two Variables
Section 4.1 Introduction to Linear Equations in Two Variables
Section 4.2 Slope of a Line and Slope-Intercept Form
Section 4.3 Writing an Equation of a Line
Section 4.4 Linear and Compound Linear Inequalities in Two Variables
Section 4.5 Introduction to Functions
Chapter Summary
Chapter Review
Chapter Test
Cumulative Review for Chapters 1 – 4
Chapter 5: Solving Systems of Linear Equations
Section 5.1 Solving Systems of Linear Equations in Two Variables
Section 5.2 Solving Systems of Linear Equations in Three Variables
Section 5.3 Application of Systems of Linear Equations
Section 5.4 Solving Systems of Linear Equations Using Matrices
Chapter Summary
Chapter Review
Chapter Test
Cumulative Review for Chapters 1 – 5
Chapter 6: Polynomials and Polynomial Functions
Section 6.1 The Rules of Exponents
Section 6.2 More on Exponents and Scientific Notation
Section 6.3 Addition and Subtraction of Polynomials and Polynomial Functions Section 6.4 Multiplication of Polynomials and Polynomial Functions Section 6.5 Division of Polynomials and Polynomial Functions Chapter Summary Chapter Review Chapter Test Cumulative Review for Chapters 1 – 6 Chapter 7: Factoring Polynomials Section 7.1 The Greatest Common Factor and Factoring by Grouping Section 7.2 Factoring Trinomials Section 7.3 Special Factoring Techniques Putting It All Together Section 7.4 Solving Quadratic Equations by Factoring and Applications Chapter Summary Chapter Review Chapter Test Cumulative Review for Chapters 1 – 7 Chapter 8: Rational Expressions, Equations, and Functions Section 8.1 Simplifying, Multiplying, and Dividing Rational Expressions and Functions Section 8.2 Adding and Subtracting Rational Expressions Section 8.3 Simplifying Complex Fractions Section 8.4 Solving Rational Equations Putting It All Together Section 8.5 Application of Rational Equations Section 8.6 Variation Chapter Summary Chapter Review Chapter Test Cumulative Review for Chapters 1 – 8 Chapter 9: Radicals and Rational Exponents Section 9.1 Radical Expressions and Functions Section 9.2 Rational Exponents Section 9.3 Simplifying Expressions Containing Square Roots Section 9.4 Simplifying Expressions Containing Higher Roots Section 9.5 Adding, Subtracting, and Multiplying Radicals Section 9.6 Dividing Radicals Putting It All Together Section 9.7 Solving Radical Equations Section 9.8 Complex Numbers Chapter Summary Chapter Review Chapter Test Cumulative Review for Chapters 1 – 9 Chapter 10: Quadratic Equations and Functions Section 10.1 The Square Root Property and Completing the Square Section 10.2 The Quadratic Formula Putting It All Together Section 10.3 Equations in Quadratic Form Section 10.4 Formulas and Applications Section 10.5 Quadratic Functions and their Graphs Section 10.6 Application of Quadratic Functions and Graphing Other Parabolas Section 10.7 Quadratic and Rational Inequalities Chapter Summary Chapter Review Chapter Test Cumulative Review for Chapters 1 – 10 Chapter 11: Exponential and Logarithmic Functions Section 11.1 Inverse Functions Section 11.2 Exponential Functions Section 11.3 Logarithmic Functions Section 11.4 Properties of Logarithms Section 11.5 Common and Natural Logarithms and Change of Base Section 11.6 Solving Exponential and Logarithmic Equations Chapter Summary Chapter Review Chapter Test Cumulative Review for Chapters 1 – 11 Chapter 12: Nonlinear Functions, Conic Sections, and Nonlinear Systems Section 12.1 Graphs of Other Useful Functions Section 12.2 The Circle Section 12.3 The Ellipse Section 12.4 The Hyperbola Putting It All Together Section 12.5 Nonlinear Systems of Equations Sections 12.6 Second-Degree Inequalities and System of Inequalities Chapter Summary Chapter Review Chapter Test Cumulative Review for Chapters 1 – 12 Appendix Section A Review of Fractions Section B Geometry Review Section C Synthetic Division and the Remainder Theorem Section D Determinants and Cramer's Rule