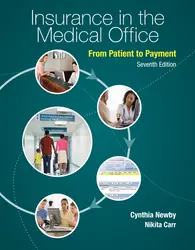 Insurance in the Medical Office: From Patient to Payment
Copyright: 2014
Publication Date: January 9, 2013
MHID: 0073374598
ISBN 13: 9780073374598
Price :

$83.83

Qty :

Total :

$83.83
The purchase quantity range should be
1
-
29
for this product.
Pricing subject to change at any time. We only ship to US locations
New Features
The book is tailored to the specific needs of medical assistants as they handle office administration tasks. Content and coverage have been updated and refocused to provide a practical, targeted overview of medical insurance and billing.
Expanded introduction to ICD-10-CM, with an optional chapter covering ICD-9-CM and ICD-10-CM available through McGraw-Hill's Create.
Starting in Chapter 3, in-chapter Exercises give students the opportunity to get hands-on experience with key Practice Management Program tasks through simulations of real software. Completing on-the-job tasks relating to PMPs is an important aspect of a medical assistant's work. Insurance in the Medical Office offers options for completing these tasks: Connect Plus for simulated Medisoft exercises, as well as paper claim forms and the electronic CMS-1500 form for claims exercises.
Pedagogy Updates: Learning Outcomes are restated using the revised version of Bloom's Taxonomy to teach and assess critical thinking about medical insurance and coding concepts. Major chapter heads are now structured to reflect the numbered Learning Outcomes. Key terms are now defined in the margins for easy reference, and are listed in the Glossary. Billing Tips and Compliance Guidelines highlight key concepts or provide additional tips to help students navigate through the material. "Thinking It Through" questions have been added at the end of each section to assess each Learning Outcome. New Chapter Summaries have been created in a tabular, step-by-step format with page references to help with review of the material. End-of-chapter elements are now tagged with Learning Outcomes. The Chapter Review section includes: Using Terminology—matching questions; Checking Your Understanding—multiple choice and short answer questions; and Applying Your Knowledge—cases.
McGraw-Hill's Connect Plus includes all End-of-Section and End-of-Chapter questions, as well as simple interactives for each chapter.
Extensive instructor resources are available at www.mhhe.com/newbycarr, including the Instructor's Manual, Electronic Testbank, PowerPoint Slides with Teaching Notes, Sample Syllabi, Competency Correlations and an asset map.
Insurance in the Medical Office: From Patient to Payment
Preface
Acknowledgments
CHAPTER 1
From Patient to Payment: Understanding Medical Insurance
1.1 Working with Medical Insurance
1.2 Paying for Medical Services
1.3 The Medical Billing Cycle
1.4 Using PM/EHRs: The Integrated Medical Documentation and Billing Cycle
1.5 Set for Success
Chapter Review
CHAPTER 2
Electronic Health Records, HIPAA, and HITECH: Sharing and Protecting Patients' Health Information
2.1 Medical Records and the Need for Accurate Documentation
2.2 Health Care Regulations
2.3 HIPAA Privacy Rule
2.4 HIPAA Security Rule and HITECH Breach Notification Rule
2.5 HIPAA Electronic Health Care Transactions and Code Sets
2.6 Avoiding Fraud and Abuse
2.7 Compliance Plans
Chapter Review
CHAPTER 3
Patient Encounters and Billing Information
3.1 New Versus Established Patients
3.2 Information for New Patients
3.3 Information for Established Patients
3.4 Verifying Patient Eligibility for Insurance Benefits
3.5 Determining Preauthorization and Referral Requirements
3.6 Determining the Primary Insurance
3.7 Working with Encounter Forms
3.8 Communications Are Key
Chapter Review
CHAPTER 4
Diagnostic Coding
4.1 ICD-10-CM
4.2 The Alphabetic Index
4.3 The Tabular List
4.4 Using External Cause Codes and Z Codes
4.5 ICD-10-CM Official Guidelines for Coding and Reporting
4.6 Assigning Diagnosis Codes
Chapter Review
CHAPTER 5
Procedural Coding
5.1 Introduction to Procedure Codes in the CPT
5.2 Coding Steps
5.3 Coding Evaluation and Management Services
5.4 Coding Surgical Procedures
5.5 Coding Laboratory Procedures and Immunizations
5.6 HCPCS Codes
Chapter Review
CHAPTER 6
Payment Methods and Checkout Procedures
6.1 Types of Health Plans
6.2 Methods for Setting Fees
6.3 Third-Party Contracts and Guidelines
6.4 Time-of-Service (TOS) Payments
6.5 Calculating TOS Payments
6.6 Checking Out Patients
Chapter Review
CHAPTER 7
Health Care Claim Preparation and Transmission
7.1 Preparing Claims Using Practice Management Programs
7.2 Health Care Claims
7.3 Completing the CMS-1500 02/12 Claim
7.4 The HIPAA Claim
7.5 Health Care Claim Transmission
7.6 Billing Secondary Payers
Chapter Review
CHAPTER 8
Private Payers/BlueCross and BlueShield
8.1 Private Insurance
8.2 Major Private Payers and the BlueCross BlueShield Association
8.3 Billing Guidelines Under Participation Contracts
8.4 Private Payer Claims
8.5 Capitation Management
Chapter Review
CHAPTER 9
Medicare
9.1 Medicare Overview
9.2 Part B Plans and Medigap Plans
9.3 Medicare Charges
9.4 Using the ABN
9.5 Medicare Secondary Payer
9.6 Claim Completion
Chapter Review
CHAPTER 10
Medicaid
10.1 Introduction to Medicaid
10.2 Medicaid Coverage
10.3 Medicaid Eligibility and Plans
10.4 Filing Medicaid Claims
Chapter Review
CHAPTER 11
TRICARE and CHAMPVA
11.1 The TRICARE Program
11.2 Provider Participation and Nonparticipation
11.3 TRICARE Plans
11.4 TRICARE and Other Insurance Plans
11.5 CHAMPVA
11.6 Filing Claims
Chapter Review
CHAPTER 12
Workers' Compensation and Automobile/Disability Insurance
12.1 Federal Workers' Compensation Plans
12.2 State Workers' Compensation Plans
12.3 Workers' Compensation Terminology
12.4 Claim Process
12.5 Automobile Insurance and Disability Compensation Programs
Chapter Review
CHAPTER 13
Claim Processing, Payments, and Collections
13.1 Health Plan Claim Processing by Payers
13.2 Processing the Remittance Advice
13.3 Appeals
13.4 Patient Billing and Adjustments
13.5 Collecting Outstanding Patient Accounts
13.6 Writing Off Uncollectible Accounts
13.7 Terminating the Provider-Patient Relationship
Chapter Review
CHAPTER 14
Hospital Insurance
14.1 Health Care Facilities: Inpatient Versus Outpatient
14.2 Hospital Billing Cycle
14.3 Inpatient (Hospital) Coding
14.4 Payers and Payment Methods
14.5 Claims and Follow Up
Chapter Review
CHAPTER 15 AVAILABLE AT WWW.MCGRAWHILLCREATE.COM
Dental Insurance
15.1 Introduction to Dental Terms
15.2 Dental Insurance
15.3 Processing Dental Claims
Chapter Review
CHAPTER 16 AVAILABLE AT WWW.MCGRAWHILLCREATE.COM
Diagnostic Coding: Introduction to ICD-9-CM and ICD-10-CM
16.1 ICD-9-CM
16.2 Organization of ICD-9-CM
16.3 The Alphabetic Index
16.4 The Tabular List
16.5 Tabular List of Chapters
16.6 V Codes and E Codes
16.7 Coding Steps
16.8 Official Coding Guidelines
16.9 Introducing ICD-10-CM
Chapter Review
Appendix A Guide to Medisoft
Appendix B Guide to the Interactive Simulated CMS-1500 Form
Appendix C Professional Websites
Appendix D Forms
Abbreviations
Glossary
Index