PreK–12 educators will see school pricing in their cart after logging in.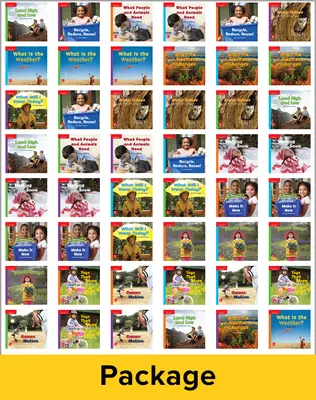 Inspire Science Grade K, Leveled Reader Library, 6 Each of 48 Books
MHID: 0076659089 | ISBN 13: 9780076659081
Payment Options: During checkout, you can pay with a P.O. (simply enter the number), Credit Card, or PayPal.
Product Details:
The Leveled Reader Library set includes packages of six for four differentiated leveled readers per title, six for On level students, six for Beyond Level Students, six for Approaching Level students and six for English Language Learners. They are differentiated by colored bands using blue, green, yellow, and purple respectively. There are 12 titles in the set for a total of 288 books.
| Title | ISBN 13 | Quantity |
| --- | --- | --- |
| GRADE K COLOR CODED STICKER | N/A | 2 |
| Inspire Science, Grade K, Leveled Reader, Animal Homes Approaching Level | 9780021344123 | 6 |
| Inspire Science, Grade K, Leveled Reader, Animal Homes On Level | 9780021344130 | 6 |
| Inspire Science, Grade K, Leveled Reader, Animal Homes Beyond Level | 9780021344161 | 6 |
| Inspire Science, Grade K, Leveled Reader, Recycle, Reduce, Reuse! On Level | 9780021351114 | 6 |
| Inspire Science, Grade K, Leveled Reader, Toys That Move Approaching Level | 9780021371044 | 6 |
| Inspire Science, Grade K, Leveled Reader, Games in Motion Approaching Level | 9780021371051 | 6 |
| Inspire Science, Grade K, Leveled Reader, Toys That Move On Level | 9780021371068 | 6 |
| Inspire Science, Grade K, Leveled Reader, Games in Motion On Level | 9780021371075 | 6 |
| Inspire Science, Grade K, Leveled Reader, Toys That Move Beyond Level | 9780021371082 | 6 |
| Inspire Science, Grade K, Leveled Reader, Games in Motion Beyond Level | 9780021371099 | 6 |
| Inspire Science, Grade K, Leveled Reader, Toys That Move ELL Level | 9780021371112 | 6 |
| Inspire Science, Grade K, Leveled Reader, Games in Motion ELL Level | 9780021372492 | 6 |
| Inspire Science, Grade K, Leveled Reader, Animal Homes ELL Level | 9780021374359 | 6 |
| Inspire Science, Grade K, Leveled Reader, Land High and Low Approaching Level | 9780021374366 | 6 |
| Inspire Science, Grade K, Leveled Reader, When the Weather Changes ELL Level | 9780021374397 | 6 |
| Inspire Science, Grade K, Leveled Reader, What Will I Wear Today? ELL Level | 9780021335091 | 6 |
| Inspire Science, Grade K, Leveled Reader, Recycle, Reduce, Reuse! Beyond Level | 9780021340118 | 6 |
| Inspire Science, Grade K, Leveled Reader, Land High and Low On Level | 9780021344222 | 6 |
| Inspire Science, Grade K, Leveled Reader, Land High and Low Beyond Level | 9780021344239 | 6 |
| Inspire Science, Grade K, Leveled Reader, Land High and Low ELL Level | 9780021344246 | 6 |
| Inspire Science, Grade K, Leveled Reader, Melting Snow Approaching Level | 9780021351237 | 6 |
| Inspire Science, Grade K, Leveled Reader, Melting Snow On Level | 9780021351244 | 6 |
| Inspire Science, Grade K, Leveled Reader, Melting Snow Beyond Level | 9780021351251 | 6 |
| Inspire Science, Grade K, Leveled Reader, Melting Snow ELL Level | 9780021351268 | 6 |
| Inspire Science, Grade K, Leveled Reader, What Will I Wear Today? On Level | 9780021351275 | 6 |
| Inspire Science, Grade K, Leveled Reader, What Will I Wear Today? Beyond Level | 9780021351299 | 6 |
| Inspire Science, Grade K, Leveled Reader, Recycle, Reduce, Reuse! ELL Level | 9780021357208 | 6 |
| Inspire Science, Grade K, Leveled Reader, Make It New Approaching Level | 9780021357239 | 6 |
| Inspire Science, Grade K, Leveled Reader, Make It New On Level | 9780021357246 | 6 |
| Inspire Science, Grade K, Leveled Reader, Make It New Beyond Level | 9780021357284 | 6 |
| Inspire Science, Grade K, Leveled Reader, Make It New ELL Level | 9780021357291 | 6 |
| Inspire Science, Grade K, Leveled Reader, What Will I Wear Today? Approaching Level | 9780021357420 | 6 |
| Inspire Science, Grade K, Leveled Reader, Recycle, Reduce, Reuse! Approaching Level | 9780021363964 | 6 |
| Inspire Science, Grade K, Leveled Reader, What Is the Weather? Approaching Level | 9780021332243 | 6 |
| Inspire Science, Grade K, Leveled Reader, What Is the Weather? On Level | 9780021332250 | 6 |
| Inspire Science, Grade K, Leveled Reader, What Is the Weather? Beyond Level | 9780021332267 | 6 |
| Inspire Science, Grade K, Leveled Reader, What Is the Weather? ELL Level | 9780021332281 | 6 |
| Inspire Science, Grade K, Leveled Reader, When the Weather Changes Approaching Level | 9780021332298 | 6 |
| Inspire Science, Grade K, Leveled Reader, When the Weather Changes On Level | 9780021332335 | 6 |
| Inspire Science, Grade K, Leveled Reader, When the Weather Changes Beyond Level | 9780021332342 | 6 |
| Inspire Science, Grade K, Leveled Reader, What People and Animals Need Beyond Level | 9780021344734 | 6 |
| Inspire Science, Grade K, Leveled Reader, What People and Animals Need ELL Level | 9780021344741 | 6 |
| Inspire Science, Grade K, Leveled Reader, Plants Grow Approaching Level | 9780021359486 | 6 |
| Inspire Science, Grade K, Leveled Reader, Plants Grow On Level | 9780021359493 | 6 |
| Inspire Science, Grade K, Leveled Reader, Plants Grow Beyond Level | 9780021359530 | 6 |
| Inspire Science, Grade K, Leveled Reader, Plants Grow ELL Level | 9780021359547 | 6 |
| Inspire Science, Grade K, Leveled Reader, What People and Animals Need Approaching Level | 9780021359585 | 6 |
| Inspire Science, Grade K, Leveled Reader, What People and Animals Need On Level | 9780021359615 | 6 |