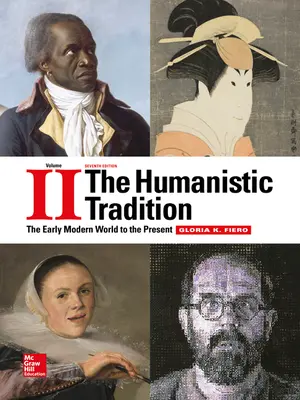 The Humanistic Tradition Volume 2: The Early Modern World to the Present
MHID:
1259351688 |
ISBN 13:
9781259351686
Product Description
Understanding that a global humanities course is taught in varying ways, Gloria Fiero redefines the discipline for greater flexibility with the 7th Edition of The Humanistic Tradition. Enhanced by McGraw-Hill's LearnSmart® and SmartBook®, Fiero delivers a learning experience tailored to the needs of each institution, instructor, and student. With the ability to incorporate new extended readings, streaming music, and artwork, The Humanistic Tradition renews the understanding of the relationship between world cultures and humankind's creative legacy.

McGraw-Hill Connect Humanities is the only integrated learning system that empowers students by continuously adapting to deliver precisely what they need, when they need it, so that your class time is more engaging and effective. It provides tools that make assessment easier, learning more engaging, and studying more efficient.


Purchase this product
Price :

$163.75

Quantity :

Total :

$163.75
The purchase quantity range should be
1
-
29
for this product.
Pricing subject to change at any time. We only ship to US locations.
New Features
McGraw-Hill Connect® Humanities is now powered by McGraw-Hill LearnSmart®, an adaptive learning program designed to personalize the learning experience. LearnSmart is proven to help students learn faster, study smarter, and retain more knowledge for greater success. By helping students master core concepts at their own pace, LearnSmart enables instructors to spend more meaningful time in the classroom.
Fueled by McGraw-Hill LearnSmart®, SmartBook® is the first and only adaptive reading experience, designed to change the way students read and learn. SmartBook for Gloria Fiero's The Humanistic Tradition creates a personalized reading experience by highlighting the most impactful concepts a student needs to learn at that moment in time. This ensures that every minute spent with SmartBook is returned to the student as the most valuable minute possible
No two humanities courses are the same. That is why Gloria Fiero personally selected more than 150 additional readings, which may be easily added to The Humanistic Tradition in McGraw-Hill Create®. Marginal icons appear throughout the 7th edition to indicate the relevant additional readings.
The first and only analytics tool of its kind, McGraw-Hill Connect® Insight is a series of visual data displays, each framed by an intuitive question, providing at-a-glance information on your class. Intuitive: Receive an instant, at-a-glance view of student performance matched with student activity. Dynamic: Connect Insight puts real-time analytics in your hands, so you can take action early and keep struggling students from falling behind. Mobile: Connect Insight travels from office to classroom, available on demand wherever and whenever it's needed.
The 7th Edition of The Humanistic Tradition includes a new chapter feature, Looking Into, providing diagrammatic analysis of key works, such as Neolithic Stone Circles (including the latest archeological discoveries in Southeast Turkey), the Parthenon, the sonnets of Petrarch and Donne, Shiva: Lord of the Dance, Jan van Eyck's Arnolfini Double Portrait, and Judy Chicago's Dinner Party
The 7th Edition of The Humanistic Tradition places further emphasis on critical thinking by expanding upon two popular features: Exploring Issues and Making Connections. To Exploring Issues, the debate over the origins of India's Vedic culture (chapter 3) was added. To Making Connections, Fiero offers a novel illustration of the contemporary affection for Chinese landscape painting (chapter 14).
Additions to the 7th Edition art program include the Nebra Sky Disk, Hellenistic mosaics, Delacroix's Women of Algiers, Oceania's art of tattoo, Japan's Amida Buddha, Charles Willson Peale's Portrait of Yarrow Mamout (the earliest known portrait of a Muslim in America), Ai Wei Wei's Forever Bicycle, Ernesto Neto's Anthropodina, and Zaha Hadid's Heydar Aliyev Center. Chapters 37 and 38, which treat the Information Age and Globalism, have been updated to present a cogent overview of contemporary issues, including terrorism, ecological concerns, ethnic conflict, and the digital arts.
A complete set of instructor resources are available for The Humanistic Tradition. These include an instructor's manual with discussion suggestions and study questions, music listening guides, lecture PowerPoints, and a test bank.
---
Key Features
McGraw-Hill Connect® Image Bank is an instructor database of images from select McGraw-Hill Education art and humanities titles, including The Humanistic Tradition. It includes all images for which McGraw-Hill has secured electronic permissions. With Connect Image Bank, instructors can access a text's images by browsing its chapters, style/period, medium, and culture, or by searching with key terms. Images can be easily downloaded for use in presentations and in PowerPoints. The download includes a text file with image captions and information. Connect Image Bank is accessed via the library tab in Connect Humanities.
To assist students in achieving global cultural literacy, The Humanistic Traditio is manageable in size without sacrificing coverage. Its organizational framework adheres to a chronological structure, while retaining a topical approach to studying the arts and ideas by way of clearly defined themes, movements, and styles that dominate the time periods.
To stimulate critical thinking and classroom discussion, the Exploring Issues feature focuses on controversial ideas and current debates, while Making Connections brings attention to contrasts and continuities between past and present.
New and revised content appears throughout the text, reinforcing Gloria Fiero's commitment to timely and relevant issues, while exposing students to the latest scholarship.
The Humanistic Tradition Volume 2: The Early Modern World to the Present
19 Protest and Reform: The Waning of the Old Order
Looking Ahead
The Temper of Reform
The Protestant Reformation
Northern Renaissance Art
Sixteenth-Century Literature
Shakespeare
Looking Back
Book 4: Faith, Reason, and Power in the Early Modern World 20 The Catholic Reformation and the Baroque Style Looking Ahead The Catholic Reformation Catholicism's Global Reach Literature and the Catholic Reformation The Visual Arts and the Catholic Reformation The Baroque Style Baroque Music Looking Back 21 Absolute Power and the Aristocratic Style Looking Ahead The Aristocratic Style in Europe Music and Dance at the Court of Louis XIV Seventeenth-Century French Literature Absolute Power and the Aristocratic Style Beyond Europe Absolute Power and the Aristocratic Style in China Absolute Power and the Aristocratic Style in Japan Looking Back 22 The Baroque in the Protestant North Looking Ahead The Rise of the English Commonwealth The King James Bible English Literature of the Seventeenth Century The London of Christopher Wren Protestant Devotionalism in the Netherlands The Music of the Protestant North Looking Back 23 The Scientific Revolution and the New Learning Looking Ahead The Scientific Revolution The New Learning Newton's Scientific Synthesis The Impact of the Scientific Revolution on Art Baroque Instrumental Music Looking Back 24 The Enlightenment: The Promise of Reason Looking Ahead Liberty and Political Theory The Birth of Economic Theory The Philosophes The Crusade for Progress Enlightenment Literature Looking Back 25 The Limits of Reason Looking Ahead The Industrial Revolution The Transatlantic Slave Trade Satire: Weapon of the Enlightenment Rousseau's Revolt against Reason Kant's Mind/World Revolution The Revolutions of the Late Eighteenth Century Looking Back 26 Eighteenth-Century Art, Music, and Society Looking Ahead The Rococo Style Eighteenth-Century Genre Painting Eighteenth-Century Neoclassicism Eighteenth-Century Western Music Looking Back Book 5: Romanticism, Realism, and the Nineteenth-Century World 27 The Romantic View of Nature Looking Ahead The Progress of Industrialization Early Nineteenth-Century Thought Nature and the Natural in European Literature Nature and the Natural in Asian Literature Romantic Landscape Painting American Romanticism Looking Back 28 The Romantic Hero Looking Ahead Nationalism and the Hero The Promethean Hero Goethe's Faust: The Quintessential Romantic Hero Romantic Love and Romantic Stereotypes Looking Back 29 The Romantic Style in Art and Music Looking Ahead Heroic Themes in Art Trends in Mid Nineteenth-Century Architecture The Romantic Style in Music The Romantic Ballet Romantic Opera Looking Back 30 Industry, Empire, and the Realist Style Looking Ahead The Global Dominion of the West Nineteenth-Century Social Theory Realism in Literature Realism in the Visual Arts Late Nineteenth-Century Architecture Realism in Music Looking Back 31 The Move Toward Modernism Looking Ahead Late Nineteenth-Century Thought Poetry in the Late Nineteenth Century: The Symbolists Music in the Late Ninteenth Century: Debussy Painting in the Late Ninteenth Century Art Nouveau Literature in the Late Nineteenth Century The Arts of Africa and Oceania Postimpressionism Looking Back Book 6: Modernism, Postmodernism, and the Global Perspective 32 The Modernist Assault Looking Ahead The New Physics Early Twentieth-Century Poetry Early Twentieth-Century Art Early Twentieth-Century Architecture Early Twentieth-Century Music The Beginnings of Modern Dance Looking Back 33 The Freudian Revolution Looking Ahead Freud The New Psychology and Literature The New Psychology and the Visual Arts The New Psychology and Music Looking Back 34 Total War, Totalitarianism, and the Arts Looking Ahead Total Wars World War I Literature World War I Art The Russian Revolution The Great Depression and the American Scene Totalitarianism and World War II The Visual Arts in the War Era Music in the War Era The Communist Revolution in China Looking Back 35 The Quest for Meaning Looking Ahead The Cold War Existentialism Literature at Mid-Century The Visual Arts at Mid-Century Sculpture at Mid-Century Film at Mid-Century Architecture at Mid-Century Music and Dance at Mid-Century Looking Back 36 Identity and Liberation Looking Ahead Anticolonialism and Liberation The Quest for Racial Equality The Quest for Gender Equality Looking Back 37 The Information Age Looking Ahead The Information Explosion New Directions in Science and Philosophy Literature in the Information Age The Visual Arts in the Information Age Architecture in the Information Age Music in the Information Age Dance in the Information Age Looking Back 38 Globalism: The Contemporary World Looking Ahead The Global Perspective The Global Ecosystem Globalism and Ethnic Identity The Challenge of Globalism The Arts in the Global Village Looking Back