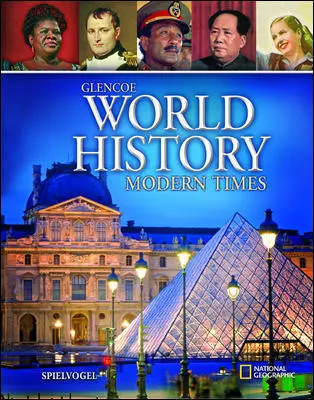 Glencoe World History: Modern Times, Student Edition
MHID:
007891003X |
ISBN 13:
9780078910036
Product Description
Drawing on the features of Glencoe World History, this program motivates students, helps them understand the connections between recent world events and issues, and gives them an appreciation for the interconnectedness of the world's regions and peoples.
Purchase this product
Price :

$104.07

Quantity :

Total :

$104.07
The purchase quantity range should be
1
-
29
for this product.
Pricing subject to change at any time. We only ship to US locations.
New Features
Provide your students with a consistently riveting narrative flow in a textbook written by an unparalleled author team that includes the world-renowned National Geographic.
Enhance reading skills with a program that contains more reading support than any other world history program.
Enable students to self-direct learning with StudentWorks™ Plus CD-ROM. The CD-ROM includes student-centered supplements and page-by-page audio of the entire text in English with a Spanish summary.
Provide the Student Edition written at a lower reading level with the Reading Essentials and Study Guide. Combined with the world history audio program, the guide is a powerful tool for struggling readers.
Ease your lesson planning with TeacherWorks™ CD-ROM. It contains the entire Teacher Edition, all print resources and multimedia, and a built-in lesson plan wizard.
Glencoe World History: Modern Times, Student Edition
Why Study History?
Reading for Information
Geography's Impact on History
National Geographic Reference Atlas
Geography Handbook
UNIT 1 THE FIRST CIVILIZATIONS AND EMPIRES, PREHISTORY TO A.D. 500
Chapter 1 The First Humans, Prehistory–3500 B.C.
Chapter 2 Western Asia And Egypt, 3500–500 B.C.
Chapter 3 India And China, 3000 B.C.–A.D. 500
Chapter 4 Ancient Greece, 1900–133 B.C
Chapter 5 Rome And The Rise Of Christianity, 600 B.C.–A.D. 500
UNIT 2 NEW PATTERNS OF CIVILIZATIONS, 400–1500
Chapter 6 The World Of Islam, 600–1500 Special Feature: World Religions
Chapter 7 Early African Civilizations, 2000 B.C.–A.D. 1500
Chapter 8 The Asian World, 400–1500
Chapter 9 Emerging Europe And The Byzantine Empire, 400–1300
Chapter 10 Europe In The Middle Ages, 1000–1500
Chapter 11 The Americas, 400–1500
UNIT 3 THE EARLY MODERN WORLD, 1400–1800
Chapter 12 Renaissance And Reformation, 1350–1600
Chapter 13 The Age Of Exploration, 1500–1800
Chapter 14 Crisis And Absolutism In Europe, 1550–1715
Chapter 15 The Muslim Empires, 1450–1800
Chapter 16 The East Asian World, 1400–1800 Special Feature: World Languages
Chapter 17 Revolution And Enlightenment, 1550–1800
Chapter 18 The French Revolution And Napoleon 1789–1815
UNIT 4 AN ERA OF EUROPEAN IMPERIALISM, 1800–1914
Chapter 19 Industrialism And Nationalism, 1800–1870
Chapter 20 Mass Society And Democracy, 1870–1914
Chapter 21 The Height Of Imperialism, 1800–1914
Chapter 22 East Asia Under Challenge, 1800–1914
UNIT 5 THE TWENTIETH-CENTURY CRISIS, 1914–1945
Chapter 23 War And Revolution, 1914–1919
Chapter 24 The West Between The Wars, 1919–1939
Chapter 25 Nationalism Around The World, 1919–1939
Chapter 26 World War II, 1939–1945
UNIT 6 TOWARD A GLOBAL CIVILIZATION, 1945 TO THE PRESENT
Chapter 27 Cold War And Postwar Changes, 1945–1970
Chapter 28 The Contemporary Western World, 1970–Present
Chapter 29 Latin America, 1945–Present
Chapter 30 Africa And The Middle East, 1945–Present
Chapter 31 Asia And The Pacific, 1945–Present
Chapter 32 Challenges And Hopes For The Future
Appendices
Mini Almanac
Primary Source Library
Glossary
Spanish Glossary
Index