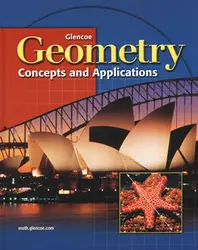 Geometry: Concepts and Applications, Student Edition
Copyright: 2001
Publication Date: January 11, 2000
MHID: 0028348176
ISBN 13: 9780028348179
Price :

$92.31

Qty :

Total :

$92.31
The purchase quantity range should be
1
-
29
for this product.
Pricing subject to change at any time. We only ship to US locations
New Features
Chapters 1-14 offer comprehensive coverage of geometric concepts without the rigor of proof. Chapter 15 deals with formal proof.
Reading Geometry; Words, Symbols, and Models and Communicating Mathematics help your students become proficient in reading geometry.
InfoGraphics convey information visually, reducing the student's reading load.
Glencoe's Assessment Advantage includes Preparing for Standardized Tests, created in conjunction with The Princeton Review. Two-page reviews present strategies for solving problems that appear on standardized tests and proficiency tests. Each exercise also ends with at Standardized Test Practice problem.
Geometry: Concepts and Applications, Student Edition
Chapter 1 Reasoning in Geometry
1-1 Patterns and Inductive Reasoning

Investigation: To Grandmother's House We Go!

1-2 Points, Lines, and Planes

Quiz 1: Lessons 1-1 and 1-2

1-3 Postulates
1-4 Conditional Statements and Their Converses

Quiz 2: Lessons 1-3 and 1-4

1-5 Tools of the Trade
1-6 A Plan for Problem Solving

Study Guide and Assessment
Chapter Test
Preparing for Standardized Tests
Chapter 2 Segment Measure and Coordinate Graphing
2-1 Real Numbers and Number Lines
2-2 Segments and the Properties of Real Numbers

Quiz 1: Lessons 2-1 and 2-2

2-3 Congruent Segments
2-4 The Coordinate Plane

Quiz 2: Lessons 2-3 and 2-4
Investigation: "V" Is for Vector

2-5 Midpoints

StudyGuide and Assessment
Chapter Test
Preparing for Standardized Tests
Chapter 3 Angles
3-1 Angles
3-2 Angle Measure

Investigation: Those Magical Midpoints

3-3 The Angle Addition Postulate
3-4 Adjacent and Linear Pairs of Angles

Quiz 1: Lessons 3-1 through 3-4

3-5 Complementary and Supplementary Angles
3-6 Congruent Angles

Quiz 2: Lessons 3-5 and 3-6

3-7 Perpendicular Lines

Study Guide and Assessment
Chapter Test
Preparing for Standardized Tests
Chapter 4 Parallels
4-1 Parallel Lines and Planes
4-2 Parallel Lines and Transversals

Investigation: When Does a Circle Become a Line?

4-3 Transversals and Corresponding Angles

Quiz 1: Lessons 4-1 through 4-3

4-4 Proving Lines Parallel
4-5 Slope

Quiz 2: Lessons 4-4 and 4-5

4-6 Equations of Lines

Study Guide and Assessment
Chapter Test
Preparing for Standardized Tests
Chapter 5 Triangles and Congruence
5-1 Classifying Triangles
5-2 Angles of a Triangle
5-3 Geometry in Motion

Quiz 1: Lessons 5-1 through 5-3

5-4 Congruent Triangles

Investigation: Take a Shortcut

5-5 SSS and SAS

Quiz 2: Lessons 5-4 and 5-5

5-6 ASA and AAS

Study Guide and Assessment
Chapter Test
Preparing for Standardized Tests
Chapter 6 More About Triangles
6-1 Medians
6-2 Altitudes and Perpendicular Bisectors
6-3 Angle Bisectors of Triangles

Quiz 1: Lessons 6-1 through 6-3
Investigation: What a Circle!

6-4 Isosceles Triangles
6-5 Right Triangles
6-6 The Pythagorean Theorem
6-7 Distance on a Coordinate Plane

Quiz 2: Lessons 6-4 through 6-7
Study Guide and Assessment
Chapter Test
Preparing for Standardized Tests
Chapter 7 Triangle Inequalities
7-1 Segments, Angles, and Inequalities

Investigation: Linguine Triangles? Hold the Sauce!

7-3 Inequalities Within a Triangle

Quiz 1: Lessons 7-1 through 7-3

7-4 Triangle Inequality Theorem

Study Guide and Assessment
Chapter Test
Preparing for Standardized Tests
Chapter 8 Quadrilaterals
8-1 Quadrilaterals
8-2 Parallelograms

Quiz 1: Lessons 8-1 and 8-2

8-3 Tests for Parallelograms
8-4 Rectangles, Rhombi, and Squares

Quiz 2: Lessons 8-3 and 8-4

8-5 Trapezoids

Investigation: Go Fly a Kite!
Study Guide and Assessment
Chapter Test
Preparing for Standardized Tests
Chapter 9 Proportions and Similarity
9-1 Using Ratios and Proportions
9-2 Similar Polygons

Quiz 1: Lessons 9-1 and 9-2

9-3 Similar Triangles
9-4 Proportional Parts and Triangles
9-5 Triangles and Parallel Lines

Investigation: Are Golden Triangles Expensive?

9-6 Proportional Parts and Parallel Lines

Quiz 2: Lessons 9-3 through 9-6

9-7 Perimeters and Similarity

Study Guide and Assessment
Chapter Test
Preparing for Standardized Tests
Chapter 10 Polygons and Area
10-1 Naming Polygons
10-2 Diagonals and Angle Measure
10-3 Areas of Polygons

Quiz 1: Lessons 10-1 through 10-3

10-4 Areas of Triangles and Trapezoids
10-5 Areas of Regular Polygons

Investigation: How About That Pythagoras!

10-6 Symmetry

Quiz 2: Lessons 10-4 through 10-6

10-7 Tessellations

Study Guide and Assessment
Chapter Test
Preparing for Standardized Tests
Chapter 11 Circles
11-1 Parts of a Circle

Investigation: A Locus Is Not a Grasshopper!

11-2 Arcs and Central Angles

Quiz 1: Lessons 11-1 and 11-2

11-3 Arcs and Chords
11-4 Inscribed Polygons
11-5 Circumference of a Circle

Quiz 2: Lessons 11-3 through 11-5

11-6 Area of a Circle

Study Guide and Assessment
Chapter Test
Preparing for Standardized Tests
Chapter 12 Surface Area and Volume
12-1 Solid Figures

Investigation: Take a Slice

12-2 Surface Areas of Prisms and Cylinders
12-3 Volumes of Prisms and Cylinders

Quiz 1: Lessons 12-1 through 12-3

12-7 Similarity of Solid Figures

Study Guide and Assessment
Chapter Test
Preparing for Standardized Tests
Chapter 13 Right Triangles and Trigonometry
13-1 Simplifying Square Roots
13-2 45°-45°-90° Triangles

Quiz 1: Lessons 13-1 and 13-2

13-3 30°-60°-90° Triangles
13-4 Tangent Ratio

Quiz 2: Lessons 13-3 and 13-4
Investigation: I Spy

13-5 Sine and Cosine Ratios

Study Guide and Assessment
Chapter Test
Preparing for Standardized Tests
Chapter 14: Circle Relationships
14-1 Inscribed Angles
14-2 Tangents to a Circle

Investigation: The "Ins" and "Outs" of Polygons

14-3 Secant Angles

Quiz 1: Lessons 14-1 through 14-3

14-4 Secant-Tangent Angles
14-5 Segment Measures

Quiz 2: Lessons 14-4 through 14-6

14-6 Equations of Circles

Study Guide and Assessment
Chapter Test
Preparing for Standardized Tests
Chapter 15 Formalizing Proof
15-1 Logic and Truth Tables
15-2 Deductive Reasoning
15-3 Paragraph Proofs

Quiz 1: Lessons 15-1 through 15-3

15-4 Preparing for Two-Column Proofs
15-5 Two-Column Proofs

Quiz 2: Lessons 15-4 and 15-5

15-6 Coordinate Proofs

Investigation: Don't Touch the Poison Ivy
Study Guide and Assessment
Chapter Test
Preparing for Standardized Tests
Chapter 16 More Coordinate Graphing and Transformations
16-1 Solving Systems of Equations by Graphing
16-2 Solving Systems of Equations by Using Algebra

Quiz 1: Lessons 16-1 and 16-2

16-3 Translations
16-4 Reflections
16-5 Rotations

Quiz 2: Lessons 16-3 through 16-5

16-6 Dilations

Investigations: A Locus Is Not a Grasshopper!
Study Guide and Assessment
Chapter Test
Preparing for Standardized Tests
Student Handbook
Algebra Review
Extra Practice
TI-92 Tutorial
Postulates, Theorems, and Corollaries
Glossary
Selected Answers