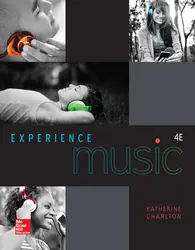 Experience Music
Copyright: 2016
Publication Date: January 13, 2015
MHID: 0078025222
ISBN 13: 9780078025228
Price :

$84.88

Qty :

Total :

$84.88
The purchase quantity range should be
1
-
29
for this product.
Pricing subject to change at any time. We only ship to US locations
New Features
Experience Music On The Go - All of the audio selections addressed in Experience Music's Featured Listenings and Listening Guides are available in McGraw-Hill Education's Connect Music via simple streaming player and through newly re-designed interactive listening guides - now optimized for tablets and smartphones. Through Connect Music's Interactive Listening Guides, instructors can monitor whether individual students have completed the listening, as well as assign points for listening.
Experience Personalized Playlists - Recognizing musical elements in a piece you have never heard before is a learned skill. To help learn this skill, McGraw-Hill Education partnered with Spotify®, the service that allows you to build playlists and stream music for free. Look for the Spotify playlists integrated into the McGraw-Hill Education Connect Music eBook, or the Spotify marginal icons in the print edition. These will lead you to playlists that correspond to concepts covered in Experience Music. Through the Spotify playlists, you can access examples of specific musical elements in songs that are already familiar to you.
Experience Personalized Learning - McGraw-Hill Education's Connect Music is now fueled by LearnSmart, an adaptive learning program designed to personalize the learning experience. LearnSmart is proven to help students learn faster, study smarter, and retain more knowledge for greater success. By helping students master core concepts at their own pace, LearnSmart enables instructors to spend more meaningful time in the classroom.
Experience Personalized Grading - The first and only analytics tool of its kind, McGraw-Hill Education's Connect Insight is a series of visual data displays, each framed by an intuitive question, providing at-a-glance information on your class. Intuitive - Receive an instant, at-a-glance view of student performance matched with student activity. Dynamic - Connect Insight puts real-time analytics in your hands, so you can take action early and keep struggling students from falling behind. Mobile - Connect Insight travels from office to classroom, available on demand wherever and whenever it's needed.
Create a Unique Music Experience - Through McGraw-Hill Create, a newly revised Rock Music chapter is available for instructors who want more focus on this genre—Katherine Charlton's area of expertise. Additionally, Create-only concert reports are available by genre for instructors who want to include worksheets that guide students through this popular course exercise. McGraw-Hill Create allows you to build a unique print or eBook tailored to your course and syllabus. For more information, visit http://create.mheducation.com.
For Connect® users, the ReadAnywhere App is a free, downloadable app available on iOS and Android mobile devices. It gives students mobile freedom to access their eBook anywhere, even offline, on their smartphone or tablet. Once chapters are downloaded, students can use the same tools that are available in the eBook. Any notes or highlights they make in the eBook will sync across platforms. Visit https://www.mheducation.com/highered/explore/readanywhere.html for more information.
---
Key Features
McGraw-Hill Education's Connect Music is the most successful digital solution for the Music Appreciation course and continues to power the 4th Edition of this text. Connect Music delivers a truly integrated teaching and learning program that provides both one-click access to the program's music selections and interactive exercises that focus on the listening process.
A three-part listening framework, Katherine Charlton's hallmark approach to developing critical listening skills, begins with a First Hearing to open each chapter. The Featured Listening then provides a step-by-step listening guide that returns students to the work heard in the First Hearing and trains them to discern the meaningful elements, theme, and instrumentation of the selection. Finally, each chapter ends with a Finale. Students are asked to use knowledge acquired in the chapter to respond to more advanced questions about the piece encountered in the First Hearing and Featured Listening. Having studied the piece throughout the chapter, students will see how much more they are able to hear in the same piece of music.
The "MusiCurious" feature, presented in a Q&A format throughout the chapters, addresses common student questions that were collected by the author over the course of her teaching career.
Experience Music
Prelude: The Fundamentals of Music
Chapter 1 Elements of Music: Sound, Rhythm, Melody, and Harmony
Sound
Rhythm
Melody
Harmony
Chapter 2 Elements that Structure Music—Key, Texture, and Form
Key Texture Form Chapter 3 Musical Instruments and Ensembles Voices and Vocal Ensembles Stringed Instruments Plucked Stringed Instruments Bowed Stringed Instruments Woodwinds Brasses Percussion Instruments Definite Pitch Indefinite Pitch Keyboard Instruments Electronic Instruments Instruments in Non-Western Cultures Instrumental Ensembles Chamber Ensembles The Orchestra The Wind Ensemble The Conductor Prelude: The Culture of Medieval Europe Chapter 4 Medieval Music Medieval Sacred Music Gregorian Chant Listening Guide: "Dies irae" ("Day of Wrath"), beginning section, by Anonymous Hildegard of Bingen Listening Guide: "O pastor animarum" ("Shepherd of Souls"), by Hildegard of Bingen MusiCurious: Medieval Nuns' Daily Lives The Mass Polyphony and Measured Rhythm Featured Listening: "Viderunt omnes" ("All Have Seen"), beginning section, by Léonin Guillaume de Machaut Listening Guide: "Agnus Dei" ("Lamb of God") from Messe de Nostre Dame (Mass of Our Lady), by Guillaume de Machaut Medieval Secular Music Hearing the Difference "Dies irae" and Machaut's "Agnus Dei" 39 Improvised Accompaniment to Monophonic Songs Listening Guide: "Tant m'abelis" ("So Much I Love"), by Berenguier de Palou 40 The Motet 43 Characteristics of Medieval Music 45 Prelude: The Renaissance: The Rebirth of Humanism Chapter 5 Renaissance Music Renaissance Sacred Music Josquin des Prez Featured Listening: "Ave Maria" ("Hail, Mary"), by Josquin des Prez Giovanni Pierluigi da Palestrina Listening Guide: "Kyrie" ("Lord") from Missa Papae Marcelli (Pope Marcellus Mass), by Giovanni Pierluigi da Palestrina Renaissance Secular Music Hearing the Difference Josquin's "Ave Maria" and Palestrina's "Kyrie" The Madrigal in Italy MusiCurious: Home Entertainment during the Renaissance The Madrigal in England Listening Guide: "Fair Phyllis," by John Farmer The Chanson in France The Lied in Germany Lute Songs Listening Guide: "Flow My Tears," by John Dowland Renaissance Instrumental Music Listening Guide: Three Dances from Terpsichore, by Michael Praetorius Characteristics of Renaissance Music Prelude: The Triumph of Baroque Style 62 Chapter 6 Baroque Opera The Birth of Opera Baroque Vocal Styles MusiCurious: What Makes Opera Singers into International Stars Claudio Monteverdi MUSICURIOUS How Opera Makes Singers into International Stars Listening Guide: "Tu se' morta" ("You Are Dead") from Act Two of Orfeo, by Claudio Monteverdi Opera Outside of Italy Featured Listening: "Thy Hand, Belinda" and "When I Am Laid in Earth" from Act Three of Dido and Aeneas, by Henry Purcell Hearing the Difference: Dowland's "Flow My Tears" and Purcell's "When I Am Laid in Earth" Chapter 7 Cantata The Secular Cantata The Chorale The Sacred Cantata Listening Guide: "Wachet auf" ("Sleepers Awake"), Cantata no. 140, fourth movement, by Johann Sebastian Bach Featured Listening: "Wachet auf" ("Sleepers Awake"), Cantata no. 140, seventh movement, by Johann Sebastian Bach Johann Sebastian Bach Chapter 8 Oratorio Oratorio MusiCurious: Oratorio or Opera?: Know the Difference George Frideric Handel Messiah Listening Guide: "Comfort Ye" from Messiah, by George Frideric Handel Featured Listening: "Ev'ry Valley" from Messiah, by George Frideric Handel Listening Guide: "Hallelujah" from Messiah, by George Frideric Handel The Passion Hearing the Difference: Bach's "Wachet auf," Cantata no. 140, seventh movement, and Handel's "Hallelujah" Chorus Chapter 9 Baroque Solo and Chamber Music Keyboard Music Fugue Featured Listening: "The Little Fugue in G Minor," by Johann Sebastian Bach Suite MusiCurious: The King of Instruments Listening Guide: "Bourree I" from Cello Suite no. 3 in C major, BWV 1009, by Johann Sebastian Bach Baroque Sonata Elisabeth-Claude Jacquet de la Guerre Listening Guide: "Aria," sixth movement, from Sonata in D Minor for Violin and Basso Continuo, by Elisabeth-Claude Jacquet de la Guerre Chapter 10 The Baroque Orchestra The Orchestra Listening Guide: "Minuet" from Water Music, by George Frideric Handel MusiCurious: How Baroque Players and Singers "Decorate" Music Concerto Grosso Listening Guide: Brandenburg Concerto no. 5, first movement, by Johann Sebastian Bach Solo Concerto Antonio Vivaldi Featured Listening: "La Primavera" ("Spring"), first movement, from Le Quattro Stagione (The Four Seasons), by Antonio Vivaldi MusiCurious: Attending a Concert Listening Guide: "La Primavera" ("Spring"), second movement, from Le Quattro Stagione (The Four Seasons), by Antonio Vivaldi Listening Guide: "La Primavera" ("Spring"), third movement, from Le Quattro Stagione (The Four Seasons), by Antonio Vivaldi Characteristics of Baroque Music Prelude: The Classical Era: Reason and Revolution Chapter 11 The Classical Symphony The Form of Classical Multimovement Works Single-Movement Sonata Form Theme and Variations Form Minuet and Trio Form The Classical Orchestra MusiCurious: Why Composers Write "Boring" Slow Movements MusiCurious: What Does the Conductor Do? Wolfgang Amadeus Mozart Listening Guide: Symphony no. 40 in G Minor, first movement, by Wolfgang Amadeus Mozart Featured Listening: "Surprise," Symphony no. 94 in G Major, second movement, by Franz Joseph Haydn Listening Guide: Symphony no. 40 in G Minor, third movement, by Wolfgang Amadeus Mozart Hearing the Difference: Vivaldi's "Spring," first movement, and Mozart's Symphony no. 40 in G Minor, first movement Chapter 12 The Classical Concerto Concerto Soloists Double-Exposition Sonata Form Featured Listening: Piano Concerto no. 23 in A Major, first movement, K. 488, by Wolfgang Amadeus Mozart Hearing the Difference: Bach's Brandenburg Concerto no. 5, first movement,and Mozart's Piano Concerto no. 23, first movement Chapter 13 Classical Chamber Music Chamber Sonatas Franz Joseph Haydn MusiCurious: Chamber Music Concerts Featured Listening: String Quartet op. 33, no. 3 ("The Bird"), fourth movement, by Franz Joseph Haydn Rondo Form A Sonata for Flute and Guitar Listening Guide: Grande Sonata no. 85 for flute and guitar, third movement, Scherzo, by Mauro Giuliani Chapter 14 Classical Vocal Music Haydn's Vocal Music Classical Opera The Marriage of Figaro MusiCurious: Classical and Romantic Opera (The Castrato Bows Out) The Characters The Plot Listening Guide: "Non so più cosa son" ("I Don't Know What I Am Anymore") from Le Nozze di Figaro (The Marriage of Figaro), by Wolfgang Amadeus Mozart Featured Listening: "Non più andrai" ("No More Will You") from Le Nozze di Figaro (The Marriage of Figaro), by Wolfgang Amadeus Mozart Chapter 15 The Music of Beethoven Ludwig van Beethoven Featured Listening: Symphony no. 5 in C Minor, first movement, by Ludwig van Beethoven Listening Guide: Symphony no. 5 in C Minor, second movement, by Ludwig van Beethoven Listening Guide: Symphony no. 5 in C Minor, third movement, by Ludwig van Beethoven Listening Guide: Symphony no. 5 in C Minor, fourth movement, by Ludwig van Beethoven The Classical Piano Hearing the Difference: Haydn's Symphony no. 94, second movement, and Beethoven's Symphony no. 5, second movement Listening Guide: "Moonlight," Piano Sonata no. 14 in C-Sharp Minor, op. 27, no. 2, first movement, by Ludwig van Beethoven Characteristics of Classical Music Prelude: Music of the Romantic Era Chapter 16 Romantic Songs The Salon Art Song MusicCurious: How Does a Composer Write a Piece of Music? Franz Schubert Featured Listening: "Erlkönig" ("King of the Elves"), by Franz Schubert Robert and Clara Schumann Listening Guide: "Im wunderschönen Monat Mai" ("In the Wonderfully Lovely Month of May") from Dichterliebe (A Poet's Love), by Robert Schumann Listening Guide: "Leibst du um Schönheit" ("If You Love for Beauty's Sake"), by Clara Wieck Schumann Chapter 17 Romantic Piano Music Frédéric Chopin and Franz Liszt Featured Listening: Nocturne, op.9, no.2, by Frédéric Chopin Listening Guide: Transcendental Étude No. 10 in F minor by Franz Liszt Chapter 18 Romantic Program Music MusiCurious: Does the Listener need to know the Program in Program Music? Hector Berlioz Symphonie fantastique Featured Listening: Symphonie fantastique, fifth movement, "Dream of a Witches' Sabbath," by Hector Berlioz Hearing the Difference: Beethoven's Symphony no. 5, first movement, and Berlioz's Symphonie fantastique, fifth movement Other Program Music Chapter 19 Nationalism in the Romantic Era Bedřich Smetana Featured Listening: "The Moldau," by Bedřich Smetana Chapter 20 The Concert Overture Peter Ilyich Tchaikovsky Romeo and Juliet Overture MusiCurious: Romeo and Juliet: The Alternate Endings Featured Listening: Romeo and Juliet Overture, by Peter Ilyich Tchaikovsky Chapter 21 The Romantic Concerto3> Felix Mendelssohn and Fanny Mendelssohn Hensel Mendelssohn's Concerto Featured Listening: Violin Concerto in E Minor, op. 64, first movement, by Felix Mendelssohn Hearing the Difference: Vivaldi's "La Primavera," first movement, and Mendelssohn's Violin Concerto, first movement Chapter 22 Romantic Choral Music Johannes Brahms Brahms's Requiem Featured Listening: Ein Deutsches Requiem (A German Requiem), op. 45, fourth movement, "How Lovely Is They Dwelling Place," by Johannes Brahms Chapter 23 The Late Romantic Symphonies The Romantic Symphony Listening Guide: Symphony no. 4, fourth movement, by Johannes Brahms Antonín Dvořák Featured Listening: From the New World, Symphony no. 9 in E Minor, fourth movement, by Antonín Dvořák Other Late Romantics Listening Guide: Symphony no. 1 in D Major, third movement, by Gustav Mahler Chapter 24 Romantic Opera in France and Italy French Opera Italian Opera Giuseppe Verdi MusiCurious: Attending an Opera Featured Listening: "O terra, addio" ("Oh Earth, Goodbye") from Aida, by Giuseppe Verdi Giacomo Puccini Listening Guide: "Sì, mi chiamano Mimì" ("Yes, They Call Me Mimi") from La Bohème, by Giacomo Puccini Hearing the Difference: Mozart's "Non più andrai" and Puccini's "Si, mi chiamano Mimì" Chapter 25 Romantic German Opera Richard Wagner MusiCurious: Opera Productions Featured Listening: "Grane, mein Ross!" ("Grane, my horse!") and finale to Götterdämmerung from Der Ring des Nibelungen, by Richard Wagner Characteristics of Romantic Music Prelude: The Early Twentieth Century Chapter 26 Impressionism and Symbolism Claude Debussy Featured Listening: Prélude à L'après-midi d'un faune (Prelude to The Afternoon of a Faun), by Claude Debussy Maurice Ravel Hearing the Difference: Smetana's "The Moldau" and Debussy's Prélude à L'après-midi d'un faune Chapter 27 Primitivism and Neoclassicism Primitivism Igor Stravinsky MusiCurious: Music for Ballet Featured Listening: Le Sacre du printemps (The Rite of Spring), Introduction, "Auguries of Spring—Dances of the Young Girls," and "The Ritual of Abduction," by Igor Stravinsky Neoclassicism Listening Guide: Concerto in E-Flat Major, the Dumbarton Oaks Concerto, first movement, by Igor Stravinsky Chapter 28 Eastern European Nationalism Béla Bartók Featured Listening: Concerto for Orchestra, fourth movement, "Interrupted Intermezzo," by Béla Bartók Chapter 29 Germanic Expressionism and the Development of Serialism MusiCurious: How is it Great Art if it is Ugly? Arnold Schoenberg Featured Listening: "Der Mondfleck" ("Moonfleck"), no. 18, from Pierrot Lunaire (Moonstruck Pierrot), by Arnold Schoenberg Other Serial Composers Listening Guide: Five Pieces for Orchestra, op. 10, third movement, by Anton Webern Characteristics of Twentieth-Century Music (to World War II) Prelude: American Innovations in the Arts 278 Chapter 30 American Music Before World War II The Seventeenth Century The Eighteenth Century Featured Listening: "When Jesus Wept," by William Billings The Nineteenth Century Listening Guide: "Jeanie with the Light Brown Hair," by Stephen Foster After the Civil War Listening Guide: "Ah, Love, but a Day," by Amy Beach Canadian Music Chapter 31 Early Jazz Styles Origins of Jazz Listening Guide: "Village Celebration," by Mende Tribe of Sierra Leone Ragtime Listening Guide: "Maple Leaf Rag," by Scott Joplin The Blues MusiCurious: Improvisation Featured Listening: "Lost Your Head Blues," by Bessie Smith New Orleans Jazz Swing Jazz Hearing the Difference: Foster's "Jeanie with the Light Brown Hair" and Smith's "Lost Your Head Blues" Listening Guide: "It Don't Mean a Thing If It Ain't Got That Swing," by Duke Ellington Chapter 32 Developments in Jazz in the Late Twentieth Century Bebop Featured Listening: "Ko Ko," by Charlie Parker Cool Jazz MusiCurious: Attending A Jazz Concert New Styles in the 1960s Fusion Listening Guide: "Miles Runs the Voodoo Down" (beginning), by Miles Davis 308 Hearing the Difference: Parker's "Ko Ko" and Davis's "Miles Runs the Voodoo Down" Chapter 33 American Classical Music Influenced by Early Jazz George Gershwin Listening Guide: Rhapsody in Blue, by George Gershwin William Grant Still Featured Listening: Afro-American Symphony, first movement, by William Grant Still Chapter 34 Twentieth-Century American Classical Styles Charles Ives Listening Guide: The Unanswered Question, by Charles Ives Aaron Copland Featured Listening: "Fanfare for the Common Man," by Aaron Copland Ellen Taaffe Zwilich Listening Guide: Symphony no. 1, first movement, by Ellen Taaffe Zwilich Hearing the Difference: Mozart's Symphony no. 40, first movement, and Zwilich's Symphony no. 1, first movement Chapter 35 Musical Theater Broadway Musicals Leonard Bernstein Featured Listening: "America" from West Side Story, by Leonard Bernstein Later Musicals MusiCurious: Musicals and Operas: Similar, but Different Chapter 36 Film Music The Earliest Film Music Early Sound Films Later Film Scoring Practices Featured Listening: "Main Theme" from Star Wars, by John Williams Trends in Movie Music Characteristics of Music in America Prelude: New Ideas and Styles from Twentieth-Century Internationalism 344 Chapter 37 World Musics Musical Elements in Non-Western Musics Pitch and Scale Systems Harmony Rhythm Instruments Music from Indonesia Featured Listening: "Srepegan (slendro nim)," by Gamelan Ensemble Music from China Listening Guide: "Moonlight on the Ching Yang River," by Yo Su-Nan Music from India Listening Guide: Folk Melody Based on Raga Des, by Baluji Shrivastav Music from Africa Ewe Drum Ensembles Listening Guide: "Gadzo" ("Kayiboe, the Child Is Not Matured"), by Ewe of Ghana Chapter 38 Post–World War II Innovations Henry Cowell Featured Listening: "The Banshee," by Henry Cowell John Cage Listening Guide: Sonata V from Sonatas and Interludes for Prepared Piano, by John Cage Hearing the Difference: Wayang kulit Gamelan Ensemble's "Srepegan (slendro nim)" and Cage's Sonata V Electronic Music Edgard Varèse Listening Guide: "Poème électronique" ("Electronic Poem"), by Edgard Varèse Terry Riley Listening Guide: "In C," by Terry Riley MusiCurious: Performing an Aleatoric Work Chapter 39 Minimalism Philip Glass Featured Listening: Company, second movement, by Philip Glass Hearing the Difference: Haydn's String Quartet, fourth movement, and Glass's Company, second movement Steve Reich Listening Guide: Electric Counterpoint, third movement, by Steve Reich John Adams Listening Guide: "Short Ride in a Fast Machine," by John Adams Characteristics of Non-Western-Influenced Music Rock Music (McGraw-Hill Education Create) Concert Report Forms (McGraw-Hill Education Create) Chamber Music Concert Choral Concert Jazz Band Opera Orchestra of Wind Ensemble (Concert Band) Concert Solo or Small Group Voice Concert World Music(s) Concert Glossary 379 Credits 387 Index Note: A chapter on Rock Music is available for free download on the OLC