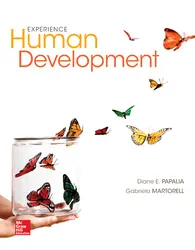 Experience Human Development
Copyright: 2015
Publication Date: October 30, 2014
MHID: 0077861841
ISBN 13: 9780077861841
Price :

$179.99

Qty :

Total :

$179.99
The purchase quantity range should be
1
-
29
for this product.
Pricing subject to change at any time. We only ship to US locations
Key Features
McGraw-Hill Connect is a digital assignment and assessment platform that strengthens the link between faculty, students, and coursework, helping everyone accomplish more in less time. For students, Connect uses innovative, interactive technology to enable a more personalized learning experience that better engages students in course content so they are better prepared, are more active in discussion, and achieve better results. Connect allows instructors to give homework assignments with immediate, automatic feedback, upload recorded class lectures and presentations through Tegrity, and track student progress and concept comprehension through robust reporting tools.
Available within Connect, SmartBook is an adaptive learning program designed to help students stay focused and maximize their study time. Based on metacognition, and powered by LearnSmart, SmartBook's adaptive capabilities provide with a personalized reading and learning experience that helps them identify the concepts they know, and more importantly, the concepts they don't know.
Concept Clips help students break down key themes and difficult concepts in Psychology. Using easy-to-understand analogies, visual cues, and stimulating animations, Concept Clips make Psychology meaningful to everyday life.
Inter-activities allow students to experience and apply their understanding of psychology to the world with fun and stimulating activities.
Newsflash exercises tie current news stories to key psychological principles and learning objective and assess students on their ability to make the connection between real life and research findings.
The McGraw-Hill Education Milestones video series is a powerful tool that allows students to experience life as it unfolds, from infancy to late adulthood. This ground-breaking, longitudinal video series tracks the development of real children as they progress through the early stages of physical, social, and emotional development in their first few weeks, months, and years of life. Assignable and assessable within McGraw-Hill Connect, Milestones also includes interviews with adolescents and adults to reflect development throughout the entire lifespan.
McGraw-Hill Education Authors now have access to student performance data to analyze and to inform their revisions. This data is anonymously collected from the many students who use LearnSmart, the adaptive learning system that provides students with individualized assessment of their own progress. Because virtually every text paragraph is tied to several questions that students answer while using LearnSmart, the specific concepts with which students are having the most difficulty are easily pinpointed through empirical data in the form of a "heat map" report.
Connect Insight is a one-of-kind visual analytics dashboard—now available for both instructors and students—that provides at-a-glance information regarding student performance. Designed for mobile devices, Connect Insight travels from office to classroom, available on demand wherever or whenever it's needed.
In addition to those areas that have been reworked for clarity with the HeatMap, "StudySmart" icons are placed in margins of the most important hot spots in the chapter based on student data. These icons lead students to digital assets that enhance their understanding of challenging concepts. The assets may be a video of a child that demonstrates a milestone, an animated figure to explain a concept visually, or a video of one of the book's authors to further explain the topic.
Two LMS Integration Services = One Solution. McGraw-Hill Higher Education offers two pathways for LMS integration. McGraw-Hill Education's Campus enables seamless access from any LMS in use to all of our content and learning platforms. Blackboard Learn customers may also leverage the McGraw-Hill Education Connect building block specific to their LMS for the tightest integration available today for Connect users.
Experience Human Development
Part 1 About Human Development
1 The Study of Human Development
2 Theory and Research
Part 2 Beginnings
3 Forming a New Life
4 Birth and Physical Development during the First Three Years
5 Cognitive Development during the First Three Years
6 Psychosocial Development during the First Three Years
Part 3 Early Childhood
7 Physical and Cognitive Development in Early Childhood
8 Psychosocial Development in Early Childhood
Part 4 Middle Childhood
9 Physical and Cognitive Development in Middle Childhood
10 Psychosocial Development in Middle Childhood
Part 5 Adolescence
11 Physical and Cognitive Development in Adolescence
12 Psychosocial Development in Adolescence
Part 6 Emerging and Young Adulthood
13 Physical and Cognitive Development in Emerging and Young Adulthood
14 Psychosocial Development in Emerging and Young Adulthood
Part 7 Middle Adulthood
15 Physical and Cognitive Development in Middle Adulthood
16 Psychosocial Development in Middle Adulthood
Part 8 Late Adulthood
17 Physical and Cognitive Development in Late Adulthood
18 Psychosocial Development in Late Adulthood
Part 9 The End of Life
19 Dealing with Death and Bereavement