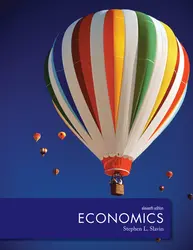 Economics
Copyright: 2014
Publication Date: October 4, 2013
MHID: 0078021804
ISBN 13: 9780078021800
Price :

$122.15

Qty :

Total :

$122.15
The purchase quantity range should be
1
-
29
for this product.
Pricing subject to change at any time. We only ship to US locations
New Features
Mobile Access to Study Tools: Barcodes (QR codes) on the opening page for each chapter provide students with access to PowerPoint presentations, chapter quizzes, and 4-color versions of the graphs in the text, right from their mobile devices. These resources are also available on the Online Learning Center.
Current Events Coverage: Our halting recovery from the Great Recession and the fiscal and monetary stimuli that were intended to promote it are discussed and evaluated not just in the fiscal and monetary policy chapters, but throughout the text where appropriate. Important public issues such as the " 1% and the 99%," the Internal Revenue Code, our trillion-dollar federal budget deficits, and the fiscal cliff are fully discussed.
Several new "Economics in Action" features have been added, (formerly "Current Issues"), including The Internal Revenue Code, Should Millionaires Pay More Taxes, China's Rapid Economic Growth, and The 1% and the 99%. This feature helps make economics more relevant to students by providing a practical application of concepts. Please refer to the Preface for a complete listing.
---
Key Features
McGraw-Hill LearnSmart: Distinguishing what students know from what they don't, and honing in on concepts they are most likely to forget, LearnSmart continuously adapts to each student's needs by building an individual learning path so students study smarter and retain more knowledge. Reports provide valuable insight to instructors, so precious class time can be spent on higher-level concepts and discussion.
Connect Economics: McGraw-Hill's online assignment and assessment tool Connect Economics provides assignable, autogradable versions of end-of-chapter problems in static and algorithmic format, as well as test bank content and graphing problems. Students receive detailed step-by-step feedback on assignments and all assignable content is fully integrated with an eBook. Students are also able to search, highlight,and take notes within the eBook. Connect provides instructors with powerful reporting tools allowing them to plan, track, and analyse student performance across learning outcomes.
Keynesian Emphasis: The advent of the Great Recession brought Keynesian Economics back into fashion. Slavin has consistently covered Keynesian analysis more extensively than other principles texts, with full coverage of how Keynesian policy prescriptions were used to fight the Great Recession.
Interactive Learning Approach: An integrated workbook allows for immediate reinforcement of ideas without the cost of a separate study guide. As they read, students solve numerical problems, fill in tables, draw graphs, and do economic analysis.
Addresses Math & Graph Phobias: Helps students past their math phobias and fear of graphs by having them do hundreds of problems, step-by-step, literally working their way through the book.
Review of Math: The review enables all students to start on a level playing field.
Extra-help Boxes provide more assistance with the basic concepts and math, which will save valuable class time.
Advanced-work Boxes give instructors the option of raising the bar.
Economics
1 A Brief Economic History of the United States 2 Resource Utilization 3 The Mixed Economy 4 Supply and Demand 5 The Household Consumption Sector 6 The Business Investment Sector 7 The Government Sector 8 The Export Import Sector 9 Gross Domestic Product 10 Economic Fluctuations, Unemployment, and Inflation 11 Classical and Keynesian Economics 12 Fiscal Policy and the National Debt 13 Money and Banking 14 The Federal Reserve and Monetary Policy 15 A Century of Economic Theory 16 Economic Growth and Productivity 17 Demand, Supply, and Equilibrium 18 The Price Elasticities of Demand and Supply 19 Theory of Consumer Behavior 20 Cost 21 Profit, Loss, and Perfect Competition 22 Monopoly 23 Monopolistic Competition 24 Oligopoly 25 Corporate Mergers and Antitrust 26 Demand in the Factor Market 27 Labor Unions 28 Labor Markets and Wage Rates 29 Rent, Interest, and Profit 30 Income Distribution and Poverty 31 International Trade 32 International Finance Glossary Index