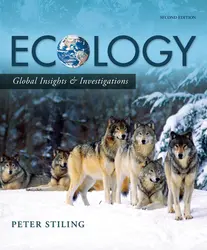 Ecology: Global Insights and Investigations
Copyright: 2015
Publication Date: February 21, 2014
MHID: 0073532509
ISBN 13: 9780073532509
Price :

$109.90

Qty :

Total :

$109.90
The purchase quantity range should be
1
-
29
for this product.
Pricing subject to change at any time. We only ship to US locations
New Features
The book is structured around seven sections that represent the core ecological disciplines:
Organismal Ecology
Physiological Ecology
Population Ecology
Species Interactions
Community Ecology
Biomes
Ecosystems Ecology

One of the main changes to Ecology: Global Insights & Investigations 2e, has been to simplify some of the more difficult concepts that students found challenging, such as population growth and diversity indices. The author's overall goal has been to make the material more accessible to students, therefore more explanatory captions have been included on the art work and subsection headings have been added to the summaries.
---
Key Features
The book's main goal is to teach the basic principles of ecology and to relate these principles to many of the Earth's ecological challenges, of which there are many.
Each chapter contains a "Global Insight" feature which highlights how such global change is important in all areas of ecology, from behavior to ecosystems.
Each chapter begins with an outline consisting of the main section heading contained within each chapter. These headings are written in the form of an ecological statement which summarises the material within each section.
A "Feature Investigation" in most chapters outlines a hypothesis being tested, the methods researchers use to perform their studies, the data they collected and the conclusions they reached. Some of these Feature Investigations are classic studies; others contain cutting-edge research and techniques.
Chapters are built around the art.
Important ecological terms are boldface.
Each chapter ends with a unique summary that specifically links each main concept with its corresponding piece(s) of art. There are 10 multiple choice self-test questions with answers that can be accessed online at the book's web-site. There are also 3 - 5 broader conceptual questions that require essay answers of a paragraph or longer. All these questions refer to material that is explained within the textbook.
To highlight the importance of understanding graphs, images, or observations, most chapters also include a "Data Analysis" question that provides data sets and asks the student to analyse the data and provide an explanation or conclusion.
Ecology: Global Insights and Investigations
1 An Introduction to Ecology 2 Populations Genetics 3 Natural Selection, Speciation and Extinction 4 Behavioral Ecology 5 Temperature 6 Water 7 Nutrients 8 Demographic Techniques and Population Patterns 9 Life Tables and Demography 10 Population Growth 11 Competition and Coexistence 12 Facilitation 13 Predation 14 Herbivory 15 Parasitism 16 Population Regulation 17 Species Diversity 18 Species Richness Patterns 19 Species Richness and Community Services 20 Succession 21 Island Biogeography 22 Terrestrial Biomes 23 Marine Biomes 24 Freshwater Biomes 25 Food Webs and Energy Flow 26 Biomass Production 27 Biogeochemical Cycles