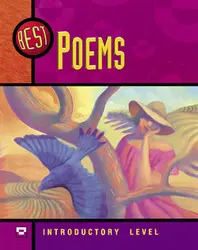 Best Poems, Introductory Level, softcover
Copyright: 1998
Publication Date: January 1, 1998
MHID: 0890618461
ISBN 13: 9780890618462
Price :

$26.34

Qty :

Total :

$26.34
The purchase quantity range should be
1
-
29
for this product.
Pricing subject to change at any time. We only ship to US locations
Key Features
Outstanding literature. Opens students' minds to a magnificent collection of genre-based literature.
Diverse multicultural authors. Introduces readers to classic and contemporary works.
Convenient multiple levels. Enables readers to appreciate literature at their own interest and reading levels.
In-depth literary lessons. Gives students insight into the techniques writers use to create their pieces.
Increased reading proficiency. Results as students work with major reading and interpreting skills.
Affordable prices. Makes this outstanding series available at nonbasal prices. Books are available in both hardcover and softcover editions.
Best Poems, Introductory Level, softcover
Best Poems
Introductory
Unit 1, What is a Poem?
Summons by Robert Francis
An Announcement by Mary Long
Look at Me by Peg Hoddinott
Western Wagons by Rosemary and Stephen Vincent Benét
Legacies by Nikki Giovanni
Pure Poetry by Gerard Malanga
Write About a Radish by Karla Kuskin
Your World by Georgia Douglas Johnson
Your Poem, Man... by Edward Lueders
Unit 2, Voices in Poetry
The Windmill by Henry Wadsworth Longfellow
The Builders by Sara Henderson Hay
To Satch by Samuel Allen
Oranges by Gary Soto
Oranges by Jean Little
Argument by Eve Merriam
There Is No Word for Goodbye by Mary TallMountain
The Glove and the Lions by Leigh Hunt
Dorlan's Home-Walk by Arthur Guiterman
The Stone by Wilfrid Wilson Gibson
Unit 3, Sensory Images and Concrete Language
My Mother Pieced Quilts by Teresa Palomo Acosta
That Was Summer by Marci Ridlon
Daybreak in Alabama by Langston Hughes
Vacant House by Jeanne DeLamarter Bonnette
In Winter by Robert Wallace
The Tom-Cat by Don Marquis
Girl with 'Cello by May Sarton
Unit 4, Sounds in Poetry
Indians by Ophelia Rivas
Crossing by Philip Booth
Annabel Lee by Edgar Allen Poe
Bears by Alfred Guiterman
The Shark by John Ciardi
Wilbur Wright and Orville Wright by Rosemary and Stephen Vincent Benét
We Real Cool by Gwendolyn Brooks
The Flower-Fed Buffaloes by Vachel Lindsay
Sea Fever by John Masefield
A Legend of Paul Bunyan by Arthur S. Bourinot
Unit 5, Figurative Language Primer Lesson by Carl Sandburg Like Bookends by Eve Merriam Words by Pauli Murray sun by Valerie Worth Cumulus Clouds by Sheryl L. Nelms In the Waiting Room by Charles Reznikoff Song for a Surf-Rider by Sara Van Alstyne Allen Whirlwind Is a Ghost Dancing a Dakota Poem retold by Natalia Belting Sunset by Oswald Mbuyiseni Mtshali
Unit 6, Form in Poetry When I Heard the Learn'd Astronomer by Walt Whitman The Skater of Ghost Lake by William Rose Benét While I Slept by Robert Francis The Months by Christina Rossetti Moon by Myra Cohn Livingston Two Haiku by Soseki, by Kyorai Limericks by Anonymous
Unit 7, Author's Purpose Hands by Robinson Jeffers Ancestors by Dudley Randall And They Lived Happily Ever After for a While by John Ciardi Almost Perfect by Shel Silverstein To My Dear and Loving Husband by Anne Bradstreet I Ask My Mother to Sing by Li-Young Lee The Right Kind of People by Edwin Markham The Giveaway by Phyllis McGinley