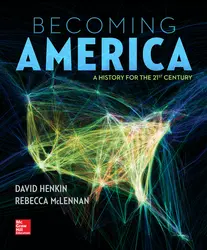 Becoming America
Copyright: 2015
Publication Date: January 6, 2014
MHID: 0073385638
ISBN 13: 9780073385631
Price :

$118.65

Qty :

Total :

$118.65
The purchase quantity range should be
1
-
29
for this product.
Pricing subject to change at any time. We only ship to US locations
New Features
This new edition is powered by Connect History, an easy-to-use learning platform that gives instructors access to engaging assignable and assessable tools, such as primary sources and interactive maps – all of which are tied to learning objectives – that support student success and help bring history to life for students.
Power of Process for Primary Sources offers a hands-on critical thinking tool for reading and writing about primary sources. Using a framework to develop essential academic skills such as understanding, analyzing, and synthesizing readings and visuals such as maps. Instructors can select from either 400 preloaded sources or upload their own, leading students toward higher order thinking and writing.
SmartBook, makes study time as productive and efficient as possible. It identifies and closes knowledge gaps through a continually adapting reading experience that provides personalized learning resources at the precise moment of need. This ensures that every minute spent with SmartBook is returned to the student as the most value-added minute possible. The result? More confidence, better grades, and greater success.
Interactive Maps, assignable through Connect and tied to assessment, encourage students' geographical and historical thinking by demonstrating things like changing boundaries and migration routes, war battles and election results.
Primary Sources, Connect History's Image Bank allows users easy and quick access to hundreds of additional primary sources which can be downloaded and incorporated into lectures or assessment materials. The Primary Source Primer is a brief, illustrated video tutorial on how to read and analyze a primary source. As students watch, they are prompted at various points in order to confirm understanding.
Critical Missions, immerse students as active participants in a series of transformative moments in history. As advisors to key historical figures, they read and analyze sources, interpret maps and timelines, and write recommendations for what do to in a historically critical moment. Later, students learn to think like a historian, conducting a retrospective analysis from a contemporary perspective.
---
Key Features
Interpreting the Sources - The primary sources in these boxed features include public and private documents, visual sources, material artifacts, and transcripts of oral traditions and stories. A headnote puts the source in context, and a series of questions after the source challenges students to think deeply and analytically about its significance.
"How Much Is That?" makes monetary figure meaningful by putting them in the context of today's dollar or other contemporary points of reference. Students will gain a sense of the relative value of sums mentioned in the narrative, from the cost of the Louisiana Purchase to a Union soldier's wages to the price tag for a 1950s suburban home and hamburger.
Singular Lives spotlights unusual women and men whose experience, perspective, or mythological status captures some broader point about the period. These case studies reinforce the notion that individuals as well as larger social forces shape history.
States of Emergency dramatizes scenes and moments of destruction, violence, epidemic, and natural disaster, from the Stono Rebellion and the New Madrid Earthquake to the Great Chicago Fire and the New York blackout of 1977. These extraordinary events often had far-reaching social and political consequences for the story we tell in the main narrative, but they also gripped the popular imagination and became the focus of fears and fantasies that help us understand larger historical forces.
Hot Commodities offers a detailed study of consumer goods, food, paintings, recordings, and performances that were tellingly popular at a given point in time. These boxes—with topics ranging from beavers and Bibles to cigarettes and garbage—reinforce the importance of material artifacts to the study of the past. The point is that consumption patterns are not new phenomena (though they have changed radically) and that they offer valuable insight into past societies, much as they do in the present day.
Spaces and Places features buildings, landscapes, monuments, and virtual spaces as sources for exploring the country's built and natural environments. U.S. history is partly a story of how human beings have continually reshaped and reimagined the landscapes that we now take for granted. With rich pictorial detail, we show how the spaces and places in which history unfolds have transformed over time.
Becoming America
1 CONVERGENCE OF MANY PEOPLES: AMERICA BEFORE 1600
2 EARLY COLONIES 1600–1680
3 SLAVERY AND RACE 1660–1750
4 BRITISH COLONIES IN AN ATLANTIC ECONOMY 1660–1750
5 EMPIRES, WAR, AND THE TRANSFORMATION OF INDIAN COUNTRY 1700–1765
6 CRISIS AND WAR 1765–1781
7 MAKING A NEW NATION 1776–1792
8 THE EARLY REPUBLIC 1793–1811
9 WAR, EXPANSION, AND INDIAN REMOVAL 1811–1830
10 MARKET SOCIETY AND THE BIRTH OF MASS POLITICS 1825–1845
11 SLAVERY AND THE SOUTH 1831–1844
12 ERA OF MIDDLE-CLASS REFORM 1831–1848
13 EXPANSION, NATIONALISM, AND AMERICA POPULAR CULTURE 1844–1854
14 A UNION UNRAVELING 1848–1860
15 DISUNION AND WAR 1861–1865
16 SOUTHERN RECONSTRUCTION 1862–1883
17 REMAKING THE WEST 1865–1893
18 INDUSTRIALIZING AMERICA 1865–1885
19 POLITICS AND DISCONTENT IN THE GILDED AGE 1878–1896
20 THE PROGRESSIVE ERA 1896–1914
21 THE BIRTH OF A GREAT POWER: AMERICA AND THE WORLD 1880–1914
22 WAR AND PEACE 1914–1920
23 AMERICA IN THE JAZZ AGE 1920–1929
24 AMERICA REMADE: THE GREAT DEPRESSION AND THE NEW DEAL 1929–1939
25 AMERICA GOES TO WAR 1939–1945
26 POSTWAR AMERICA 1945–1953
27 THE AGE OF AFFLUENCE 1953–1960
28 ERA OF DREAMS AND DISCONTENT 1960–1970
29 REACTION, RECESSION, AND GLOBALIZATION 1970–1979
30 DEINDUSTRIALIZING AMERICA 1980–1992
31 GLOBALIZING AMERICA 1992–2012