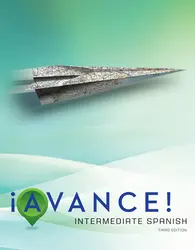 ¡Avance! Student Edition
Copyright: 2014
Publication Date: January 29, 2013
MHID: 0073385395
ISBN 13: 9780073385396
Price :

$91.35

Qty :

Total :

$91.35
The purchase quantity range should be
1
-
29
for this product.
Pricing subject to change at any time. We only ship to US locations
New Features
The Práctica activities are now available in Connect Spanish, allowing students to complete form-focused practice at home.
Using new speaking prompts provided in Connect, instructors can now better evaluate and gauge students' developing oral proficiency and provide additional out-of-class practice to monitor and promote students' advancement in this critical skill area.
Seventy-five percent of the literary readings (Del mundo hispano) have been updated; literary readings are now included in every chapter.
All-new comprehension questions offer a follow-up to each cultural passage to gauge students' comprehension and promote deeper understanding of the cultural information while simultaneously improving their communication skills.
The new Cinemateca section provides pre- and post-viewing activities to accompany scenes from selected Spanish-language films (films not included).
All instructors materials are now available electronically with Connect Spanish for ease of access.
Connect Spanish includes an interactive ebook, the complete Workbook/Lab Manual, grammar tutorials, and all audio materials.
Available within Connect Spanish and as a mobile app, LearnSmart provides students with targeted feedback specific to their individual performance, and additional practice in areas where students need help the most.
Connect Spanish includes a comprehensive gradebook to view your assignment results.
Voice Board and Blackboard IM, two powerful tools integrated into Connect Spanish, promote communication and collaboration outside the classroom.
Practice Spanish: Study Abroad, our immersive online game for Introductory Spanish available online and as a mobile-ready app (additional cost).
---
Key Features
Describir y comentar activities jump start the theme, vocabulary lists, and Conversacíon activities.
Avance continues to offer grammar structure explanations with embedded practice (Práctica), followed by the Autoprueba, and then Conversacíon activities, designed for communicative practice.
¡Avance! Student Edition
Capítulo 1 Tipos y estereotipos
Vocabulario
Descripciones
Gramática
Gender and Number of Nouns

Basic Patterns of Adjective Agreement

Equivalents of To Be: ser, estar

Subject Pronouns and the Present Indicative

Direct Object Pronouns

Un poco de todo

trabajar / funcionar

bajo / corto / breve

mirar / buscar / parecer
Lectura cultural: No somos los únicos que estereotipamos
Capítulo 2 La comunidad hispana
Vocabulario
La herencia y las relaciones
Gramática
Impersonal se and Passive se

Indirect Objects

Sequence of Object Pronouns

The Imperfect Indicative

Reflexive Structures

Un poco de todo

pensar / pensar en / pensar de / pensar que

consistir en / depender de

enamorarse de / casarse con / soñar con
Lectura cultural: La diversidad hispana
Capítulo 3 Costumbres y tradiciones
Vocabulario
Las costumbres y tradiciones
Gramática
Gustar and Similar Verbs

Forms of the Preterite

Hacer in Expressions of Time

Preterite/Imperfect Contrast

Relative Pronouns: que, quien

Un poco de todo

hora / vez / tiempo

el cuento / la cuenta

pagar / prestar atención / hacer caso (de) / hacer (una) visita
Lectura cultural: La cocina es una celebración que merece celebrarse.
Capítulo 4 La familia
Vocabulario
La familia y la crianza

Los parientes
Gramática
Imperatives: Formal Direct Commands

The Subjunctive Mood: Concept; Forms; Use in Noun Clauses

Uses of the Subjunctive: Persuasion

Imperatives: Informal Direct Commands

Un poco de todo

soportar / mantener / apoyar / sostener

cerca / cercano/a / íntimo/a / unido/a

importar / cuidar (se)
Lectura cultural: La función de la familia extendida hispana
Capítulo 5 Geografía, demografía, tecnología
Vocabulario
La demografía y la comunidad

Las computadoras
Gramática
More Relative Pronouns

Positive, Negative, and Indefinite Expressions

Uses of the Subjunctive: Certainty versus Doubt; Emotion

Un poco de todo

volver / regresar / devolver

mudarse / trasladar(se) / mover(se)

sentir / sentirse
Lectura cultural: La variedad geográfica en el mundo hispano
Capítulo 6 El hombre y la mujer en el mundo actual
Vocabulario
Las etapas de vida y la preparación
Gramática
Present Perfect Indicative

Present Perfect Subjunctive

Uses of the Subjunctive: Adjective Clauses

Un poco de todo

tener éxito / lograr / suceder

asistir a / atender / ayudar

ponerse / volverse / llegar a ser / hacerse
Lectura cultural: Las mujeres en el poder en Hispanoamérica
Capítulo 7 El mundo de los negocios
Vocabulario
El trabajo y el mercado

Las transacciones monetarias/bancarias
Gramática
Review of the Preterite

Review of the Uses of the Subjunctive

The Past Subjunctive: Concept; Forms

Use of Subjunctive and Indicative in Adverbial Clauses

Un poco de todo

ya que / como / puesto que / porque / por

cuestión / pregunta

fecha / cita

los/las dos / ambos/as / tanto… como…
Lectura cultural: Las prácticas empresariales entre cultura
Capítulo 8 Creencias e ideologías
Vocabulario
La religión

Creencias y creyentes
Gramática
The Subjunctive in Adverbial Clauses: Interdependence

Por and para

The Process se

Review of the Subjunctive: An Overview

Un poco de todo

dato / hecho

realizar / darse cuenta (de)
Lectura cultural: La medicina alternativa en Hispanoamérica
Capítulo 9 Los hispanos en los Estados Unidos
Vocabulario
La ciudadanía y la inmigración

Las nacionalidades hispanas
Gramática
The Passive Voice

Resultant State or Condition versus Passive Voice

"No-Fault" se Construction

A and en

Un poco de todo

perder / faltar a / echar de menos / extrañar

ahorrar / salvar / guardar

llevar / tomar / hacer un viaje / tardar en
Lectura cultural: El futuro del inglés en los Estados Unidos
Capítulo 10 La vida moderna
Vocabulario
Las adicciones
Gramática
Future and Conditional

If Clauses with Simple Tenses

Comparisons

Un poco de todo

grande / largo

dejar de / impedir / detener(se)

doler / lastimar / hacer daño / ofender
Lectura cultural: La televisión en el mundo hispano
Capítulo 11 La ley y la libertad individual
Vocabulario
Las autoridades

Los delitos y los delincuentes
Gramática
Other Forms of the Perfect Indicative

The Perfect Subjunctive

More on the Sequence of Tenses

Un poco de todo

pero / sino / sino que / no solo

intentar / tratar de / tratar / probar(se)

preguntar (hacer una pregunta) / pedir
Lectura cultural: ¿Cuándo se llega a la edad adulta en el mundo hispano?
Capítulo 12 El trabajo y el ocio
Vocabulario
El descanso y la preparación

Profesiones y oficios
Gramática
Review of Verb Forms

Progressive Forms

Restrictions on the Use of the -ndo Form

Un poco de todo

Repaso
Lectura cultural: El tiempo libre a la hispana