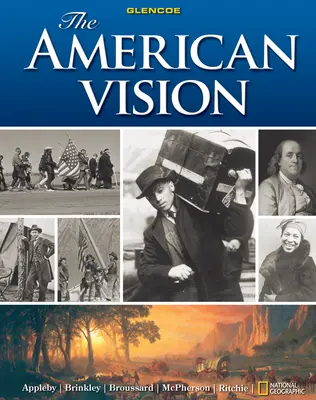 The American Vision, Student Edition
MHID:
0078799848 |
ISBN 13:
9780078799846
Product Description
Incorporate research-based reading strategies to give all your students access to the rich history of the United States. The program includes the finest scholarship and the most up-to-date maps from National Geographic.
Purchase this product
Price :

$105.12

Quantity :

Total :

$105.12
The purchase quantity range should be
1
-
29
for this product.
Pricing subject to change at any time. We only ship to US locations.
New Features
Address state standards in American history. This program integrates content and skills in each lesson, and prepares students for classroom and standardized examinations.
Invite students to participate in high-interest projects with hands-on History Simulations and Problem Solving activities that encourage them to see history through the eyes of the participants.
---
Key Features
Enhance reading and study skills with Foldables™. Foldables are unique student-made, three-dimensional graphic organizers that help students learn, retain, and review important information and concepts.
Promote social studies literacy, encourage the understanding of informational text, and help students become successful readers with research-based active reading strategies.
Step into the past with TIME Notebooks. Learn about everyday life in various periods and the "hot topics" of different eras.
Follow historic National Geographic Journeys that changed the face of the American landscape. Geography and History shows how geography and events intertwine to create the history of a location or nation.
The American Vision, Student Edition
Reading for Information Themes in American History Early American History
Review Test National Geographic Reference Atlas National Geographic
Geography Handbook Geographic Dictionary
Unit 1 Three Worlds Meet, Beginnings to 1763
Chapter 1 Converging Cultures: Prehistory to 1520
Chapter 2 Colonizing America, 1519-1732
Chapter 3 Colonial Ways of Life, 1607-1763
Unit 2 Creating a Nation, 1754 to 1816
Chapter 4 The American Revolution, 1754-1783
Special Section: The Text of the Declaration of Independence
Chapter 5 Creating a Constitution
Chapter 6 Federalists and Republicans, 1789-1816
Unit 3 The Young Republic, 1789-1850
Chapter 7 Growth and Division, 1816-1832
Chapter 8 The Spirit of Reform, 1828-1845
Chapter 9 Manifest Destiny, 1840-1848
Unit 4 The Crisis of Union, 1848-1877
Chapter 10 Sectional Conflict Intensifies, 1848-1860
Chapter 11 The Civil War, 1861-1865 Chapter 12 Reconstruction, 1865-1877
Unit 5 The Birth of Modern America, 1877-1900
Chapter 13 Settling the West, 1865-1900
Chapter 14 The Industrialization of America, 1865-1901
Chapter 15 Immigration, Urbanization, and Life in the United States, 1865-1896
Chapter 16 Politics and Reform, 1877-1896
Civics Handbook
The Constitution of the United States
Unit 6 Imperialism and Progressivism, 1890-1919
Chapter 17 Becoming a World Power, 1872-1912
Chapter 18 The Progressive Movement, 1890-1919
Chapter 19 World War I, 1914-1919
Unit 7 Boom and Bust, 1920-1941
Chapter 20 The Jazz Age, 1921-1929
Chapter 21 "Normalcy" and Good Times, 1921-1929
Chapter 22 The Great Depression Begins, 1929-1932
Chapter 23 Franklin Roosevelt and the New Deal, 1933-1939
Unit 8 Global Struggles, 1941 to 1960
Chapter 24 World in Flames, 1931-1941
Chapter 25 America and World War II, 1941-1945
Chapter 26 The Cold War Begins, 1945-60
Chapter 27 Post-War America, 1945-1960
Unit 9 A Time of Upheaval, 1954-1980
Chapter 28 The New Frontier and the Great Society, 1961-1968
Chapter 29 The Civil Rights Movement, 1954-1968
Chapter 30 The Vietnam War, 1954-1975
Chapter 31 The Politics of Protest, 1960-1980
Unit 10 A Changing Society, 1968-Present
Chapter 32 Politics and Economics, 1971-1980
Chapter 33 Resurgence of Conservatism, 1980-1992
Chapter 34 Into a New Century, 1992-Present
Appendix Presidents of the United States
Primary Sources Library Documents of American History
Supreme Court Case Summaries Glossary
Spanish Glossary
Index