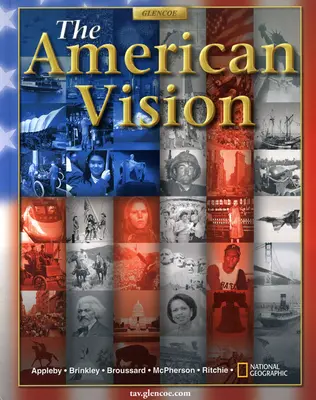 The American Vision, Student Edition
MHID:
0026641186 |
ISBN 13:
9780026641180
Product Description
The American Vision boasts an exceptional author team with specialized expertise in Colonial, Civil War, 20th Century, and Civil Rights history. The full panorama of American History comes alive through their vivid and accurate re-telling, and the participation of the National Geographic Society ensures that the program''s brand-new maps, charts, and graphs are correct to the last detail.
Features:
Glencoe''s one-of-a-kind content reading strategy makes it easier for your students to become active, critical readers. It includes:• Reading Intervention Tools,• Graphic Organizers in section openers and assessments,• Prior Knowledge Activators in every lesson•, In-text Reading Checks•, Reading and Writing Prompts•
National Geographic maps add dimension to the narrative and give students an understanding of the interrelationships of places and events.•
Our industry-leading technology allows us to bring you The American Vision in three formats—: printed textbook, interactive multimedia online edition, and CD-ROM interactive edition. You and your students have access to the program''s vast resources whenever and however you wish.
Purchase this product
Price :

$103.62

Quantity :

Total :

$103.62
The purchase quantity range should be
1
-
29
for this product.
Pricing subject to change at any time. We only ship to US locations.
The American Vision, Student Edition
Reading for Information Themes in American History Early American History
 Review Test National Geographic Reference Atlas National Geographic
Geography Handbook Geographic Dictionary
Unit 1 Three Worlds Meet, Beginnings to 1763
Chapter 1 Converging Cultures: Prehistory to 1520
Chapter 2 Colonizing America, 1519-1732
 Chapter 3 Colonial Ways of Life, 1607-1763
Unit 2 Creating a Nation, 1754 to 1816
Chapter 4 The American Revolution, 1754-1783
Special Section: The Text of the Declaration of Independence
Chapter 5 Creating a Constitution
Chapter 6 Federalists and Republicans, 1789-1816
Unit 3 The Young Republic, 1789-1850
Chapter 7 Growth and Division, 1816-1832
Chapter 8 The Spirit of Reform, 1828-1845
Chapter 9 Manifest Destiny, 1840-1848
Unit 4 The Crisis of Union, 1848-1877
Chapter 10 Sectional Conflict Intensifies, 1848-1860
Chapter 11 The Civil War, 1861-1865 Chapter 12 Reconstruction, 1865-1877
Unit 5 The Birth of Modern America, 1877-1900
Chapter 13 Settling the West, 1865-1900
Chapter 14 The Industrialization of America, 1865-1901
Chapter 15 Immigration, Urbanization, and Life in the United States, 1865-1896
Chapter 16 Politics and Reform, 1877-1896
Civics Handbook
The Constitution of the United States
Unit 6 Imperialism and Progressivism, 1890-1919
Chapter 17 Becoming a World Power, 1872-1912
Chapter 18 The Progressive Movement, 1890-1919
Chapter 19 World War I, 1914-1919
Unit 7 Boom and Bust, 1920-1941
Chapter 20 The Jazz Age, 1921-1929
Chapter 21 "Normalcy" and Good Times, 1921-1929
Chapter 22 The Great Depression Begins, 1929-1932
Chapter 23 Franklin Roosevelt and the New Deal, 1933-1939
Unit 8 Global Struggles, 1941 to 1960
Chapter 24 World in Flames, 1931-1941
Chapter 25 America and World War II, 1941-1945
Chapter 26 The Cold War Begins, 1945-60
Chapter 27 Post-War America, 1945-1960
Unit 9 A Time of Upheaval, 1954-1980
Chapter 28 The New Frontier and the Great Society, 1961-1968
Chapter 29 The Civil Rights Movement, 1954-1968
Chapter 30 The Vietnam War, 1954-1975
Chapter 31 The Politics of Protest, 1960-1980
Unit 10 A Changing Society, 1968-Present
Chapter 32 Politics and Economics, 1971-1980
Chapter 33 Resurgence of Conservatism, 1980-1992
Chapter 34 Into a New Century, 1992-Present
Appendix Presidents of the United States
Primary Sources Library Documents of American History
Supreme Court Case Summaries Glossary
Spanish Glossary
Index