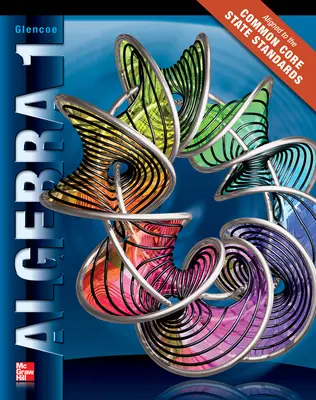 Algebra 1, Student Edition
MHID:
0078951151 |
ISBN 13:
9780078951152
Product Description
Prepare students for 21st century success with...
Seamlessly integrated print, digital, and interactive content that connects with students anytime and on any device
Complete alignment with the Common Core State Standards
Support and resources for tailoring instruction to all levels of learners
Built-in, frequent assessments that monitor student understanding and progress to ensure all students master concepts.
Includes Print Student Edition
Purchase this product
Price :

$86.34

Quantity :

Total :

$86.34
The purchase quantity range should be
1
-
29
for this product.
Pricing subject to change at any time. We only ship to US locations.
Algebra 1, Student Edition
Chapter 0 Preparing for Algebra
0-1 Plan for Problem Solving
0-2 Real Numbers
0-3 Operations with Integers
0-4 Adding and Subtracting Rational Numbers
0-5 Multiplying and Dividing Rational Numbers
0-6 The Percent Proportion
0-7 Perimeter
0-8 Area
0-9 Volume
0-10 Surface Area
0-11 Simple Probability and Odds
0-12 Mean, Median, Mode, Range and Quartiles
0-13 Representing Data
Unit 1 Relationships between Quantities
Chapter 1 Expressions, Equations, and Functions
1-1 Variables and Expressions
1-2 Order of Operations
1-3 Properties of Numbers
Extend 1-3 Algebra Lab: Accuracy
1-4 The Distributive Property
1-5 Equations
1-6 Relations
1-7 Functions
Extend 1-7 Graphing Technology Lab: Representing Functions
1-8 Interpreting Graphs of Functions
Chapter 2 Linear Equations
2-1 Writing Equations
Explore 2-2 Algebra Lab: Solving Equations
2-2 Solving One-Step Equations
Explore 2-3 Algebra Lab: Solving Multi-Step Equations
2-3 Solving Multi-Step Equations
2-4 Solving Equations with the Variable on Each Side
2-5 Solving Equations Involving Absolute Value
2-6 Ratios and Proportions
Extend 2-6 Spreadsheet Lab: Descriptive Modeling
2-7 Percent of Change
Extend 2-7 Algebra Lab: Percentiles
2-8 Literal Equations and Dimensional Analysis
2-9 Weighted Averages
Unit 2 Linear Relationships
Chapter 3 Linear Functions
Explore 3-1 Algebra Lab: Analyzing Linear Graphs
3-1 Graphing Linear Equations
3-2 Solving Linear Equations by Graphing
Extend 3-2 Graphing Technology Lab: Graphing Linear Equations
Explore 3-3 Algebra Lab: Rate of Change of a Linear Function
3-3 Rate of Change and Slope
3-4 Direct Variation
3-5 Arithmetic Sequences as Linear Functions
Extend 3-5 Algebra Lab: Inductive and Deductive Reasoning
3-6 Proportional and Nonproportional Relationships
Chapter 4 Equations of Linear Functions
Explore 4-1 Graphing Technology Lab: Investigating Slope-Intercept Form
4-1 Graphing Equations in Slope-Intercept Form
Extend 4-1 Graphing Technology Lab: The Family of Linear Graphs
4-2 Writing Equations in Slope-Intercept Form
4-3 Writing Equations in Point-Slope Form
4-4 Parallel and Perpendicular Lines
4-5 Scatter Plots and Lines of Fit
Extend 4-5 Algebra Lab: Correlation and Causation
4-6 Regression and Median-Fit Lines
4-7 Inverse Linear Functions
Extend 4-7 Algebra Lab: Drawing Inverses
Chapter 5 Linear Inequalities
5-1 Solving Inequalities by Addition and Subtraction
Explore 5-2 Algebra Lab: Solving Inequalities
5-2 Solving Inequalities by Multiplication and Division
5-3 Solving Multi-Step Inequalities
Explore 5-4 Algebra Lab: Reading Compound Statements
5-4 Solving Compound Inequalities
5-5 Inequalities Involving Absolute Value
5-6 Graphing Inequalities in Two Variables
Extend 5-6 Graphing Technology Lab: Graphing Inequalities
Chapter 6 Systems of Linear Equations and Inequalities
6-1 Graphing Systems of Equations
Extend 6-1 Graphing Technology Lab: Systems of Equations
6-2 Substitution
6-3 Elimination Using Addition and Subtraction
6-4 Elimination Using Multiplication
6-5 Applying Systems of Linear Equations
Extend 6-5 Algebra Lab: Using Matrices to Solve Systems of Equations
6-6 Systems of Inequalities
Extend 6-6 Graphing Technology Lab: Systems of Inequalities
Unit 3 Exponential and Quadratic Relationships
Chapter 7 Exponents and Exponential Functions
7-1 Multiplication Properties of Exponents
7-2 Division Properties of Exponents
7-3 Rational Exponents
7-4 Scientific Notation
Explore 7-5 Graphing Technology Lab: Family of Exponential Functions
7-5 Exponential Functions
Extend 7-5 Graphing Technology Lab: Solving Exponential Equations and Inequalities
7-6 Growth and Decay
Extend 7-6 Algebra Lab: Analyzing Exponential Equations
7-7 Geometric Sequences as Exponential Functions
Extend 7-7 Algebra Lab: Average Rate of Change of Exponential Functions
7-8 Recursive Formulas
Chapter 8 Quadratic Expressions and Equations
Explore 8-1 Algebra Lab: Adding and Subtracting Polynomials
8-1 Adding and Subtracting Polynomials
8-2 Multiplying a Polynomial by a Monomial
Explore 8-3 Algebra Lab: Multiplying Polynomials
8-3 Multiplying Polynomials
8-4 Special Products
Explore 8-5 Algebra Lab: Factoring Using the Distributive Property
8-5 Using the Distributive Property
Explore 8-6 Algebra Lab: Factoring Trinomials
8-6 Solving x2 + bx + c = 0
8-7 Solving ax2 + bx + c = 0
8-8 Differences of Squares
8-9 Perfect Squares
Chapter 9 Quadratic Functions and Equations
9-1 Graphing Quadratic Functions
Extend 9-1 Graphing Technology Lab: Rate of Change of a Quadratic Function
9-2 Solving Quadratic Equations by Graphing
Extend 9-2 Graphing Technology Lab: Quadratic Inequalities
Explore 9-3 Graphing Technology Lab: Family of Quadratic Functions
9-3 Transformations of Quadratic Functions
Extend 9-3 Graphing Technology Lab: Systems of Linear and Quadratic Equations
9-4 Solving Quadratic Equations by Completing the Square
Extend 9-4 Algebra Lab: Finding the Maximum or Minimum Value
9-5 Solving Quadratic Equations by Using the Quadratic Formula
9-6 Analyzing Functions with Successive Differences and Ratios
Extend 9-6 Graphing Technology Lab: Curve Fitting
9-7 Special Functions
Extend 9-7 Graphing Technology Lab: Piecewise-Linear Functions
Unit 4 Advanced Functions and Equations
Chapter 10 Radical Functions and Geometry
Explore 10-1 Algebra Lab: Inverse Functions
10-1 Square Root Functions
Extend 10-1 Graphing Technology Lab: Graphing Square Root Functions
10-2 Simplifying Radical Expressions
Extend 10-2 Algebra Lab: Rational and Irrational Numbers
10-3 Operations with Radical Expressions
Extend 10-3 Algebra Lab: Simplifying nth Root Expressions
10-4 Radical Equations
10-5 The Pythagorean Theorem
Extend 10-5 Algebra Lab: Distance on the Coordinate Plane
Explore 10-6 Algebra Lab: Trigonometric Ratios
10-6 Trigonometric Ratios
Chapter 11 Rational Functions and Equations
Explore 11-1 Graphing Technology Lab: Inverse Variation
11-1 Inverse Variation
Explore 11-2 Graphing Technology Lab: Family of Rational Functions
11-2 Rational Functions
11-3 Simplifying Rational Expressions
Extend 11-3 Graphing Technology Lab: Simplifying Rational Expressions
11-4 Multiplying and Dividing Rational Expressions
11-5 Dividing Polynomials
11-6 Adding and Subtracting Rational Expressions
11-7 Mixed Expressions and Complex Fractions
11-8 Rational Equations and Functions
Extend 11-8 Graphing Technology Lab: Solving Rational Equations
Unit 5 Data Analysis
Chapter 12 Statistics and Probability
12-1 Samples and Studies
Extend 12-1 Algebra Lab: Evaluating Published Data
12-2 Statistics and Parameters
12-3 Distributions of Data
12-4 Comparing Sets of Data
12-5 Simulations
12-6 Permutations and Combinations
12-7 Probability of Compound Events
Extend 12-7 Algebra Lab: Two-Way Frequency Tables
12-8 Probability Distributions
Extend 12-8 Graphing Technology Lab: The Normal Curve