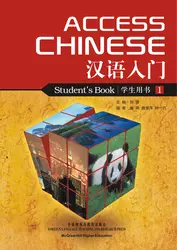 Access Chinese, Book 2
Copyright: 2013
Publication Date: September 6, 2012
MHID: 0077572173
ISBN 13: 9780077572174
Price :

$75.75

Qty :

Total :

$75.75
The purchase quantity range should be
1
-
29
for this product.
Pricing subject to change at any time. We only ship to US locations
New Features
In Access Chinese, contextualized grammar, communicative practice, and engaging cultural information are all intertwined, creating a learning environment appropriate for the successful acquisition of the language as well as an opportunity to explore cultural contexts.
The Cultural Interchange section highlights major cultural differences in communication, and in particular those unique to the Chinese context are mentioned for cultural awareness and adaptation, which is related to the contents of Episodes 1 and 2 in each unit.
The new grammar of each unit is presented in a section called Grammar Kit, including three or four highlighted grammar structures with English explanations and examples of grammar usage.
The Episodes in each unit are the scenarios of two story lines surrounding a pair of U.S.-born twins —Bill and Jenny— who are both learning Chinese. Each short episode introduces the new grammar in a communicative context, presents functional and conversational expressions, and reflects authentic Chinese culture and social etiquette.

Each Episode is followed by one or two expanded language functions. A variety of interesting real-life materials and enjoyable activities provide students with sufficient practice and enable learners to apply what they have learned into practice.
Each book in Access Chinese has a companion workbook which aims at providing learners with grammar and communication practice activities and tasks that strengthen the learning of materials in the textbook.
The Pinyin and Hanzi practice at the beginning of Access Chinese introduce students to these two writing systems. These sections can also be used as a reference throughout the course as students are exposed to more specific Pronunciation issues and Chinese Character practice within each Unit.
Access Chinese deals with contemporary topics that are of high interest and relevance to students and teachers around the world. The topics have been selected to reflect global perspectives that help learners become global citizens as well as local contexts that help stimulate cross-cultural awareness and discussion.
In order not to overwhelm the learners, all the words and expressions in the textbook are treated with differential requirements. They are divided in three groups as follows:
1. Required words and expressions
2. Expanded words and expressions
3. Suggested Words and expressions
Access Chinese, Book 2
The first step of Pinyin
The first step of Hanzi
Intro and synopsis
Theme 1 Getting Acquainted with Each Other 相识篇
Unit 1 Meeting Each Other 见面寒暄
1. Episode 1: At the airport
2. Spotlight
3. Sentence Patterns: Pronoun是Name and Pronoun很Adjective
4. Episode 2: In the classroom
5. Chinese names
6. Numbers 0-10
7. Saying Hello
8. Cultural Interchange
9. Grammar Kit
Word order in Chinese sentences
Expressing judgment using the verb 是
Comfirming information using yes-no questions ending with 吗
Using the adverb 很 in sentences with an adjectival predicate
10. Grammar Practice
11. Pronunciation Tips
Chinese tones
Neutral tone
The changes of the 3rd tone
12. Writing Chinese Characters
13. Integrative Practice
Unit 1 Word List
Unit 2 Gifts & Courtesy 礼尚往来
1. Episode 1: At the welcome party
2. Numbers 10-100
3. Sentence Patterns: Using 也 and 都
4. Episode 2: At the teahouse
5. Spotlight
6. Likes and dislikes (喜欢 and 不喜欢)
7. Gifts and courtesy
8. Cultural Interchange
9. Grammar Kit
The proximal demonstrative pronoun 这
Asking what-questions with the interrogative pronoun 什么
The adverbs of range 也 and 都
10. Grammar Practice
11. Pronunciation Tips
Initials z, c, s and zh, ch, sh
Words with z, c, s and zh, ch, sh
Intonation of interrogative sentences
12. Writing Chinese Characters
13. Integrative Practice
Unit 2 Word List
Unit 3 Feel at Home Wherever You Are 四海为家
1. Episode 1: At the Admissions Office
2. Spotlight
3. Telling Time
4. Episode 2: At Jenny's House
5. Word Power
6. Sentence Pattern (Subject+Verb+Object吗? / Subject+Verb不Verb+Object?)
7. Titles
8. Cultural Interchange
9. Grammar Kit
Telling Time
Asking which-questions with the interrogative pronoun 哪
Asking others to confirm information using Verb不Verb questions
10. Grammar Practice
11. Pronunciation Tips
How to pronounce r Pronouncing the titles of family members Pauses in a sentence
12. Writing Chinese Characters
13. Integrative Practice
Unit 3 Word List
Review unit 1
1. Pronunciation Kit
2. Vocabulary Kit
3. Understanding the meanings of words
4. Grammar Workshop
5. Practice in Context
6. Writing Project
Theme 2 Getting to Know Each Other 相知篇
Unit 4 In and Out of class 课内课外
1. Episode 1: On campus
2. My Daily Routine
3. Sentence Pattern: 去 + action /去 + place + action
4. Episode 2: Off campus
5. Sales Manager's Schedule
6. Questions with and Interrogative Pronoun
7. Invitation
8. Cultural Interchange
9. Grammar Kit
Expressing information about an event or action: using time phrases as adverbial phrases
Giving a suggestion or a making a request using the particle 吧
Using question words
10. Grammar Practice
11. Pronunciation Tips
Initials j, q, x and zh, ch, sh
Word with initials j, q, x
Intonation of Wh-questions in Chinese
12. Writing Chinese Characters
13. Integrative Practice
Unit 4 Word List
Unit 5 Shopping and Bargaining 讨价还价
1. Episode 1: In the Classroom
2. Spotlight
3. Sentence Pattern: A比/B Adj / A没(有)B Adj / A和B一样(Adj)
4. Episode 2: At the Used Bicycle Shop
5. Colors
6. Word Power
7. Shopping
8. Cultural Interchange
9. Grammar Kit
Expressing quantity with measure words
Expressing comparison using the preposition 比
The different usages of 了
10. Grammar Practice
11. Pronunciation Tips
Tone changes of yī
The semi 3rd tone
Sentence stress
12. Writing Chinese Characters
13. Integrative Practice
Unit 5 Word List
Unit 6 Fine Food 天下美食
1. Episode 1: In a Chinese Restaurant
2. Spotlight
3. Sentence Pattern: 吃过
4. Episode 2: Outside the Restaurant
5. Good Vegetables for Good Health
6. Reading
7. Table Manners
8. Cultural Interchange
9. Grammar Kit
Expressing "have done" with the particle 过
Asking others to make a choice 是…还是…?
Sentence Final particle 了
10. Grammar Practice
11. Pronunciation Tips
Finals –n and –ng
Ér huà 儿化
Intonation of exclamatory sentences
12. Writing Chinese Characters
13. Integrative Practice
Review unit 2
1. Pronunciation Kit
2. Vocabulary Kit
3. Understanding the meanings of words
4. Best Activities and Places
5. Buy and Sell
6. Interview
7. Ordering Dishes
Overall Review of Access Chinese 1
Appendix Ⅰ Grammar kits of Access Chinese 1
Appendix ⅡWord list of Access Chinese 1
Appendix Ⅲ Audioscripts
Appendix Ⅳ Answer Keys