THANK YOU FOR YOUR INTEREST IN
HOW WOULD YOU LIKE TO DEMO MUSIC STUDIO?
To make your experience as convenient and informative as possible, we offer three ways to explore the program.
INTERACTIVE WALKTHROUGH
Take a guided tour of Music Studio's great tools and resources. We walk you through logging into ConnectED, navigating and reviewing lessons, playing interactive instruments, selecting resources, searching and viewing presentations.
VIDEO OVERVIEW
Sit back, relax, and let the video below show you how to log on to ConnectED, navigate lessons, view standards, play interactive songs and instruments, launch presentations, and browse the resources page.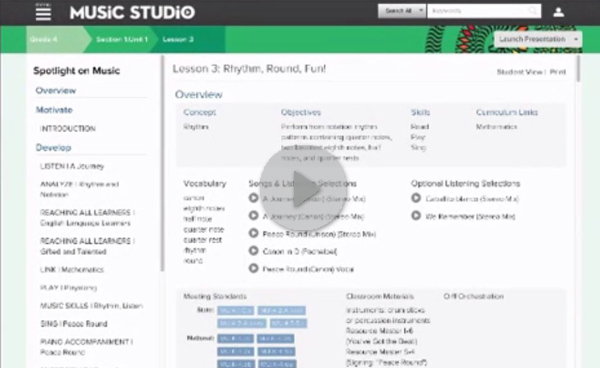 Demo-It-Yourself
You will receive an email with log-in credentials. From there, you take the driver's seat, exploring sample lessons and resources on your own.
PreK
Rhythmic Patterns
Moving to the Steady Beat
Grade 1
Create Rhythms
Grade 2
Music News: Spotlight Articles
The Shape of Melody
Grade 3
One Beat, Four Sounds
Sixteenth Notes
Sixteenth Notes and High Do
Halloween
Grade 4
Unit Assessment, Spotlight Your Success!
Running for Meter
Grade 5
Listen for Minor
Harmony on the Move
Grade 6
Jordan's Angles
La Bamba
Grade 8
Claim Your Domain
MTI's Broadway Junior
How to Succeed in Business Without Really Trying
Grades 9-12
Music!...To Tell the Story of Our Lives
Rent: Celebrating Bohemia a Century Later
Level 2
Bonse Aba (TTB)
El Vito (2-Part Tremble)
Level 3
The Pasture (SATB)
Stepwise Movement
Sight-Singing
Level 4
The Seal Sullaby (SSA)