Coronavirus Aid, Relief, and
Economic Security (CARES) Act
---
In the 3rd stimulus package known as the CARES Act, the Department of Education was authorized a total of $30 billion that will go toward an Education Stabilization Grant fund to support the education ecosystem in responding to the challenges of the coronavirus. Other agencies were also authorized funding, and additional federal and state grants continue to be authorized, but the DOE funding in particular, is one of the most significant sources.
The DOE Education Stabilization Grant fund is split across two funds that impact K–12 education: the Elementary and Secondary School Emergency Relief Fund and the Governors Education Relief Fund. A third fund is designated to Higher Education institutions. All funds can be used by schools through September 2021.
Also, note that Congress is currently negotiating a fourth stimulus package – as part of a "CARES Act 2.0" – to support additional stimulus for recovery needs of the community.
---
Stay Informed
The COVID-Slide: Helping Vulnerable Students Overcome Post-Pandemic Learning LossC
Understanding the CARES Act: A Guide for EducatorsC
CARES Act Overview
The overall fund includes three education relief funds, with two specific to K–12.
Governor's Emergency Education Relief Fund (K–12)
Each state will receive a share of the $3 billion Governor's Education Relief Fund, which governors can use at their discretion to provide emergency support grants to K–12 schools, colleges and universities and other educational related entities, such as childcare and early education providers.
Schools can choose to use GEERF funds on education technology and instructional materials, which are acceptable, allowable uses of the funds.
See more about the GEERF here.
Elementary and Secondary School Emergency Relief Fund (K–12)
Also referenced as the Education Stabilization Fund, this bill provides $13.5 billion in K–12 formula grants to states and is distributed based off their share of ESEA Title I, Part A funds.
Funds may be used on preparedness and response efforts to prevent the spread of COVID-19, planning for long-term closures and remote learning, and providing mental health services.
Congress stipulated that 90% of the K–12 funding be allocated to Title I schools to support with COVID-19 transition to distance learning. The other 10% will be allocated to the state to support its planning and response.
EdTech and professional development are stated as an allowable use of CARES Act funds, but schools have discretion to use the funding for a variety of COVID-19 response activities – including infrastructure, healthcare, personnel/staffing, and other aspects of the school's operating budget as long as it in response to COVID-19.
The requirements for how the funds are to be spent do not specify how much can be used for devices, curriculum, or connectivity. The idea is that districts can allocate these funds to provide maximum equity for their students which will vary by district.
The estimated amount that each state will be receiving from CARES Act for the K–12 Education Stabilization Fund is posted here.
States have the discretion to disburse funds to schools, once they have determined the appropriate allocations.
Higher Education Emergency Relief Fund (HEERF)
Provides $14.25 billion for public and private universities to use to cover the costs associated with the closure or significant changes to the delivery of instruction due to the coronavirus.
This includes transitioning courses to distance education and granting aid to students for educational costs such as food, housing, course materials, health care, and childcare.
Regulatory Flexibility for States and School Districts
Separate from the Education Stabilization Grant funding, there are other supports in the CARES Act that permit schools flexibility in using their existing federal funds and/or allowing more autonomy on the way the funds can be used. One such manner in which CARES Act support schools is through additional regulatory flexibility. Regulatory flexibility is beneficial to schools, since it provides schools additional autonomy to carry over and use existing 2020 Title I and other federal funds into the 2020-2021 school year in the most appropriate manner. Regulatory flexibility also allows schools the opportunity to potentially waive requirements around assessments and accountability measures that are in ESSA.
Note that each state (rather than each school or district) must apply for these regulatory flexibility measures through an application that can be found hereC.
A few examples of the types of regulatory flexibility that may be granted to states in the CARES Act include the following.
States may waive requirements for schools to:
Carryover all remaining Title I funds from this year to the next year (2020 – 2021) and remove any caps on the amount of funds that can be carried over.
Conduct specific needs assessment requirements tied to ESSA Title I funding.
Loosening other ESSA state plan requirements.
Remove any limits or caps on the use of ESSA Title IV, Part A block grant funds on education technology. Currently, there is a cap on the amount that can be used on education technology, compared to other purposes, such as a well-rounded education and/or safe and healthy schools.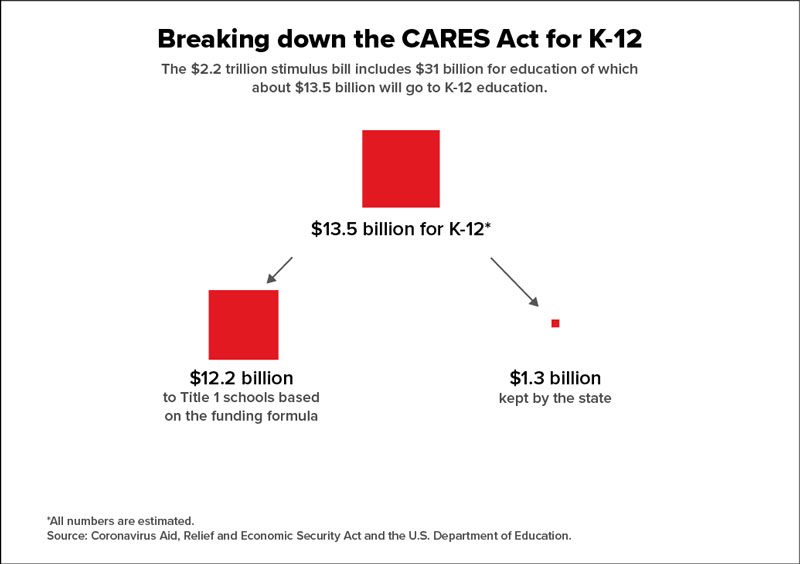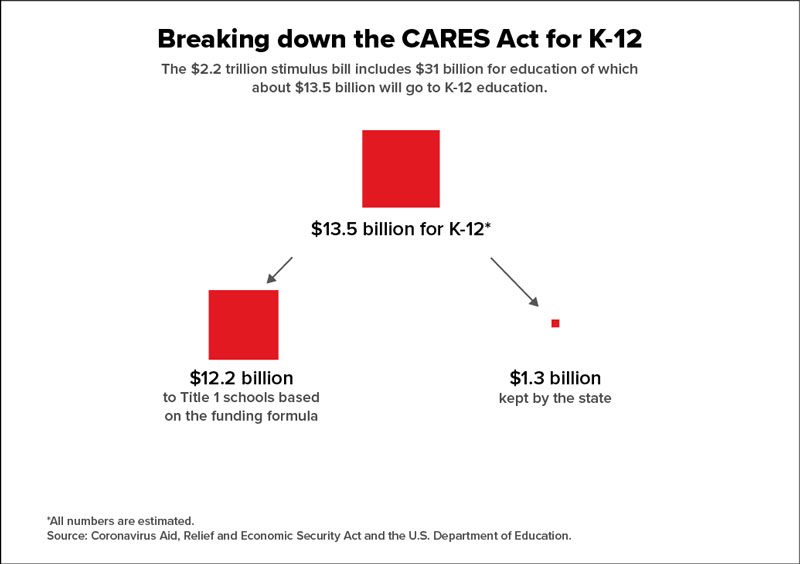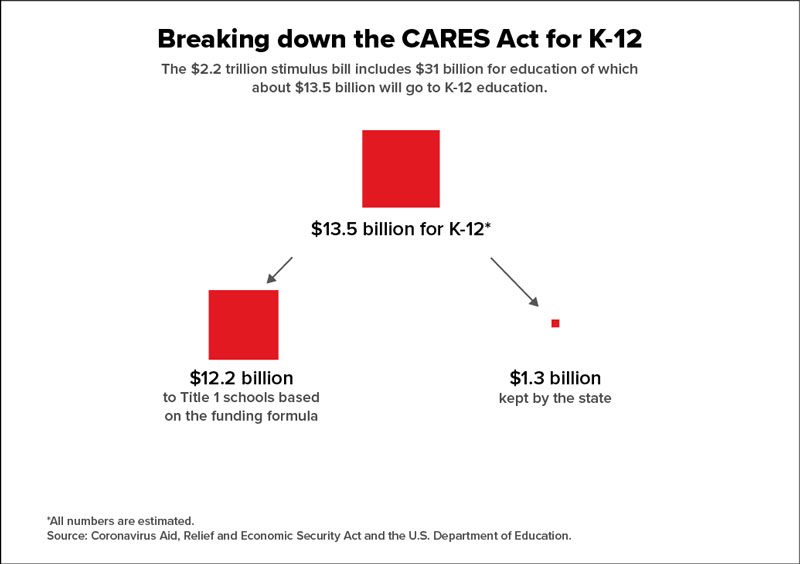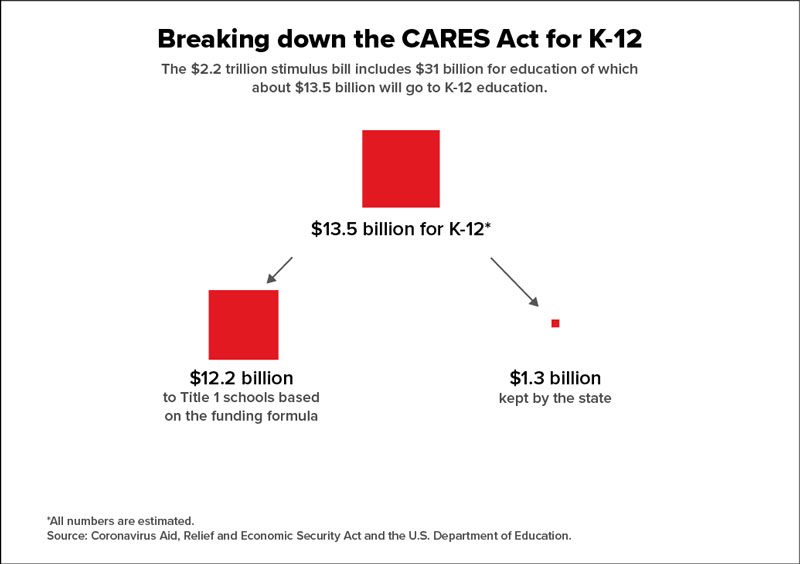 Steps for Schools to receive Education Stabilization Grant funds
Federal DOE shares the streamlined application for each state to apply for the funds.
Each state will fill out the application to get the funds.
DOE will approve the application within 3 days of receiving the application.
The state will be awarded funds. 90% goes to schools based on Title I funding applications; 10% goes to the state.
Each state will determine their process for allocating the funding.
States determine their timeline for disbursing funds to Local Education Agency (School districts).
Schools may need to apply for the funds.
Note: The DOE is taking the position that the emergency started on March 13, and schools can look to use funds on eligible expenses in responding to coronavirus dated back to March 13.
What can schools do with the funds?
One of the purposes of the education stabilization grant fund is to ensure schools have the resources required to build a plan for distance learning and remote instruction during COVID-19. The CARES Act provides flexibility in the use of funds, to allow schools to use – without limit – funds on education technology.
The CARES Act and Education Technology
K–12 Emergency Education Relief Fund includes education technology as an eligible use, among other activities. Below are the specific references to education technology in the CARES Act:
"Purchasing educational technology (including hardware, software, and connectivity) for students who are served by the local educational agency that aids in regular and substantive educational interaction between students and their classroom instructors, including low-income students and students with disabilities, which may include assistive technology or adaptive equipment."
"Planning for and coordinating during long-term closures, including for how to provide meals to eligible students, how to provide technology for online learning to all students, how to provide guidance for carrying out requirements under the Individuals with Disabilities Education Act (20 U.S.C. 1401 et seq.) and how to ensure other educational services can continue to be provided consistent with all Federal, State, and local requirements."
"Planning and implementing activities related to summer learning and supplemental afterschool programs, including providing classroom instruction or online learning during the summer months and addressing the needs of low-income students, students with disabilities, English learners, migrant students, students experiencing homelessness, and children in foster care."