McGraw-Hill Unveils All-New Suite of Wonders K-6 English Language Arts Solutions for the 2016-2017 School Year
Published August 26, 2016
---
Drawing on the latest in learning science and data-driven instruction, Wonders 2017 further strengthens the beloved literacy program to deliver the most effective unified ELA/ELD solution
NEW YORK – August 25, 2016 – As part of an ongoing effort to improve literacy across all student populations, learning science company McGraw-Hill today announced the launch of Wonders 2017, a newly redesigned and expanded suite of English Language Arts (ELA) solutions, available now for the 2016-2017 school year. A comprehensive redesign of the company's established literacy and ELA literacy programs, Wonders 2017 combines the latest research-based instruction with new digital tools, helping students not only meet today's rigorous educational standards but succeed as they advance into higher grades. The unified suite includes four targeted programs: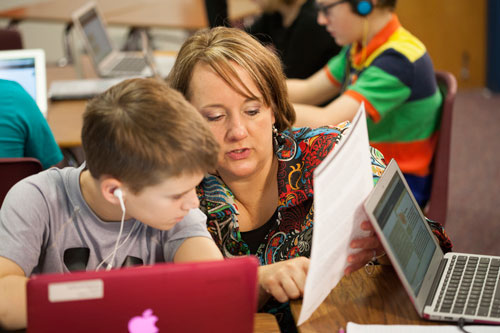 Wonders, a core K-6 ELA program

Wonders for English Learners, a fully connected designated English Language Development (ELD) instructional program

Maravillas, a fully equitable Spanish Language Arts program for parallel, dual-immersion instruction

WonderWorks, a fully connected intervention support program
"Literacy is critical for future academic success and success in life, and students deserve literacy materials that directly address their particular needs," said Dr. Shawn Mahoney, chief academic officer of McGraw-Hill's K-12 group. "Wonders 2017 allows instructors to deliver high-quality literacy instruction to a more diverse range of students than ever before, and help to ensure that all students are equipped to reach their full potential."
New features in Wonders include the innovative Dashboard, which makes student data instantly available and easily actionable for teachers, offering powerful real-time recommendations for grouping students, re-teaching and differentiating instruction with a single click. Administrators can track progress towards mastery of individual skills and standards at the school, class or individual level. The new Wonders suite also offers Inquiry Space, for students in grades 3-6 to learn and practice researching, developing ideas, writing, and presenting finished work to their peers.
Across all Wonders 2017 solutions, a variety of research-based print and digital resources provide unmatched support for building strong literacy foundations, accessing complex texts, engaging in collaborative conversations, and writing in response to primary sources. Each solution features engaging multimedia resources, and a powerful data dashboard helps educators provide purposeful, personalized instruction and support for each student in real-time.
Quotes from educators about Wonders:
"I feel that my students are lucky to be exposed to Wonders. It makes a world of difference. The online piece has made my job easier and allowed me to become a better teacher."
- Todd Kimmel, Principal, Philadelphia, PA
"Wonders digital content is off the charts. It's fantastic. You have so many digital resources to choose from."
- Cari Lamperski, 5th Grade Teacher, Belleville, FL
"Wonders includes the right combination of teacher-guided instruction, technology-based activities, and guided practice to allow each student to use the gifts he/she has to understand the concepts."
- James Orichosky, Principal, Wingate PA
Comprehensive support for ELD and bilingual literacy
Reaffirming McGraw-Hill's commitment to English Language Development (ELD) and bilingual literacy, every feature of the Wonders 2017 core program is also reflected in Wonders for English Learners and Maravillas, allowing students to accelerate their progress. Further, the full curriculums for each of the Wonders programs run parallel to each other, ensuring that all students have equity of access to the same core content and subject-area knowledge.
"We have long sought to achieve the same high quality across all of our learning solutions – regardless of whether those solutions are designed for core, ELD or bilingual-literacy applications – and the alignment built into the Wonders 2017 suite exemplifies that commitment," Mahoney said.
McGraw-Hill has recently made similar efforts to realign other leading learning solutions to better support English Language Learners. Earlier this year, the company launched a new version of StudySync, a comprehensive blended ELA/ELD program, specifically designed for English Language Learners in grades 6-12. Each lesson in StudySync's Core ELA with ELL program contains resources to scaffold instruction for three levels of English learners, with a variety of sentence frames, graphic organizers, glossaries and other tools for use in whole-group, small-group or one-on-one instruction – all designed to help English learners master grade level content.
For more information about McGraw-Hill's full suite of Wonders solutions, visit: www.mhreadingwonders.com. For more information about McGraw-Hill's StudySync, visit: http://www.studysync.com/.
About McGraw-Hill
McGraw-Hill is a learning science company that delivers personalized learning experiences that help students, parents, educators and professionals drive results. McGraw-Hill has offices across North America, India, China, Europe, the Middle East and South America, and makes its learning solutions available in nearly 60 languages. Visit us at mheducation.com or find us on Facebook or Twitter.
Contact
Tiffany Eckelberg
McGraw-Hill
(646) 766-2434
tiffany.eckelberg@mheducation.com