New K-12 Survey: Social and Emotional Learning Gains Prominence in U.S. Schools
Published October 17, 2018
---
New survey by McGraw-Hill shows SEL instruction is key to preventing bullying and improving school safety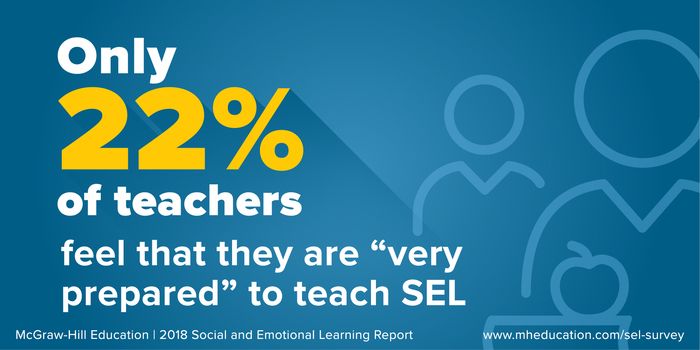 New York (October 17, 2018) – The overwhelming majority of administrators (96 percent), teachers (93 percent) and parents (81 percent) believe that social and emotional learning (SEL) is just as important as academic learning, according to the 2018 Social and Emotional Learning Report, a new survey conducted by learning science company McGraw-Hill. Eighty-three percent of teachers and 76 percent of administrators also indicated that they think SEL instruction is "very important" in helping to improve negative student behaviors, such as bullying, while parents ranked improved school safety as the most important benefit (with 71 percent rating it as "very important").
To download and read the full report, please visit: www.mheducation.com/sel-survey.
The new survey also shows that SEL instruction – classroom instruction specifically intended to help students develop healthy emotional and interpersonal skills – is becoming increasingly important to educators, with three quarters of teachers saying they are teaching SEL in the classroom, and 74 percent of teachers reporting that they are devoting more time to teaching SEL skills today compared to five years ago. At the same time, 65 percent of teachers indicated that they need more time than they currently have to teach SEL skills, and 79 percent of educators believe that SEL should be explicitly included as a part of state academic standards.
"Social and emotional learning is critical to a child's overall development, and teaching these skills at school can help students make responsible, constructive decisions both in and out of the classroom," said Heath Morrison, President of McGraw-Hill's School Group. "Increasingly, we also are seeing that effective SEL instruction can contribute to improvements in academic performance. By combining effective academic instruction with social and emotional learning, educators can help prepare their students to contribute positively to their future workplaces and the communities where they live."
Additional highlights from the 2018 Social and Emotional Learning Report include:
School administrators, teachers and parents agree teaching SEL skills in the classroom can have a significant positive impact on students and on the school climate.

Teachers, administrators and parents reported "positive attitudes about self and others" as the most important short-term benefits of SEL instruction (with 85 percent of teachers, 83 percent of administrators and 68 percent or parents rating it as "very important"), followed by "positive social behaviors in and out of school" and "ability to regulate emotions."
"Improved mental health" was ranked as the most important long-term benefit of SEL by teachers (with 86 percent rating it as "very important"), administrators (85 percent) and parents (67 percent), followed by "improved likelihood of positive relationships."
Administrators and teachers ranked "self-management" (e.g., self-motivation, goal-setting, self-discipline, impulse control and coping with stress) as the most important set of SEL skills for students to learn (with 95 percent of administrators and 93 percent of teachers rating it as "very important"), followed by "relationship-building." Parents ranked "responsible decision-making" as the most important SEL skill to learn (77 percent).

While the majority of teachers are teaching SEL skills in the classroom, teachers reported that they would like to receive more professional development in SEL instruction.

Among teachers currently teaching SEL, 64 percent feel they are only "somewhat prepared" to teach SEL, and only 22 percent feel they are "very prepared."
Fifty-one percent of teachers reported that the level of professional development offered in SEL instruction at their school is not sufficient.
Teachers are most interested in receiving professional development training on SEL instruction via in-school training at their school (with 85 percent indicating they are at least "somewhat interested"), followed by in-person training at professional conferences, workshops or seminars (77 percent).

Increased communication and collaboration between teachers and parents are necessary for effective SEL instruction.

While the large majority of administrators (88 percent) and teachers (74 percent) report that SEL skills are being taught at their school, only 32 percent of parents said that they were aware that SEL skills are being taught at their children's schools.
Teachers view parental support and engagement as the top factor that would help them be more effective when teaching SEL (with 46 percent of teachers indicating it to be one of their top three factors).
"Teachers, administrators and parents all seem to agree that SEL could be emphasized even more than it already is in classrooms and schools today," continued Morrison. "It's one of the reasons why we're collaborating with Sesame Workshop to include their content in our Wonders reading program, reinforcing skills like empathy, self-awareness and resilience. And we'll continue to do more in the future.
About the 2018 Social and Emotional Learning Report
McGraw-Hill's 2018 Social and Emotional Learning Report was developed in collaboration with Morning Consult, based on the survey responses of more than 1,140. The survey assessed perceptions, challenges and opportunities associated with social and emotional learning, as well as instructional approaches and learning materials preferences. Social and emotional learning, for the purposes of this survey, is defined as "the process through which children acquire and effectively apply the knowledge, attitudes and skills necessary to understand and manage emotions, feel and show empathy for others, establish and maintain positive relationships, set and achieve positive goals and make responsible decisions."
About McGraw-Hill
McGraw-Hill is a learning science company that delivers personalized learning experiences that help students, parents, educators and professionals drive results. McGraw-Hill has offices across North America, India, China, Europe, the Middle East and South America, and makes its learning solutions available in more than 60 languages. Visit us at mheducation.com or find us on Facebook or Twitter.
Contact
Tyler Reed
McGraw-Hill
(646) 766-2951
tyler.reed@mheducation.com