McGraw-Hill Debuts New Version of SmartBook at 2015 International Consumer Electronics Show
Published January 6, 2015
---
Latest release of higher education's most popular adaptive reading experience provides media-rich learning resources at students' precise moment of need CEO David Levin to give keynote address at 2015 TransformingEDU Summit
LAS VEGAS, Jan. 6, 2015 /PRNewswire/ -- Today at CES 2015, McGraw-Hill introduced the newest version of SmartBook, the company's adaptive reading platform, which helps students study more effectively and efficiently by guiding them through a personalized study experience that continually adapts to their needs and focuses their attention on what they need to learn the most. The latest version of SmartBook—now available for the higher education market—expands on the platform's functionality by introducing students to personalized learning resources at the precise moment of need, allowing them to close knowledge gaps in real time. The result is more confidence, better grades and greater success.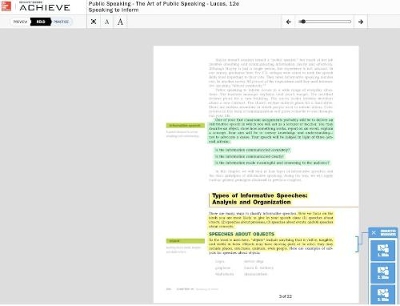 SmartBook highlights
Designed for the way today's students use technology – available for tablets via a native mobile app and PC/Mac via web browser
McGraw-Hill has made SmartBook available for more than 300 course areas in higher education
Since 2009, nearly 4 million students have used LearnSmart, the adaptive engine that powers SmartBook, having answered nearly 3 billion questions through the system
LearnSmart has been shown to help students improve by an average of one letter grade
"As the digital learning landscape evolves, SmartBook caters even more to what learners need on a personalized level, allowing them to feel more confident and achieve greater success," said David Levin, president and chief executive officer of McGraw-Hill. "With this release, we've taken SmartBook's already robust feature set and advanced it. Now, at each and every moment along the learning journey, students will have access to additional resources that will give them multiple ways to understand the concepts they study and help them improve outcomes."
McGraw-Hill at TransformingEDU Summit
Jan. 8 – The Venetian, Las Vegas
McGraw-Hill CEO David Levin will highlight SmartBook and the power of learning technology during his keynote address at TransformingEDU, a CES Summit that brings together leading experts, educators, entrepreneurs and investors in a discussion around changes in pre-K through 20 education.
Kurt Strand, the chief product officer of McGraw-Hill's Higher Ed group, will participate in a panel discussion at TransformingEDU focusing on innovation in higher education. The panel – moderated by Goldie Blumenstyk, senior writer at The Chronicle of Higher Education – will also feature Anne Praderas Vance, assistant professor at Austin Community College. In September 2014 at the annual EDUCAUSE conference, McGraw-Hill and Austin Community College announced that they had teamed to deliver "the world's largest adaptive math emporium."
About McGraw-Hill
McGraw-Hill is a learning science company that delivers personalized learning experiences that help students, parents, educators and professionals drive results. McGraw-Hill has offices across North America, India, China, Europe, the Middle East and South America, and makes its learning solutions available in more than 60 languages. Visit us at mheducation.com or find us on Facebook or Twitter.
Contact:
Visit our News & Media Center for current contact information.