McGraw-Hill Connect® Will Integrate Seamlessly with D2L's Brightspace LMS in Time for Fall 2017
Published April 6, 2017
---
McGraw-Hill continues to expand its integration with leading learning management systems, making it easier for college students to access and use learning materials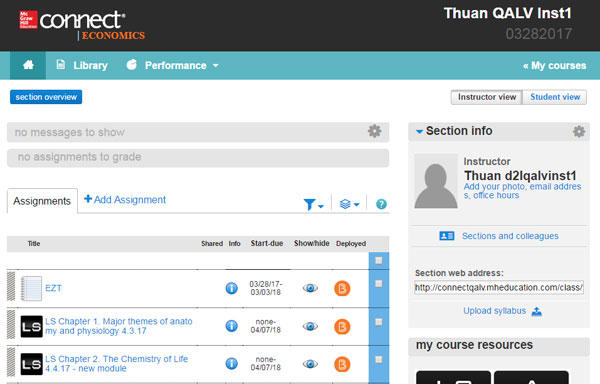 NEW YORK, N.Y. (April 6, 2017) – McGraw-Hill, a learning science company, today announced the integration of its Connect digital homework management and learning solution with the D2L's Brightspace learning management system (LMS) in time for Fall 2017 classes.
Used by millions of students, McGraw-Hill Connect® embeds award-winning adaptive capabilities and analytics to improve student results. Connect helps students complete assignments, study and practice course material using the SmartBook adaptive capability and read content offline through a newly enhanced eBook, available this fall.
"We're pleased to extend our deep integration with leading learning management systems such as Brightspace because it helps us deliver a simpler, more streamlined experience for students and instructors," said Mark Dorman, President of Higher Education, Professional and International for McGraw-Hill. "When students use Connect for their course content, homework and studying, they're more likely to get higher grades and perform better. Through the Connect integration, institutions using Brightspace can gain more leverage from their existing technology investments to improve teaching and learning outcomes."
In keeping with McGraw-Hill's continued commitment to supporting open interoperability standards in the education industry, the Connect-Brightspace integration leverages IMS Global Learning Consortium's Learning Tools Interoperability Standard between the two systems. McGraw-Hill Connect also integrates with the learning management systems Blackboard and Canvas.
The integration with Brightspace will enable grades to be automatically synced in its gradebook so they are always up-to-date. It will also allow links to Connect assignments to be placed within Brightspace, making assignments easier to navigate and access for students. Last year nearly 100 million U.S. student assignments were submitted within Connect.
For more information about Connect, visit: www.mheducation.com/connect
About McGraw-Hill
McGraw-Hill is a learning science company that delivers personalized learning experiences that help students, parents, educators and professionals drive results. McGraw-Hill has offices across North America, India, China, Europe, the Middle East and South America, and makes its learning solutions available in more than 60 languages. Visit us at mheducation.com or find us on Facebook or Twitter.
Contact
Tyler Reed
McGraw-Hill
(646) 766-2951
tyler.reed@mheducation.com