Groundbreaking Adaptive Placement, Preparation and Learning Solution ALEKS PPL Gets Important Updates for 2016-17 Year
Published August 24, 2016
---
ALEKS PPL Reinvents the Traditional Placement Test, Places Students More Accurately, Saves Students Money, Improves Outcomes and Reduces Costs for Colleges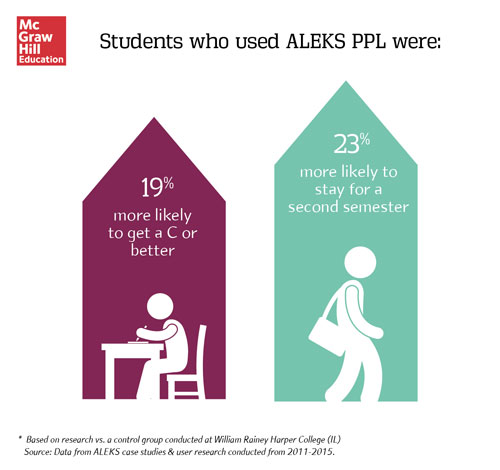 NEW YORK, N.Y. (August 24, 2016) – McGraw-Hill, a learning science company, today announced the release of an upgraded version of ALEKS Placement, Preparation and Learning (PPL), an adaptive placement solution that has revolutionized how colleges assess and prepare incoming students in math and helps them lower failure rates and increase retention. By combining smart assessment with adaptive learning tools, ALEKS PPL helps students quickly relearn lost knowledge before re-taking the assessment and increases the likelihood they will be placed into higher-level math courses. Colleges that use ALEKS PPL have reported placing fewer students into developmental math courses and seen improved freshman retention rates, leading to large cost and time-to-degree savings.
The upgraded version of ALEKS PPL includes:
An improved and modernized interface for administrators and students.

A redesign that encourages students to take advantage of the Prep & Learning section of the tool so they can practice, learn and fill gaps in their math knowledge.

Improved dashboard data reporting for administrators, highlighting areas where students need intervention.
"Historically, placement tests used by colleges have been inaccurate, unreliable and failed to take advantage of modern adaptive technology that can provide directed learning to help students more efficiently prepare for subsequent assessments," said Sally Shankland, president of McGraw-Hill's Higher Education Group. "ALEKS PPL enables institutions to redesign their placement programs, turning a traditionally one-time, standardized test into an opportunity for students to earn the ability to take courses most appropriate for their skills and set themselves up for collegiate success. It reduces costs by helping colleges retain more freshmen, and increases students' confidence that they can succeed in math and science."
ALEKS PPL is part of McGraw-Hill's expanding suite of enterprise products and services targeted at improving preparedness, retention and career readiness. It is being used at more than 150 institutions and has a track record of improving student success. For example:
At the University of Northern Iowa, during the 2012-2013 academic year, the Drop/Fail/Withdrawal (D/F/W) rate for students who had taken the ALEKS assessment was 28.5 percent. The D/F/W rate for those students who had not taken the ALEKS placement exam was higher at 51.9 percent.

At William Rainey Harper College, when comparing students who used ALEKS PPL to those using a common commercial placement test, those who used ALEKS PPL were 19 percent more likely to receive a "C" or better in their college-level course. Those students were also 22.5 percent more likely to stay enrolled at Harper College for a second semester.

Portland State University found that of the students that studied in the Prep and Learning Modules and reassessed, 86 percent improved their placement by at least one course. 64 percent of students who initially placed into remedial math were able to refresh their course knowledge and re-place into a college-level course. That means increased retention, reduced time to graduation, and more major/degree options.1
To read about more colleges using ALEKS PPL: http://www.aleks.com/ppl
About McGraw-Hill
McGraw-Hill is a learning science company that delivers personalized learning experiences that help students, parents, educators and professionals drive results. McGraw-Hill has offices across North America, India, China, Europe, the Middle East and South America, and makes its learning solutions available in nearly 60 languages. Visit us at mheducation.com or find us on Facebook or Twitter.
Contact
Tyler Reed
McGraw-Hill
(646) 766-2951
tyler.reed@mheducation.com
---
1 We understand that class performance can improve due to a number of factors, including the innate ability and prior education of the students participating, as well as differences among professors and their pedagogies. We believe that, even taking these factors into account, ALEKS PPL can contribute to improvements in student outcomes.