New Survey Data: Four Out of Five College Students Say Digital Learning Technology Helps Improve Their Grades
Published October 17, 2016
---
Annual Digital Study Trends Survey from McGraw-Hill shows college students regularly use digital learning technology and find it helpful across a wide variety of activities
NEW YORK, N.Y. (October 17, 2016) – As the class of 2020 starts its freshman year of college, students are increasingly looking to get maximum value out of their higher education experience, and they view digital learning technology as a key tool for achieving that success, a new survey of college students in associates, bachelors and graduate programs shows.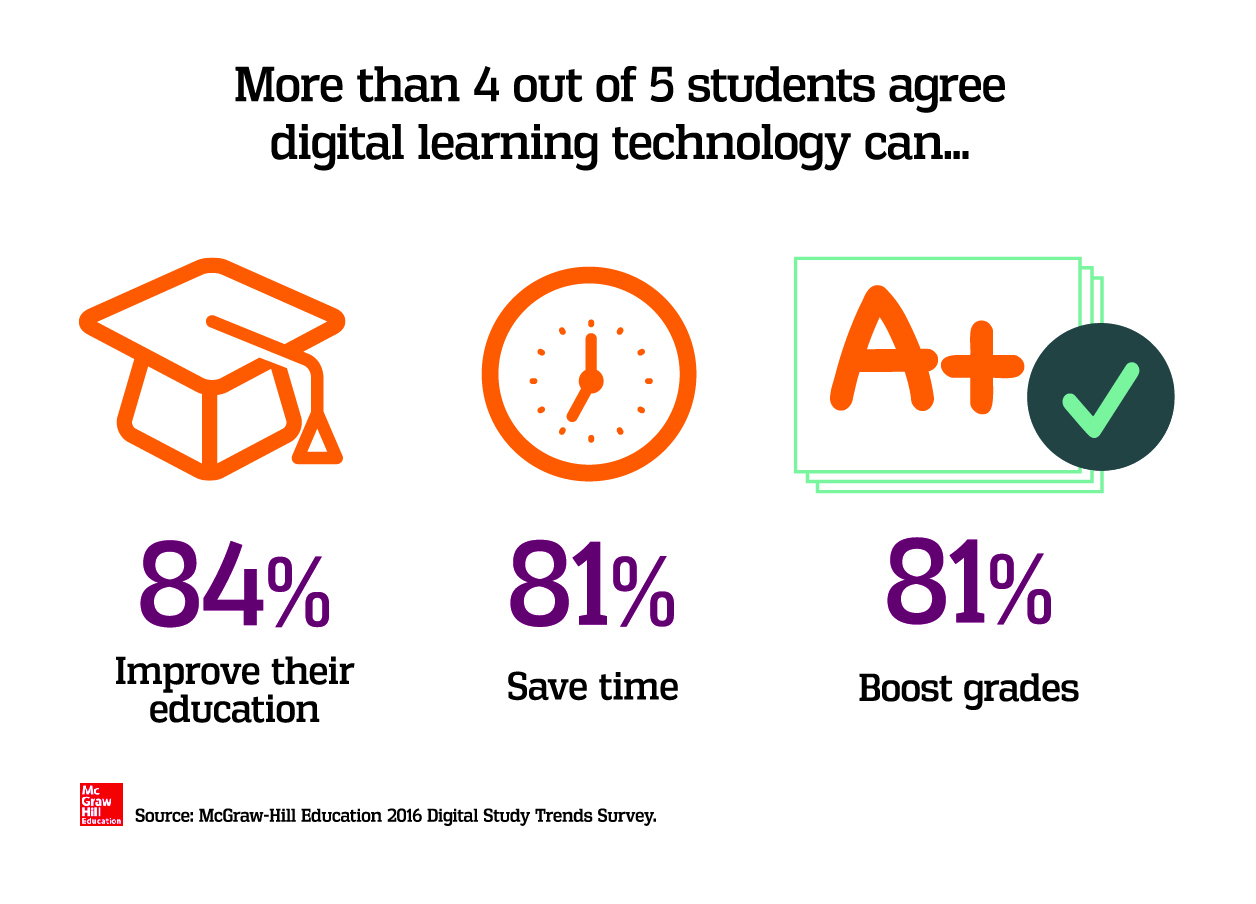 Today, learning science company McGraw-Hill released the findings of its 2016 Digital Study Trends Survey, the latest edition of an annual report fielded by Hanover Research. The report shows that four out of five (81 percent) college students find digital learning technology to be helpful in improving their grades, and more than two-thirds (69 percent) feel that digital learning technology helps them to focus. Adaptive learning technology and online quizzes are seen to be the most impactful, with half of students who have used them reporting that they have a "major effect"on their grades.
REPORT HIGHLIGHTS: The survey of more than 3,300 U.S. college students shows that a majority of students now embrace digital learning technology for its ability to help them:
Improve their grades (81 percent)
Improve their efficiency and effectiveness (81 percent)
Improve their focus (69 percent)
To download and read the full report, visit www.mheducation.com/studytrends.
"While college enrollment has climbed in recent decades, graduation rates remain low, and educators across the country continue to work to identify new ways to increase student success," said Sally Shankland, president of McGraw-Hill's Higher Education group. "High-quality digital learning technology has proven to be one of the most effective tools for driving success in higher education, and it's extremely encouraging to see that students are recognizing those benefits."
The results also explore some of the ways in which technology—and adaptive technology in particular—can improve the student experience:
Half of college students feel that adaptive learning technology and online quizzes have had a major effect on their grades.
Two-thirds of students report that adaptive learning technology and online quizzes are very or extremely helpful in learning retention (66 percent).
Most college students agree or strongly agree that digital learning technology should adapt to their unique way of learning (89 percent) and be individualized (80 percent).
Digital learning technology leads not only to better grades, but to improvements throughout students' academic lives: 82 percent of students say digital learning technology allows them to spend more time studying through increased accessibility; 63 percent of students say it makes them feel better prepared for class.
Students also feel using technology has helped with their career readiness: According to McGraw-Hill's 2016 Workforce Readiness Survey released in June 2016, 85 percent of college students feel having used tech in classes or to study has helped to make them a better job candidate.
Students appreciate when their schools and professors use digital learning technology, but see room for improvement:
The majority of college students surveyed (61 percent) prefer to enroll in classes that use digital learning technology.
Forty-three percent of students say college is harder than they expected – and those students who found it harder are more likely to give their college a grade of C – F on how well they provide opportunities for using digital learning technology.
Seventy-nine percent of students report that digital learning technology helps their professors and teaching assistants to be more efficient and effective in teaching classes.
However, 84 percent of students feel that there are still ways that they could be using digital learning technology to make their education better, and 79 percent feel that there are still ways that their university and teaching staff could be using digital learning technology to make their education better.
Mobile learning trends continue to accelerate, but some challenges remain:
Eighty-eight percent of college students report finding their smartphones helpful to their studies.
More than two-thirds of students (70 percent) feel it is at least moderately important to be able to study on mobile electronic devices, and almost a quarter (22 percent) feel it is "extremely important," a significant increase from 2015 (19 percent) and 2014 (13 percent).
Still, there is room for improvement: 45 percent of students report having encountered problems integrating digital learning technology with their personal devices.
About The Digital Study Trends Survey
McGraw-Hill's report, the 2016 Digital Study Trends Survey, collected responses from 3,311 college students aged 18+ who are currently enrolled in higher education institutions across the United States. Respondents were from a mix of majors and grade levels, ranging from freshmen to PhD students. 2,780 of the students were selected from among a group of students who have previously used McGraw-Hill's technology in their coursework, while the remaining 531 were selected from outside this group.
###
About McGraw-Hill
McGraw-Hill is a learning science company that delivers personalized learning experiences that help students, parents, educators and professionals drive results. McGraw-Hill has offices across North America, India, China, Europe, the Middle East and South America, and makes its learning solutions available in nearly 60 languages. Visit us at mheducation.com or find us on Facebook or Twitter.
Contact:
Tyler Reed
McGraw-Hill
(646) 766-2951
tyler.reed@mheducation.com