We Need Welders. We Need Philosophers. But Most Importantly, We Need Graduates.
Published November 20, 2015
---
David Levin explains why we need graduates from all types of educational systems and how technology can help.
This article was originally published on November 13, 2015 for The Huffington Post and can be accessed here.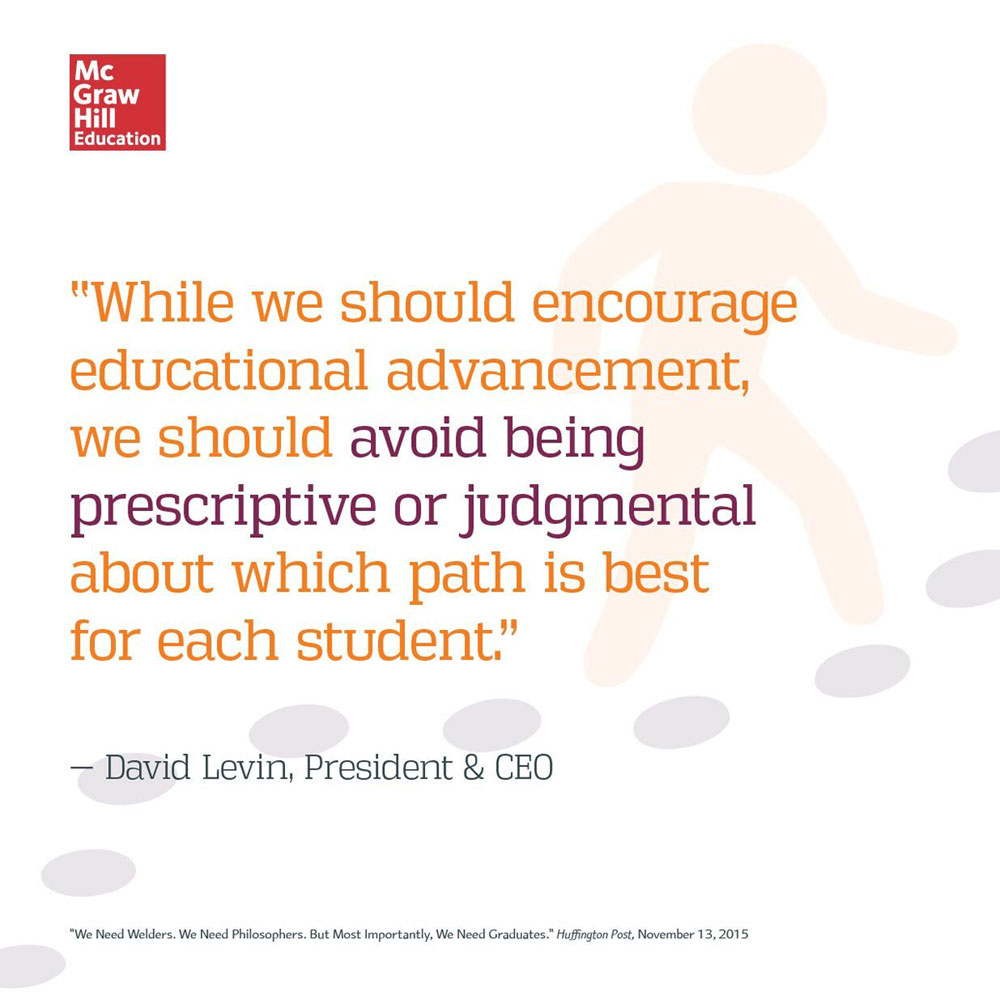 In September, I
wrote
about how the word "education" came up only seven times during the second Republican debate. In this week's debate, education was mentioned only five times, but since the debate was only two hours versus three, I'm willing to call that progress.
I'm pleased that the topic was finally being discussed. Senator Marco Rubio said: "For the life of me, I don't know why we have stigmatized vocational education."
Senator, I completely agree. We need to strengthen our vocational education in this country. European countries including Switzerland and German have found great success implementing an apprenticeship model that helps create satisfying careers for millions of young people.
I also appreciated the Senator's understanding of how technology is changing everything about our economy when he said: "You know, it took the telephone 75 years to reach 100 million users. It took Candy Crush one year to reach some 100 million users."
A terrific analogy, and we are seeing the same thing in the world of education. Technology based on learning science has the opportunity to change outcomes in ways we couldn't even imagine five years ago.
Of course, the Senator also made some waves with the other half of his statement: "Welders make more money than philosophers. We need more welders and less philosophers."
Since the debate, many have been quite vocal about the value of philosophy and other liberal arts degrees, and I certainly concur. Liberal arts graduates bring skills such as critical thinking, problem solving and communication to the workplace and help improve our economy.
But whether students decide to pursue a liberal arts, STEM, business or vocational path, they will have no success if they don't complete their course of study. How do we address America's chronically low graduation rates? Correct placement and remediation are the first steps.
With more than 50 percent of students in two-year colleges and 20 percent of those in four-year universities placed in remedial classes, we need a proven approach for accurate course placement (especially in math), which is imperative to students' future success and ultimate college or vocational completion.
We also need to stop thinking in terms like "white collar workers" and "blue collar workers." What value is there in putting labels on people? One of the great things about the U.S. in 2015 is that there truly are multiple pathways to success. While we should encourage educational advancement, we should avoid being prescriptive or judgmental about which path is best for each student.
I'm proud to work with many philosophy majors here at McGraw-Hill Education, but when I get in the elevator in my apartment building, I'm thankful for the welders who have been there before me.
Everyone deserves the opportunity to be a valuable member of society -- let's help people reach their full potential.