How Do We Add More Value to Students' College Investments?
Published July 6, 2016
---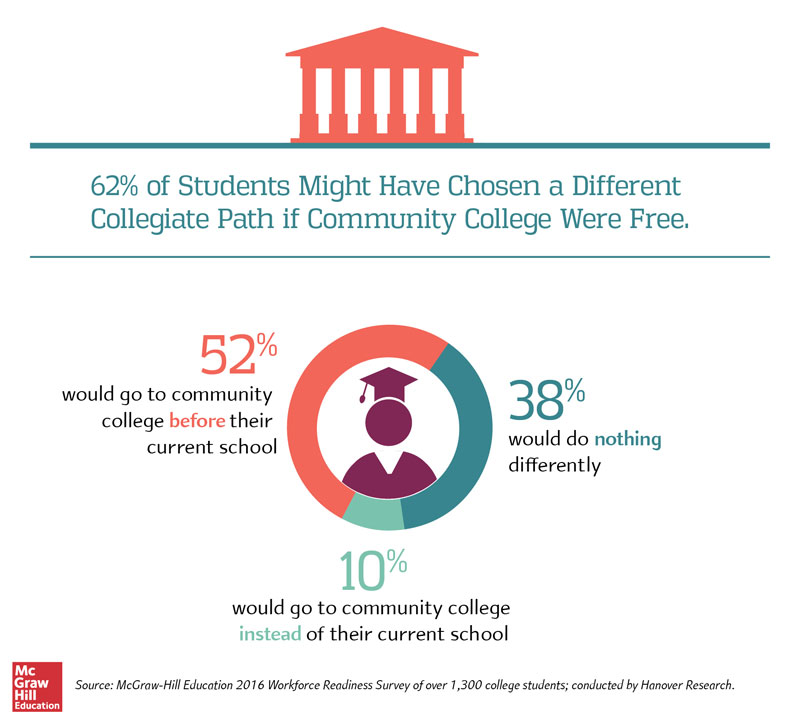 College students are taking their investments in their futures seriously. Just ask Vanessa Wismeier, a 2015 graduate of Loras College in Dubuque, Iowa.
The first in her family to attend and graduate from college, Vanessa took out loans to pay for college and carefully plotted her path through school to a job. She chose her double-major in Spanish and marketing because she wanted to work in business and aspires to travel.
"I was going to pay a lot of money to go to school, so I had to make sure I did whatever I could to get a job when I graduated," she said.
A growing number of students, like Vanessa, are planning carefully for a career while in college. According to McGraw-Hill Education's just released 2016 Workforce Readiness Survey, 71 percent of college students said planning for a rewarding career while in college is extremely important — and that's up from 66 percent in 2014.
Vanessa's story is a happy one. After interning at McGraw-Hill Education and then joining our Student Ambassadors program her senior year, she was hired as a Learning Technology Consultant within days of graduation. She is in the minority though as someone who feels her college experience was very useful in preparing her for a career.
Unfortunately, only 40 percent of college seniors feel their college experience has been very helpful in preparing them for jobs. And for students in some majors (and for women more so than men), feelings of preparedness are particularly low.
Paying for college is one of the biggest investments an individual can make — and for many students that involves taking out loans that they'll be paying off for years to come.
We should do all that we can to ensure the investments pay off.
For students who graduate, the high cost is almost always worth it. College graduates' wages start higher and grow faster over time, they make more money over their lifetimes and they're less likely to be unemployed. Today the unemployment rate for college graduates between 25 and 34 years old is just 2.4 percent versus 7.4 percent for those with just a high school degree. In short, investing in and graduating from college is a pathway to professional success, yet a majority of students say they don't feel college has been very helpful in job prep.
Why?
The 2016 Workforce Readiness Survey provides some hints:
Some majors are helping students feel more prepared than others. Students in Arts & Humanities majors, while certainly still learning valuable skills, are less likely to feel college is preparing them for a career — only 11 percent said they feel very prepared. Students in STEM majors are the most optimistic about their career prospects — about twice as likely to say they feel very prepared for careers as Arts & Humanities majors.

Conversations about career options and job skills should start early so students see the value in the work they put in. History, for example, is about much more than memorizing dates and who fought whom. It's about learning to analyze problems, understanding the past so you can plan for the future and putting culture into context. These are skills I value in employees who work for me. Our country needs engineers, nurses, teachers, writers, accountants, physical therapists and more - and this requires a diversity in student interests and skills. Colleges and instructors should more aggressively mentor students to help them move along the path to the careers of their choice.

Students are looking for more career prep and support before graduation. When asked what would have made them feel more prepared for careers, two-thirds of all students pointed to more opportunities for internships and professional experiences. Fifty-nine percent indicated they would like more time for career prep, 47 percent wanted better access to career prep tools and 34 percent said they would like more alumni networking opportunities.

We all learn by doing. When students get access to internships or can have conversations with professionals and alumni, they can make more informed decisions about the careers they want to pursue. It's about opening doors to students as much as it's about training them. Colleges need to make the services they offer more visible to students. Businesses and community organizations need to work on building stronger connections with colleges too so the transition from college to career is smooth for students.

Students are obviously concerned about cost. College is expensive, and cost was reported by 72 percent of students to be one of the biggest factors in choosing a college. Additionally, 62 percent of students reported that, if two years of community college were free, they would attend community college before enrolling in their current college or go to community college instead. Students want to invest wisely.

I certainly advocate for increasing government investment in higher education, and the need to reverse many of the cuts of recent years. And making the cost of entry to college lower will make it possible for even more students to attend. But lowering the cost at entry is only part of the conversation we need to be having about value. More importantly, we need to work toward ensuring that every student who makes the investment in a college education gets to the finish line, graduates and finds a fulfilling career.

As we discover more about learning science and the potential of adaptive technology and data analytics and combine the new tools at our disposal with proven content and incredible instructors, we can make big strides toward meeting this ambitious goal. Our commitment at McGraw-Hill Education to digital innovation has already lowered costs for students, and shown that technology can help personalize learning and improve retention rates, grades and other performance metrics. The most powerful way to make college affordable and appealing to students is to ensure they take every opportunity to prepare for their future careers and graduate.
This article originally appeared in Huffington Post on June 17, 2016 and can be viewed here.