What We Need to Get Right in 2016
Published April 28, 2016
---
David Levin's Speech on the Future of Ed-Tech at the 2016 ASU GSV Summit
At the 2016 ASU GSV Summit our CEO David Levin gave a Leaders Track presentation on the role of learning science in the future of educational technology innovation. Below you will find the video recording, presentation slides and complete transcript of David's presentation.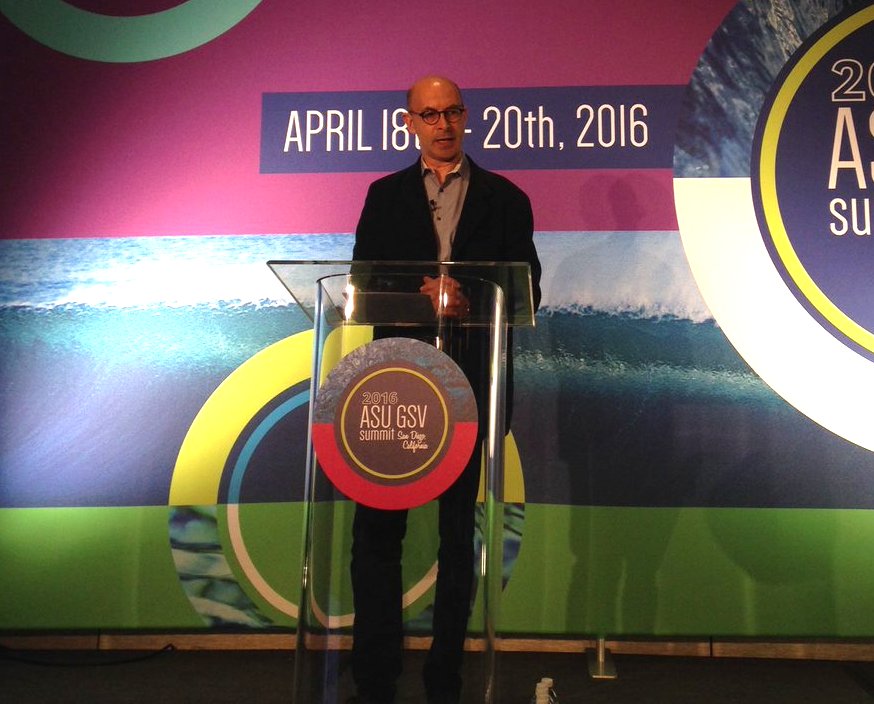 Complete Presentation Slides
---
---
What We Need to Get Right in 2016

Presented April 19, 2016 by David Levin at the ASU GSV Summit
Good morning everyone and thank you for joining me today.
This is my third year at the ASU GSV Summit. When I reflect back over the past two summits, I'm struck by how things have both changed and stayed the same.
The core issues in the world of education are timeless. They of course revolve around the question of how we help students learn. How do we help them master knowledge and skills that will prepare them for productive lives and work?
Recently I had the pleasure of meeting Professor David Laude who teaches chemistry at UT Austin and is the senior vice provost for enrollment and graduation management. Thirty years ago or so, when he was a struggling freshman in college, he got a C in chemistry. As he would point out, perhaps not a ringing endorsement for someone who is now teaching chemistry.
But back then the idea was to focus on the students on the pre-med track, to weed out the students who wouldn't make it. If you had 500 students in a class, 100 should get A's and if many flunked then so be it…Chemistry is hard.
Today, he has a very different approach. He tells his students that it's his job to make sure that every one of them who wants it and is willing to put in the effort, gets an A. And he can do that, because he's flipped his classroom. He uses one of our adaptive learning programs and instead of standing up giving lectures he has become a facilitating motivator. Last spring 300 students As in his class and a handful who didn't pass. This was not grade inflation. The standards were higher than ever. And he can no longer tell who is going to get an A from the first day of class.
This is a great success story and this morning I'd like to talk with you about three topics in education related to how we can have better educational outcomes such as those of Professor Laude.
To begin, I'll start by focusing on the importance of the work we do – the many benefits of education.
Second, I'll give some perspective on the challenges we face in U.S. education – how can we improve grades and graduation rates – and . . .
Finally, I'll address how we, both as McGraw-Hill Education and as an industry, are meeting those challenges through technology and the use of data to improve educational outcomes and prepare students for work and for life.
The Investment in College is Costly but Worth It
Although it is costly, earning power indicates that college is the best investment anyone can make – provided you complete it. As this chart shows, the hourly earnings wage gap continues to widen over time for those with less education and those with more. College remains, for those who graduate, the best possible investment!
But earning money is not the only advantage of a college degree. Overall, college grads are less likely to be unemployed.
They are more likely to vote.
And college degree earners report having higher levels of excellent mental health than those with a high school education or less.
Why Are So Many Students Failing to Graduate?
So, if the advantages of a college degree are so clear, why do so many students fail to complete one?
When you look at today's students, a preparedness issue surfaces. A large number of entering college students need some sort of remediation. Right now, about 52 percent of students going into two-year schools need some sort of remediation while 20 percent of students entering a four-year college need remediation. This tells us that in K12 we are not preparing all students for success.
Unfortunately, less than 20 percent of students successfully complete remediation. In other words, most of the students who enter community colleges don't make it past the first hurdle of remediation in Math and English.
This is an expensive undertaking for the student most of all, but also for the college and the country. The annual cost of remediating all U.S. college students is estimated to be $7 billion, a huge number.
But let's be optimistic and say that a student either didn't need remediation or successfully completed it.
Only Fifty-six percent of those who do go on to four-year college graduate within six years. Which, of course, means that 44 percent didn't.
The Real Source of Student Debt
People often talk about student debt. And they bandy about the staggering total of $1.3 trillion. For many graduating students, their debt is appropriate and manageable.
The real problem lies with those who have debt, and did not graduate. A full 30 percent of students in debt dropped out of college and did not attain a degree within six years of starting college. For them, the debt is a huge burden.
We know that those who drop out of college are more likely to be unemployed or make lower median salaries when they are working and hence default more often on their loans.
In fact, the default rate for dropouts is 17 percent versus 4 percent for graduates.
The Costs of Failure
The cost of failure to all parties is immense….and the churn of students leads to a woefully poor allocation of resources.
Improving student success in college and hence retaining them in the system would result in a massive improvement in the finances for Higher Education – as students enrolling in the second and subsequent semester would bring new fee income to the system without materially increasing costs. And of course it would reduce the default rate as well as benefit students in their lives.
A 2013 report from the Educational Policy Institute on college attrition estimated lost revenue due to attrition of roughly $16.5 billion with the largest single school losing over $100 million.
So let's switch gears and talk about what's to be done.
During this year's State of the Union address, President Obama was outlining his plans to make education more affordable for Americans when the cameras showed Jenny Bragdon of Austin, Texas. The caption beneath her name simply read "community college student."
But she's so much more than that.
Jenny is an example of today's typical college student… which is anything but typical. She is 42 years old, has a young daughter and works full time. She started at Austin Community College last spring, more than 20 years since she sat in a class.
Jenny was invited to the State of the Union as a guest of Second Lady Dr. Jill Biden who met Jenny last year during a visit to Austin Community College. ACC transformed a dying shopping mall into the state-of-the-art campus featuring the ACCelerator, the nation's largest computer lab. The high-tech lab features more than 600 computer stations for individualized learning and has served approximately 13,000 students since it opened in 2014. When Jenny arrived at ACC, she was told she needed to take some courses to get her ready for college-level math.
She enrolled in one of the developmental math classes that meet in the ACCelerator. The innovative course allows students to work in a self-paced environment. It uses a combination of McGraw-Hill Education's ALEKS math program, which helps students retain information and learn faster by personalizing the experience, and the ACCelerator's extensive support network of faculty, counselors, advisors, and tutors.
ASU Global Freshman Academy
As part of addressing the issue of helping students stay in school, we are very pleased to be working with Arizona State University on their Global Freshman Academy. This initiative, which started last fall, is a partnership between ASU and Massive Open Online Course provider edX. It offers an alternative way to begin the first year of college at a student's own pace and own price. It is designed to allow learners to earn university credit, simply and with little risk. A student can complete an online course free of charge. If students want to take the test, they pay $49 to do so. If, after passing the test with at least a "C," they want college credit, they can pay to receive it –$600.
Yesterday students began taking College Algebra & Problem Solving in the Global Freshmen Academy using McGraw-Hill Education's ALEKS, the same program that helped Jenny Bragdon.
Learning Science-Powered Platforms Improve Outcomes.
Advances in learning science are powering a new generation of technologies that, when used by dedicated teachers, help students get better grades and extend learning beyond the confines of the classroom.
Last fall I was in Washington D.C. for a day of meetings with members of Congress and their staffs. As I was leaving one session, a young staffer walked me out and volunteered that one of our products – a learning platform called Connect – was the reason he got through college. That's a moment I'll never forget. It speaks to the value that we can bring to students. And one of the most important ways to help students learn is by personalizing the experience through the use of adaptive technology.
We recently released the results of a study done on the effectiveness of Connect. The study aggregated and analyzed data from 20 case studies for colleges that used Connect and SmartBook, a continually adaptive reading experience that features robust reporting and analytics.
Each study was produced by a faculty member teaching a course. Faculty found that student retention improved, exam scores increased, course pass rates rose and instructors spent a whole lot less time on administrative tasks and more time on active learning experiences.
The Two Sigma Problem
Why do these programs work? Back in 1984, Benjamin Bloom, one of America's leading educational psychologists, wrote a seminal paper in learning science called the "Two Sigma Problem." He and his team compared how students learn under three different sets of conditions:
The first was a conventional "sage on a stage" or standard lecture type classroom.
The second was mastery learning where there is a standard lecture. But in addition, students receive continuous feedback and correction. They aren't allowed to move to the next stage of learning until they demonstrate proficiency in what they are being taught.
And the third was one-to-one tutoring where students receive all the benefits of mastery learning but also have access to their own personal tutor.
What Bloom saw was that students using mastery learning saw a one sigma – that's one standard deviation – improvement in performance – meaning a C to a B or a B to an A. That's a huge gain. Most educational interventions don't come close.
But students using the one-to-one tutoring approach had a two-sigma improvement.
Unfortunately, one-to-one tutoring is not feasible in many instances. It's really expensive and hard to scale.
Technology, however, can help us take a big step in that direction. It can provide students with real-time learning feedback and guidance by continually assessing their knowledge in a given course, assessing their mastery of key concepts and by understanding confidence levels. And it can provide insight to faculty allowing them to intervene effectively – allowing some of the benefits of a tutorial even though faculty are not 1-1 with their students. It has been shown to improve grades, retention rates and overall student success.
And these systems can help educators focus on what they do best, what they want to do and what is most important. That is, helping students learn.
But despite these evident benefits, ONLY 4% of general and developmental education courses on Campus use adaptive.
This might help explain why four out of five of the students reported that there are still additional ways that their university or teaching staff could improve the way they use technology in order to ultimately improve their education.
Given all of these findings, it's clear that we have an opportunity to help instructors make the learning experience more engaging and effective. Of course it is happening. We have continued to see double-digit growth in our digital offerings. But there is a long way to go.
Data Drives Smarter Decisions.
Key to this is data. People often speak of big data but what I'm talking about is small data. Data that tells you how an individual student is learning . . . or isn't. Big data is terabytes of data being crunched for insights. Small data is the fact that Diane did not know the answer to question three and in particular was also unconfident in her answer. In this way, educators can help individual students overcome roadblocks and successfully understand and master a subject.
But data – big or small -- is nothing without insights. For years, we have collaborated with educators and academic experts to develop both our textbooks and digital offerings in order to make our products more engaging, more efficient and more effective. We have worked with them to do extensive classroom trials to build better products and their feedback has been invaluable to us.
Now know that we can go much further.
We have an enormous database of student responses from our LearnSmart adaptive program. We believe it is unique and amounts to about 5 billion responses since 2009. It is growing by 100 million responses a month.
This extraordinary repository – which of course is anonymized so we don't know the data on any one person – can help answer questions on how people learn most effectively.
We want to make our resource available to researchers and earlier this year we created the McGraw-Hill Education Learning Science Research Council to do just that. It will provide access to researchers so that we continue to focus on improving educational outcomes and do so in ways that are grounded in research.
In addition, as our technology allows for content to be easily incorporated for adaptive use, we want to offer appropriate ways to allow researchers to test content in the system – at the micro level.
We are looking to collaborate with researchers who want to use that capability for content independent research to deepen all of our understanding of how to best use the technology to improve results.
We are still working out the details of how best to provide this access but the Council is now active and has appointed its first academic members of the advisory board to help steer its processes and activities.
Looking ahead, we know the future of McGraw-Hill Education is going to be driven by our contribution to improving outcomes in education. That takes into account many things – among them a deep understanding of how learning happens and how the mind develops, great content, elegant user-centric software and superb implementation and service. This is where the science of learning meets the art of teaching. We support great teaching. Our new Council will help us support great research to further that goal.
Interoperability
Finally, we need to address the terrible roadblock to the effective deployment of technology in Education – the lack of interoperability.
While the issues around interoperability might not seem as pressing as debates about keeping learners in school or improving college and career readiness, they are very important. In the field of consumer technology more broadly, interoperability standards have ushered in new eras of innovation, constructive competition and universal access . . . to say nothing of improved ease of use.
Without a firm commitment to interoperability within the ed-tech space, all of our current investments and breakthroughs will inevitably fall short.
What seems like a simple concern of IT departments has serious implications for learning. Technologies that live within closed systems create roadblocks in students' learning pathways. Often, teachers are unable to use the technology that works best for their students because they're locked into systems they've used in the past or because the complexity of creating a seamless classroom overwhelms them.
Ed-Tech Standards & The IMS Global Learning Consortium
A very simple solution to the issue of interoperability is to support technology standards set forth by organizations such as the IMS Global Learning Consortium.
This spring we are working with several districts on an integration hub that will accept OneRoster. It is a free and open specification that focuses on the need of a school to exchange roster information and grades. While there are other roster integration solutions in the market, we plan to offer the best parts of each solution and build an integration hub with OneRoster as the foundation.
Building digital content and learning technology around standards ensures that educators and students can determine what's most effective without worrying about whether different technologies will work together.
We have agreed to make our products interoperable and standards based. By committing to a more open, collaborative future, we can accomplish our goals by putting students and educators in a better position to achieve theirs. This is not just an imperative for companies – the entire ecosystem needs to adopt these standards too. School districts building their own content, well-meaning philanthropists who are funding developments, policymakers and the Department of Education all need to endorse and insist on these standards. It will create a better world for all of us.
We invite every school district and every school and college in the country to use their influence in the industry and endorse and support IMS Global.
This does not advantage any one of us. It advantages all of us.
2016 Harold W. McGraw, Jr. Prize in Education
As we look ahead, we are tremendously excited about the future and encouraged by what we see. But however much we talk about technology, we know at the end it is about human passion and commitment: technology is an enabler – not the answer by itself.
And that is why we think it is important to celebrate those who are making a difference.
This week three people who embody the very best in the field of education will be recognized with the Harold W. McGraw, Jr. Prize in Education.
Anant Agarwal, CEO of edX and MIT Professor, will receive the U.S. Higher Education prize as an outstanding leader in the development of the Massive Open Online Course movement, which has helped make possible the education of millions of students around the world.
Alberto Carvalho, Superintendent of the Miami-Dade school district, will receive the U.S. K-12 prize for his exemplary leadership in raising standards and improving graduation rates in a complex urban district.
Sakena Yacoobi, CEO of the Afghan Institute of Learning, will receive the International Education prize for the transformational effect her work has had on communities in Afghanistan, particularly in education for girls and women.
Anant, Alberto and Sakena are extraordinary leaders who have changed the lives of millions of students and taken on huge issues in the world of education. They serve as models to learners and educators around the globe.
As we think about the challenges of helping students learn, of giving teachers better data and interoperable systems to enable them to teach more effectively so that more students graduate on time, we can take inspiration from the work they have done. We have the ability to help transform lives . . . because learning does change everything.
I hope that next year, when we gather again at this event, we will be talking about the strides we have made in these important areas.
Thank you.