David Levin's Remarks at the 2016 Graduation Ceremony of the Columbia University School of Professional Studies
Published May 17, 2016
---
On May 16, 2016 David Levin addressed the graduating class of the Columbia University School of Professional Studies. The complete video of the graduation ceremony is available here.
Remarks from David Levin
Graduation Ceremony of the Columbia University School of Professional Studies
May 16, 2016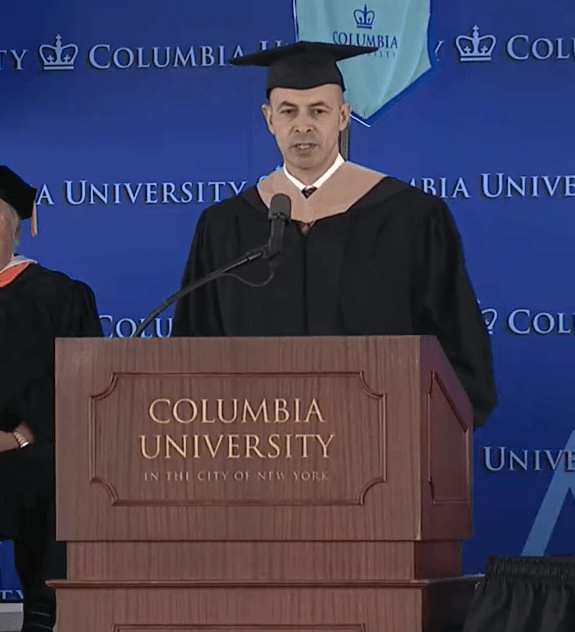 Good afternoon.
Thank you Dean Wingard for that kind introduction and thank you Provost Coatsworth for that inspiring salutation. And congratulations graduates . . . and congratulations to your spouses too as I am sure there are more than a few happy husbands and wives here today who have made a huge contribution to your successful studies, along with other family members, friends and colleagues who supported you.
I am honored to be with you today. As you can hear from my accent, I'm not from around here. I am a recent immigrant – this is my second year in the U.S. I come from two generations of refugees. My family left Eastern Europe in great haste right before World War II. I was born in what is now Zimbabwe. At the age of two, I moved to the U.K. when my father got a call saying he was going to be arrested within 24 hours. Faced with the choice of going to jail or leaving the country, my family moved literally overnight to the U.K. So perhaps a willingness to shift gears has been a part of my family history.
Between high school and university, I served as a second lieutenant in an infantry regiment of the British Army. The shift from being a school boy to a platoon commander happened very quickly and dealing with the reality of the challenge of leading had a lasting impact on me.
I have always held onto the key insight that respect does not come from a star on your shoulder but from those you lead. Those who think that rank brings respect forget a key lesson in life. After the army, I went back to university, getting my BA from Oxford and then an MBA at Stanford.
What I didn't recognize when I graduated was that I was still at the beginning of my journey of learning. For today, more than ever before, learning is a lifelong adventure. It has to be, given the pace of change. Technology has reduced the lifespan of specific skills. And an increasingly globalized and automated world requires you to continuously learn and relearn.
The combination of the death of distance and breakthroughs in automation, robotics and artificial intelligence have resulted in massive job offshoring and the replacement of jobs by technology. In your careers, you will have to ride both these trends. Alongside this, there is a huge re-invention of jobs.
It is estimated that 65% of children entering grade school will ultimately work in jobs that don't exist today. You face the prospect of not just multiple jobs but actually multiple careers over the course of your life. Your studies and degree now have begun your preparation for this – you have obviously learned a lot but you have learned more about how to learn.
When I reflect on my own career, I see how the changes that disrupted the industries in which I worked required new skills, new knowledge and a continuous need to adapt and learn. I spent five years in consulting, then became a serial CEO, working a couple of years in an industrial manufacturing company, seven years in technology running both hardware and software companies, and nine years in a media group. And now I have the privilege to lead McGraw-Hill Education. So I've been in manufacturing, technology, publishing and now, education. Looking backward, my career could be viewed as a bit of a jumble…no one step seems to have led clearly to the next.
But there is a compelling logic and set of organizing principles that have become clear to me over the years. Seek out challenges, be curious and look for opportunity wherever it may come, accept that innovation is at the heart of survival and growth …And, at all times, respect people.
Understand that real change comes from aligning strategy, execution and culture…and that culture trumps all. And keep learning and keep innovating.
Not every move will be a success. You will have to deal with both success and failure, and the latter is a better teacher – if harsher.
And so when it comes to other perceptions and lessons, I have learned a great deal from the opportunity to work around the world. I spent much of my early career far from headquarters, in West Africa and Asia – as well as Europe and of course, the U.S. So take the chances when they come – and get those different perspectives. In moving, I learned that a point of view is simply a view from a point. To understand other people and circumstances, you need to make a shift and see the world differently.
This is why that, as I began my new job at McGraw-Hill Education just two years ago, I took the entire senior leadership team to India to reset our relationships with one another and to reconnect us with a broader mission. I wanted to stretch ourselves in a new environment and to develop a more global and more holistic idea of our purpose, our strategy and the kind of culture we wanted to build within McGraw-Hill Education.
Yes, we met with executives and partners at giant, successful companies but we also visited classrooms, entrepreneurs and community activists. We met a man who taught himself on the street both English and how to code and then went on to create a series of digital dictionaries to empower people just like him. We visited a family of 12 who lived in a room the size of a New York studio apartment with no running water or bathroom. We went into the slums of Mumbai where a community leader told us, "No point in clinging to what is going . . . embrace what is coming."
The trip touched us in ways practical and profound. We learned enormously from the people we met and from each other. Now a couple of years in, McGraw-Hill Education is well on the path to renewal and is again a company with an exciting future.
We have a mission that echoes the lessons from Mumbai, to "Unlock the potential of every learner" and new software and architecture capabilities complementing our deep passion for content education and an absolute commitment to improving outcomes for students.
Sometimes it's important to relearn lessons. At Symbian, the software company that built the operating system to power the first generation of smartphones, I learned that the linear logic of years of consulting did not always apply, that we needed to focus on how innovation would happen around us. Sixteen years ago, we were having debates about the first camera phones and what they would do. This was before Instagram and Facebook and yet we were imagining all the uses that would come from swapping pictures. So I had to learn…and unlearn. Learning is more than a matter of building skills and knowledge within the narrow scope of a profession. After all, if information alone shaped decisions, no one would smoke – right? Some learning occurs with the head and some learning happens with the heart, but what is true is that the most powerful learning in life comes through curiosity and experience.
Simply showing facts is never enough. To change a mind, you must first speak to the heart. And culture is critical. That's why our senior team went to India. As new leaders, you will help set the culture of your organizations by what you do, rather than simply what you say. So always be open to outside influences and learning. And show it.
To grow and develop in your career and in your life, it will be critically important to have a range of experiences that will help you develop a broad perspective and enable you to generate new ideas and ways of doing things. Be open to these opportunities.
Learning expands and enhances your mind. It widens your world, fuels creativity and innovation, and ultimately leads to a richer and fuller life.
So, thank you very much for the honor of asking me to address you today, and my heartfelt congratulations to you all. You are on a remarkable journey.