Three Things to Focus On in 2017
Published May 16, 2017
---
McGraw-Hill President and CEO David Levin looks at the critical role of math success, college preparation, and ed-tech interoperability standards in advancing the future of K-12 and higher education.
McGraw-Hill President and CEO David Levin gave the following presentation live on Tuesday, May 9, 2017 at the annual ASU GSV Summit. The full video recording and slides with notes for this presentation are available.
Good afternoon everyone and thank you for joining us. The annual ASU GSV Summit is always an exciting time to explore what's happening in the world of education and to connect with educators, innovators and leaders such as yourselves. We all share the vital mission of improving outcomes for students and learners globally. The focus of this year's Summit – to accelerate scaled innovation in the learning and employment technology sector – is particularly relevant today. We face enormous challenges educating people for tomorrow and the ed tech sector plays a crucial role in helping to meet those challenges.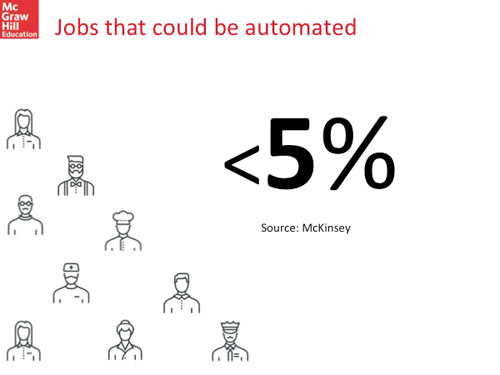 Last January, McKinsey published a report on automation in the workforce. The writers concluded that with the current technologies, very few occupations – less than 5% -- are candidates for full automation. But most occupations have the potential for partial automation. And I might add, that includes CEOs for whom McKinsey estimates about a quarter of our work could be automated. I would welcome that.
Technology has reduced the lifespan of specific skills. And an increasingly globalized and automated world requires all of us to continuously learn and relearn. A key skill is knowing how to learn.
Needless to say, our future workforce will look quite different than today's does. This raises some fundamental questions about education.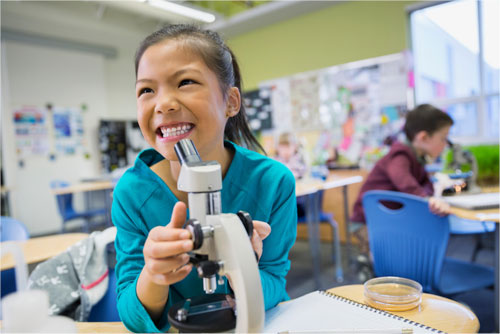 How do we ensure that this student, and every student, gets her best shot at realizing her potential?
This afternoon I'd like to focus on three responsibilities I believe the ed tech sector has to help ensure college and career readiness.
But before anything, we need to really reflect on where people and technology interface. This is not about "robot teachers in the sky."
Jill Watson, the virtual teaching assistant at Georgia Tech in the Intro to Computer Science course, won plaudits from the students because the AI was so human. Far too much of what we do is still too techy – too removed from people and needs. And some of the presentations I see still seem to ignore the key social aspects of learning and teaching.
So, while we harness technology to serve education and support both scale and quality, we need to remember that this is more than anything about people. That is the reason we have the tag-line, "Combining the Science of Learning with the Art of Teaching."
And with that in mind, here are three things I wish we could see.
First, we need to combine technology and pedagogy to equip teachers and systems to help students improve their basic math skills, which is arguably the top reason why students drop out of college today. Addressing this problem is both critical and doable. College math is where college dreams go to die.
Second, we need to make sure that more of the students entering college are prepared for college level work on day one, and look for new strategies for retaining them and helping them graduate.
Third, we need to build digital systems that can talk to one another and make educators' lives easier. Adopting interoperability standards is the building block to allow technology to be a positive in this space and not, frankly, a negative. IMS global has a key part to play.
Let me expand on each of these.
Math. It's the foundation on which virtually every STEM subject – and STEM profession – is built.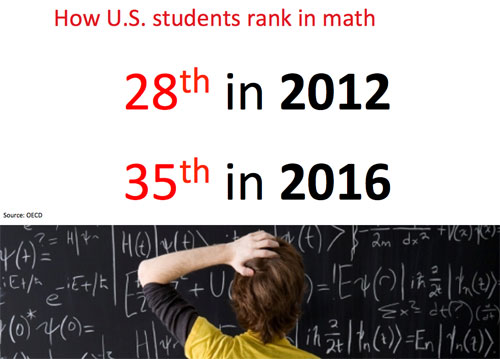 It's also a subject that we in the United States struggle with. Of the 60 nations that took the Program for International Student Assessment (PISA) in 2016, the U.S. ranked 35th in math, down from a pretty unimpressive number 28 in 2012. For a country that prides itself on invention and scientific progress, that's pretty shameful.
For millions of students who have ambitions to graduate from college math is often one of the most formidable barriers. Of the students who enter two-year colleges each year, more than half require some sort of remediation – mostly in math. For students entering four-year programs, the portion is smaller – just 20 percent – but that still amounts to an enormous amount of time and resources that are effectively wasted. Recently, the nonprofit organization Achieve conducted a national survey and found that 83% of high school graduates – whose highest level of math was less than below Algebra II – needed remedial math classes in college.
But the remedial courses offered to help students catch up end up churning them out of the higher education system. And an incredible, 80 percent of students in remedial programs do not successfully complete their remediation.
And this is where we, in the ed tech sector, can play a role. Ultimately, digital technology and data analytics may provide the most promising path forward – particularly when it comes to bridging the gap between the skills that high schools require and the skills that colleges expect.
Take what's happening at Arizona State University, which has spent the last five years fine-tuning a more effective pedagogy for teaching freshman math at scale. The method they've arrived at employs an individualized approach to teaching, supported by adaptive technologies that accurately assess a student's strengths and weaknesses to optimize the learning path.
After experimenting with many available solutions, ASU partnered with us to use our ALEKS technology. It has improved results with as many as nine out of 10 students succeeding in some math sections. And this week is the launch of our new pre-calculus course with ASU's Global Freshman Academy…
This is an important point. In order to successfully scale learning, we need to be able to optimize the experience.
How do we do that? That's where the power of adaptive learning comes in.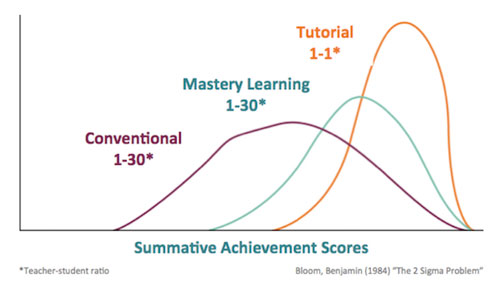 Back in 1984, Benjamin Bloom, one of America's leading educational psychologists, wrote a seminal paper in learning science called the "Two Sigma Problem." He and his team compared how students learn under three different sets of conditions:
The first was a conventional "sage on a stage" or standard lecture type classroom.

The second was mastery learning where there is a standard lecture. But in addition, students receive continuous feedback and correction. They aren't allowed to move to the next stage of learning until they demonstrate proficiency in what they are being taught.

And the third was one-to-one tutoring where students receive all the benefits of mastery learning but also have access to their own personal tutor.
What Bloom saw was that students using mastery learning saw a one sigma – that's one standard deviation – improvement in performance – meaning a C to a B or a B to an A. That's a huge gain. Most educational interventions don't come close.
But students using the one-to-one tutoring approach had a two-sigma improvement. Unfortunately, one-to-one tutoring is not feasible in many instances. It's really expensive and hard to scale.
Technology, however, can help us take a big step in that direction. It can provide students with real-time learning feedback and guidance by continually assessing their knowledge in a given course, assessing their mastery of key concepts and by understanding confidence levels. And it can provide insight to faculty helping them to intervene effectively – allowing some of the benefits of a tutorial even though faculty are not one-to-one with their students. It has been shown to improve grades, retention rates and overall student success.
Here in Utah, schools have very successfully used ALEKS, one of our adaptive learning programs, to help students across high schools improve their math skills.
And systems like ALEKS help educators focus on what they do best, what they want to do and what is most important. This marries the science of learning with the art of teaching.
But despite these evident benefits, only 4% of general and developmental education courses use them. Surely there's an opportunity to do better…
One of the colleges that does use this approach is Austin Community College in Texas.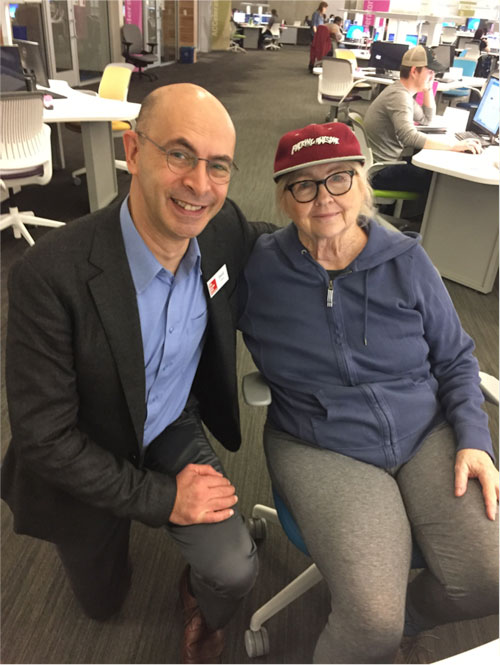 This is Martha Ben Harrison I met her last March when I toured Austin Community College's stunning ACCelerator lab, a football field-sized computer lab housed inside a former JC Penney store.
The ACCelerator is used for many purposes, one of which is for developmental math courses for students who need remedial support before taking college level math. Martha Ben was one of those students, perched at a computer station working through math problems on our ALEKS software, which the college uses to give students individualized support and instruction targeted to their unique learning needs. Her plan is to start a new career in real estate. But before she can get her real estate license, she needs to improve her math skills and then take a college level math course.
When you picture a "typical" college student in your mind, I would bet the person you imagine isn't this feisty, 74-year-old with a Texas twang. But perhaps it should be.
According to federal education data, the so-called "traditional" student – any student enrolled full time and between the ages of 18 and 22 – is now in the minority.
Martha Ben's story is actually quite typical though still inspiring to me – an adult looking to change careers, enrolled part time at a college near her home, and in need of support in academic areas that are unique to her. A "traditional" college experience just wouldn't work for her – and fortunately, the ACCelerator is anything but traditional. Students work independently on the adaptive ALEKS software, with instructors able to see in real time when students are hitting learning roadblocks and in need of one-on-one support.
Martha Ben can work at her own pace, and isn't beholden to the collective instructional cadence of a 30-student classroom. And so far it's working for her.
This month Martha Ben's six-foot eight son, a country and western singer, will be escorting her to her graduation.
The college has seen impressive improvements from developmental math students who work in the ACCelerator. Of the students who completed the entire developmental math content in one semester, 77% went on to pass College Algebra the following semester with over half of those students earning an A. This shows remarkable improvement compared to the overall 48% pass rate in College Algebra at Austin Community College.
New models for course delivery like what I saw at the ACCelerator can unleash the power of adaptive technology and help more students overcome barriers like remedial math, and stay on track to graduate.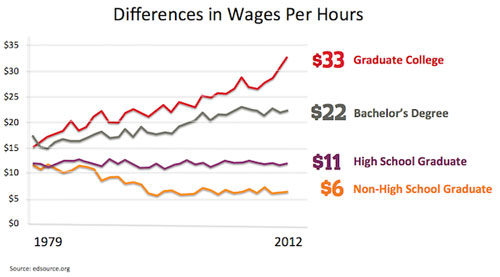 College remains, for those who graduate, the best possible investment. As the accompanying chart shows, the hourly earnings wage gap continues to widen over time between those with less education and those with more. Besides earning more money, college graduates are less likely to be unemployed, more likely to vote and report having better mental health than those with lower levels of education.
Unfortunately, an almost unfathomable number of students who make the investment in college end up dropping out – often with significant debt and no degree to show for it. And that means that they often don't have the skills or knowledge to get a job that would enable them to repay that debt.
According to the National Center for Education Statistics, 59 percent of all students who entered four-year schools in 2009 graduated within six years and only 29 percent of first-time, full-time students who entered two-year schools attained a certificate or associate's degree within three years.
Solving the math problem is key to increasing completion rates. Embracing new models for remediation and adaptive learning, like they do at Austin Community College, can also help. We also need to be better about identifying early-on in the semester those students who are at risk of dropping out. Data can help with this.
Through a new research partnership with Colorado State University, our data science team at McGraw-Hill is testing a model that uses millions of their own data points to make predictions about students in need of intervention.
Has a student not logged into the course software in over week? Have they missed three consecutive assignments? At the beginning of the semester how long did it take for them to access their digital course materials? Smart data and research-tested algorithms can help give instructors and college administrators early indications that a student is at risk of failing or dropping out. We're looking forward to seeing how the research at Colorado State goes, and continuing to help improve systems like these.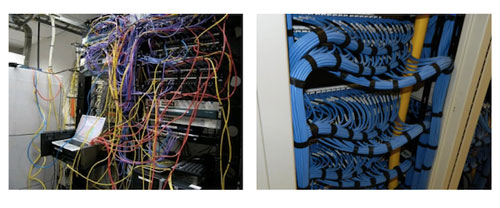 Finally, we need to address a roadblock that's impeding the effective deployment of technology in education – the lack of interoperability. And by that I mean the ability of digital tools to seamlessly integrate with one another.
While the issues around interoperability might not seem as pressing as debates about keeping learners in school or improving college and career readiness, they are very important. Around technology as a whole, interoperability standards have ushered in new eras of innovation, constructive competition and universal access . . . to say nothing of making technology easier to use.
Without a firm commitment to interoperability within the ed-tech space, all of our current investments and breakthroughs will fall short.
What seems like a simple concern of IT departments has serious implications for learning. Technologies that live within closed systems create roadblocks in students' learning pathways. Often, teachers are unable to use the technology that works best for their students because they're locked into systems they've used in the past or because the complexity of creating a seamless classroom overwhelms them.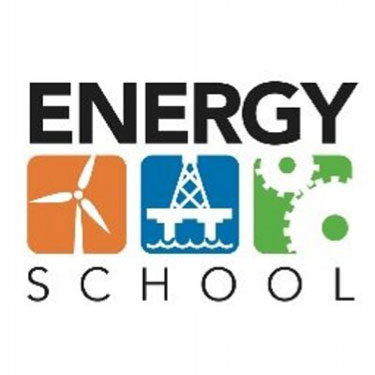 Let me give you an example. Last fall, Jillian Estrella started her fourth year as a science teacher at the Energy Institute High School in Houston. To most outsiders, this school might feel like a school of the future. There are Smart TVs in every classroom and interactive whiteboards and table tablets in the student media lounge. All course content, assignments, grades, shared documents and study tools are delivered digitally. They are accessible through a centralized online portal that the school district rolled out three years ago.
On the first day of school, students have laptops assigned to them, and through the district portal, they have instant access to dozens of resources and apps – from Khan Academy to Google Drive to McGraw-Hill. When Ms. Estrella opens her own laptop on day one, she can click into one of these apps and track what her students are doing and how they are progressing. The various digital programs interact with one another and student data flows between each one. Why? Because school leaders in Houston have focused on solving a key issue: interoperability.
Four years ago, before the Houston Independent School District began to tackle the interoperability issue, student digital learning wouldn't have been so simple and so seamless. For example, if Ms. Estrella wanted her classes to use a variety of different digital tools, she would have to input all the names and email addresses of her students – manually – and generate new usernames and passwords for each of the various programs. Then she would have to figure out a system to help students remember those login credentials.
The problem Ms. Estrella faced was that the different online tools and programs that were available to her students didn't operate together and couldn't exchange information. Districts often offer a long list of digital resources. But if the systems don't fit together and the programs can't "speak to each other," then basic information can't be exchanged, and many processes, which should happen automatically, have to be repeated manually.
The interoperability issue is becoming more and more important as the learning experience becomes more digital. In the Houston School District, they've gone a long way toward solving the problem. And Energy Institute High School is an inspiring example of how learning can be unleashed when a district's ed tech portfolio becomes less of a hodgepodge and more of an "ecosystem."
There's no doubt the educational technology industry is a competitive landscape with well-intentioned providers believing their solutions can make the biggest difference for students. But, as an industry, we need to do what we can to make it easier for schools and districts like Houston to build elegant systems.

One first step toward that is to embrace interoperability standards like IMS OneRosterTM that, when adopted by districts and companies, will allow digital tools to fit together as a system. This is how Houston did it – by requiring learning management systems and digital resource providers to adhere to OneRoster specifications.
Created by an organization called IMS Global Learning Consortium, an independent non-profit organization, IMS OneRoster is one of many standards for interoperability that the organization has promoted and that an increasing number of districts and companies are using. OneRoster provides specifications for how a district's digital systems can capture, integrate and manage student roster data –and when districts and their partners adhere to OneRoster standards, districts can seamlessly manage digital accounts.
No more manual entry of student information. Fewer hiccups. Less grit in the system. More time for teaching. Rostering. Single Sign-on.
We have agreed to make our products interoperable and standards based. By committing to a more open, collaborative future, we can accomplish our goals by putting students and educators in a better position to achieve theirs. We invite every school district and every school and college in the country to use their influence in the industry and endorse and support IMS Global.
This does not advantage any one of us. It advantages all of us.
As professionals whose chosen career path has led to education and the pursuit of the shared mission of helping unlock the potential of each learner, we commonly and rightly focus our attention on the problems we need to solve, the barriers we need to overcome to help more students succeed: Things like remedial math, outdated instructional models, poor college completion rates, interoperability.
But if you spend enough time in the trenches, as we do, you know that there are beacons of light out there -- countless individuals who everyday are changing lives.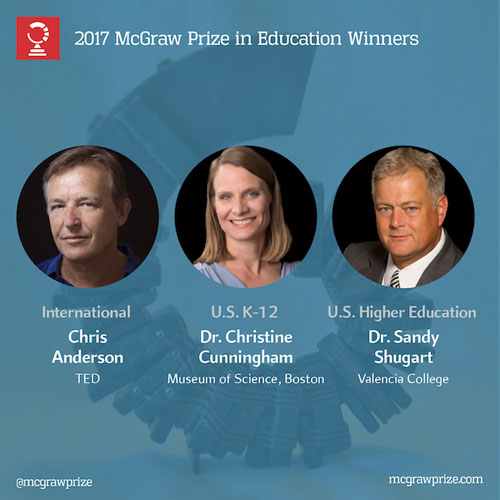 So, despite the challenges we face, I am inspired by the innovation and creativity I have seen. Super people who care deeply about helping others learn.
Every year, we identify three of inspiring leaders to receive an award called the Harold W. McGraw, Jr. Prize in Education in the hope that shining a light on incredible educators will help us all learn more about what it takes to help students succeed.
Founded in 1988, the McGraw Prize is now co-administered by McGraw-Hill and Arizona State University. Past winners of the McGraw Prize include Sal Khan, Wendy Kopp, Barbara Bush, Andreas Schleicher, Freeman Hrabowski and many more.
This year we have three outstanding winners:
Dr. Christine Cunningham, Founder and Director of Engineering is Elementary (EiE) at the Museum of Science in Boston is receiving the U.S. K-12 Education prize for pioneering a curriculum that is transforming education by introducing engineering concepts and practices at the elementary level.
Dr. Sandy Shugart, President of Valencia College, is receiving the U.S. Higher Education prize for demonstrating a stellar model of community college change that is increasing graduation rates and helping large numbers of Hispanic students succeed.
Chris Anderson, Curator of TED, the non-profit that produces TED Talks, is receiving the International Education award for providing a platform that brings ideas and inspiration to millions of learners around the world and to teachers and students in classrooms.
Winners of the McGraw Prize were chosen from among hundreds of nominations accepted from the public through the McGraw Prize website: www.McGrawPrize.com. Finalists and winners were chosen by a very distinguished group of independent jurors.
I hope you'll all join us tonight at a cocktail reception celebrating the winners of this year's Prize. Come, have a drink and be inspired. You'll also have the opportunity to hear more about their work at a panel discussion tomorrow.
Thank you very much and I look forward to meeting and talking with you tonight.