A Vision For The Future of Digital Learning Comes Into Focus at ASU+GSV
Published April 13, 2015
---
McGraw-Hill unveils updated adaptive platforms and teams-up with Microsoft and NYU to transform personalized learning
Last week at the 2015
ASU+GSV Summit
we launched an ambitious plan to accelerate the future of digital education. Through our powerful suite of interoperable learning tools, high-quality educational content, and strategic tech and academic collaborations we will empower educators to create deeply personalized experiences.
Below is a recap of our major GSV announcements and our vision to help lead the development of a thriving, open ecosystem for K-20 digital learning.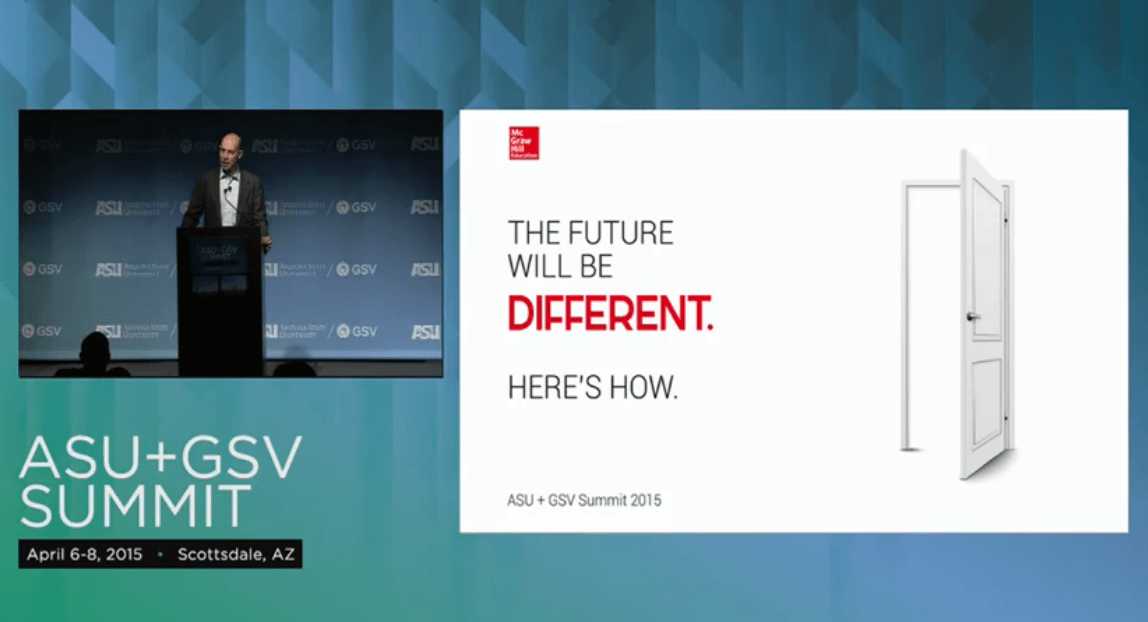 Open learning and compound learning objects – a new digital ethos:
The demand for infinitely flexible learning solutions is clear in education today. We're moving quickly to align our most powerful learning solutions with the standards of the IMS Global Learning Consortium. This will allow educators to leverage the best capabilities of our technology platforms and learning analytics tools but still have the freedom to customize solutions for their students' needs. Our Engrade and MH Campus platforms already support integration with over 40 different content and learning management systems.
The ASU+GSV website features a recording of David Levin's full presentation: The Future Will Be Different. Here's How.
Microsoft Office Mix and compound learning objects – integrated technology delivery:
Today's teachers want to be able to experiment and customize the learning experience by sourcing and customizing content. Our new collaboration with Microsoft and their Office Mix technology will let educators create "compound learning objects" – media-rich learning modules created that can be delivered across multiple platforms. By having access to an ever-growing library of high quality and academically reliable chunks of content, instructors will be able to create and deploy robust curricula more nimbly and efficiently.
New York University – exploring adaptive possibilities:
Although adaptive learning technology has been around for several years in many variations, its true potential has yet to be realized. We're embarking on an ongoing collaboration with the Polytechnic School of Engineering at New York University to delve into the learning science that drives the adaptive education experience. Understanding how learning happens and how students interact with compound learning objects in digital environments will provide invaluable insight to help our new technologies and produce superior outcomes.
Connect Master and ALEKS – evolutionary personalized learning tools:
Our new Connect Master platform and revamped ALEKS adaptive learning technologies have made our proven adaptive learning tools even more accessible, efficient, and effective across K-20. The new Connect Master student experience provides real-time feedback at every step of the problem solving process to build confidence and understanding. Both Connect and ALEKS have been completely re-engineered and redesigned for seamless access on mobile devices to accommodate today's mobile-savvy students.
The Harold W. McGraw Jr. Prize in Education – a new home at ASU+GSV:
The Harold W. McGraw, Jr. Prize in Education annually recognizes outstanding individuals who have dedicated themselves to improving education and whose accomplishments are making a difference today. Past award winners include Khan Academy founder Sal Khan, former first lady Barbara Bush, and Teach for America president Wendy Kopp. During one of the ASU+GSV keynotes our CEO David Levin announced that the Prize in Education will be awarded live during each year's Summit.
To hear David Levin announce the future of the H.W. McGraw, Jr. Prize in Education, click here.
The future of digital education is brimming with possibilities, and we now have the right strategy, collaborators, and tools to transform personalized learning in a modern, accessible, and open digital environment!
Below are some of the top social media highlights of our announcements from ASU+GSV.
---
A New Vision for Personalized Ed-Tech Revealed at ASU+GSV
At the 2015 ASU+GSV Summit we announced an ambitious plan to accelerate the future of digital education through open learning collaborations with Microsoft and NYU. We also launched Connect Master with real-time feedback and recently updated our ALEKS adaptive learning platform.