Smart Career Advice for New IT Professionals
Published November 6, 2014
---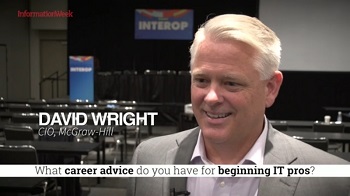 In a recent interview with Laurianne McLaughlin of InfomationWeek, McGraw-Hill CIO David Wright offered some helpful advice for recent college graduates and IT professionals seeking careers in education and informational technology.
Among several job-hunting tips, he makes the following recommendations for new IT professionals:
Make sure you have an anchor that goes deep in one discipline.
Understand you are managing your career; don't let your career manage you.
In a related article about the IT talent shortage, Wright spoke to the need for today's IT candidates and coders to have deep experience in a focused area. At companies at the convergence of IT and edtech like McGraw-Hill, "We're looking for people who are just really deep in whatever discipline we're trying to hire." said Wright.
Watch the complete commentary on InformationWeek here: McGraw-Hill CIO: IT Career Tips For Beginners - InformationWeek.
Also see the InformationWeek article, 9 IT Job Hunt Tips for Beginners for advice from David and 8 other information technology professionals.