Expert Advice for New Job Seekers and Workforce Professionals
Published March 29, 2017
---
#MHECareers chat panelists share their favorite tips for resume writing, job hunting, interviewing and more!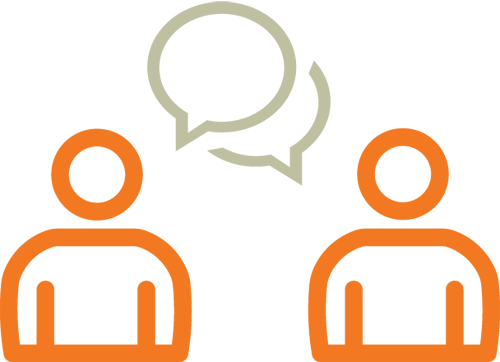 While no two career paths are exactly the same, every member of the workforce makes important decisions on how to begin, further and continuously develop their careers.
On the employer side, today's hiring managers and recruiting teams can benefit by maintaining a fresh perspective on how to attract, engage and retain top talent. With this in mind, the Careers team at McGraw-Hill hosts monthly #MHECareers Twitter chats with panels of some of the leading career advice authors and employment organizations. Some noteworthy panelists include Monster, Hire Purpose, The Muse, Hannah Morgan and CareerArc.
Over the past year, our #MHECareers chats have covered topics including workplace culture, the value of digital skills and the importance of continuous professional learning.
This spring and summer, millions of new college graduates will transition into the U.S. workforce. We've combed through our recent #MHECareers chats and picked out some of the tops tips for recent graduates and new job seekers. Visit our Careers website to see if we have the right learning science job opportunity for you to put these ideas into action!
Top career & job hunting tips for new graduates from #MHECareers chats:
Resumes | Networking | Interviewing | Professional Learning
---
Resume & Cover Letter Writing
A4: Tailor your resume by addressing as many specific job skills as possible! Not the generic junk in descriptions. #mhecareers

— Hannah Morgan (@careersherpa) February 10, 2016
A1: A great resume tells a story. Highlights the best part of your history and education to explain why you're a good candidate. #MHECareers

— Amanda Augustine (@JobSearchAmanda) March 22, 2017
Your resume should include what is relevant to the role/industry, not what is relevant to you. #MHECareers

— SpanglishView (@SpanglishView) March 22, 2017
A1: Always follow the application instructions. Cover letter may be optional, but if submitted, it better be darn well crafted! #mhecareers

— Hannah Morgan (@careersherpa) February 10, 2016
"To whom it may concern" on a Cover Letter gets the "who vs whom" rule correct, but the job search rules HORRIBLY wrong! #mhecareers

— Chaim Shapiro (@ChaimShapiro) February 10, 2016
#MHECareers A6 (1): The little details! Many hiring managers will throw out a #resume immediately upon catching a grammar/typing error.

— Lezlie Garr, CPRW (@ProProgressions) March 22, 2017
A3. LinkedIn profile allows you to get a bit more creative than a cut-and-dry resume, more personality: https://t.co/RLyNXLsTEF #mhecareers

— Amanda Augustine (@JobSearchAmanda) March 22, 2017
Final thoughts: Know your resume, translate your skills, tell your story. #MHECareers

— Hirepurpose (@HirepurposeJobs) November 9, 2015
Professional Networking
@MHECareers A5: Stay up to date. Follow people you admire. Have a professional group of peers who hold you accountable.... #MHECareers

— Her Agenda (@HerAgenda) July 13, 2016
@MHECareers A3a. Body language is important. People will believe your body before they believe your words. #MHECareers

— Barbara Pachter (@BarbaraPachter) October 7, 2015
A2: Take part in discussions, post relevant content, start & maintain a blog – keep a consistent #SM presence. #MHECareers

— We are Social Media (@WeRSM) October 27, 2016
A1: 90% of employers recruit via social media. 75% check candidate profiles. Critical to control your own brand. #mhecareers

— Career Karma (@resumekarma) October 27, 2016
@MHECareers A4(2): You can also seek a mentor, or join the local chapter of a professional organization to attend meetings and network.

— Lezlie Garr, CPRW (@ProProgressions) January 25, 2017
A5: Remember networking is a two-way street. Seek first how you can help them before trying to figure out how they can help you. #MHECareers

— Romina Rivera (@Romina_Rivera) December 21, 2016
A5: More than 60% of jobs are acquired today through active networking and interfacing with companies and key employees. #MHEcareers #job

— Wendi Weiner (@writing_guru) December 21, 2016
Interviewing
@MHECareers A1a. Have a planned & practiced self-intro. Keep it short, but provide enough info to help start the conversation. #MHECareers

— Barbara Pachter (@BarbaraPachter) October 7, 2015
Q6: Social media gives you great insights into specific companies. Use it to do your research before an interview. #MHECareers

— CommunicateToThrive (@CommToThrive) May 25, 2016
3 of 4 What you say during the 1st interview phase or 2 min hallway interview may make a big difference in the outcome, good/bad #mhecareers

— Yellow Ribbon (@DoDYRRP) November 9, 2015
A7. Bring >1 copy of your printed resume. At least one for you to refer to, and another couple for your interviewers. #MHECareers

— Amanda Augustine (@JobSearchAmanda) March 22, 2017
A6: Prior to interview, research company's website to see if they support #diversity then ask a How or Why question. 1/2 #mhecareers

— Daisy Wright (@CareerTips2Go) February 22, 2017
Make sure you understand the numbers on your resume! Think ahead to interview! #mhecareers A7 https://t.co/Ym5qC3xkeh

— Jackie Yun (@JackieYunTweets) February 10, 2016
@MHECareers Q4a. Your clothing can enhance your professional reputation or detract from your credibility. #MHECareers

— Barbara Pachter (@BarbaraPachter) October 7, 2015
Professional Learning & Development
A1: People are staying in the workforce longer and holding more #jobs over their lifetimes, increasing need for new skills. 1/2 #MHECareers

— Harvard Extension (@HarvardEXT) August 17, 2016
A4: #Job promotions are more likely when higher #education is used to demonstrate commitment to advancing skills & knowledge. #MHECareers

— Wendi Weiner (@writing_guru) August 17, 2016
A5 #MHECareers Consult with your employer to see if there are sponsorship programs for education. (1/2)

— TRU, Open Learning (@TRUOpenLearning) August 17, 2016
A4: Online degrees have similar payoffs to degrees earned on site and work especially well for middle-aged adults. #MHECareers

— Georgetown CEW (@GeorgetownCEW) August 17, 2016
@MHECareers A5 #MHECareers Ask for challenging projects! The best way to develop is where you have to really research the solution.

— Monster (@Monster) July 13, 2016
A6: Bring in outside #speakers on topics important to employees, divisions, departments #mhecareers #midcareer #professionaldevelopment

— Meghan Godorov (@MeghanGodorov) January 25, 2017
A7: Learning doesn't always have to mean #highered. Lifelong learning means expanding your skills—from tap dancing to cooking! #MHECareers

— Harvard Extension (@HarvardEXT) August 17, 2016