Ten Things You Probably Don't Know About College Students' Tech Habits
Published December 21, 2017
---
New research highlights college students' perspectives on learning technology.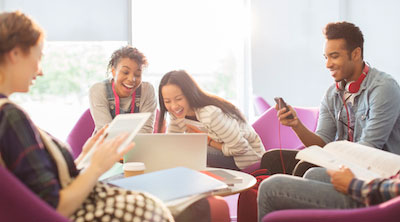 From smartphones to social media to adaptive digital course materials, technology is embedded throughout the daily lives of college students. But what do they really think about the role and presence of technology in their educational experience?
In our latest higher education survey, we asked 1,000+ college students a series of questions about everything from the devices they own and use to how technology impacts their study habits and academic preferences. Learn about some of the key results of our 2017 Digital Study Trends Survey by taking this short interactive quiz, or visit www.mheducation.com/studytrends to download the full report (.pdf) for free.
At McGraw-Hill, we believe having a deep understanding of how students learn best is essential. A growing body of learning science research points to the positive effects learning technologies can have on student performance. Today, innovations like adaptive learning and artificial intelligence are changing everything from in-class instruction to how homework assignments are completed.
Learn how we're creating compelling digital learning experiences and teaching tools to meet the needs of today's college students and educators at: https://www.mheducation.com/highered.