Study abroad without a passport: Introducing Practice Spanish game for higher education
Published March 3, 2014
---
With more than 650,000 students taking introductory Spanish each year, it is the largest world language course taught at American universities. Yet, many students don't have the opportunity to put their newly acquired language skills to the test in an authentic environment. In foreign language education, conversation and cultural awareness are key to learning, but for many, it may not be possible to travel abroad to solidify their language skills.
Enter Practice Spanish: Study Abroad, a new educational game for introductory Spanish launched at SXSWedu building on McGraw-Hill's serious gaming portfolio. Practice Spanish provides college students with a virtual and immersive "study abroad" experience while enabling them to practice Spanish vocabulary, grammar, reading, and conversation skills. In the personalized "choose your own adventure" structure, the program adapts to each student based on their choices and progress as they move through the game.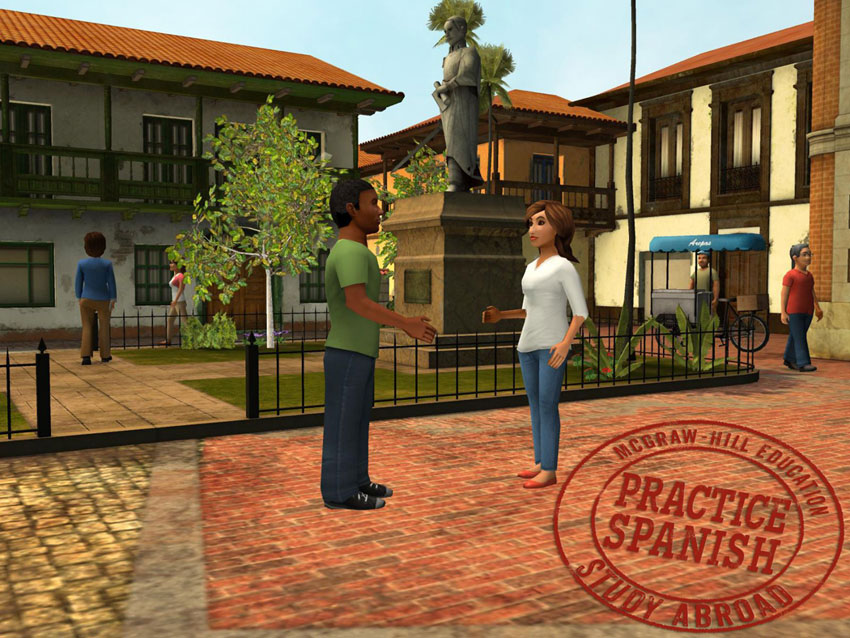 As an American student studying abroad in Colombia, every student has a unique experience playing Practice Spanish based on their knowledge of the language and choices within the game. Each module begins with a series of mini-games where students have to prove mastery of concept. Next, students begin a quest where they are taken through a series of real-life scenarios and must use their knowledge of the language and conversational skills to reach a common goal. In a fictional Colombian town reminiscent of Bogota, students solve problems, communicate, and navigate through a variety of cultural scenarios and adventures to earn points and rewards on smartphones, tablets, and computers.