Practice Spanish: Study Abroad - A New Immersive Digital Environment for Language Learning
Published December 1, 2014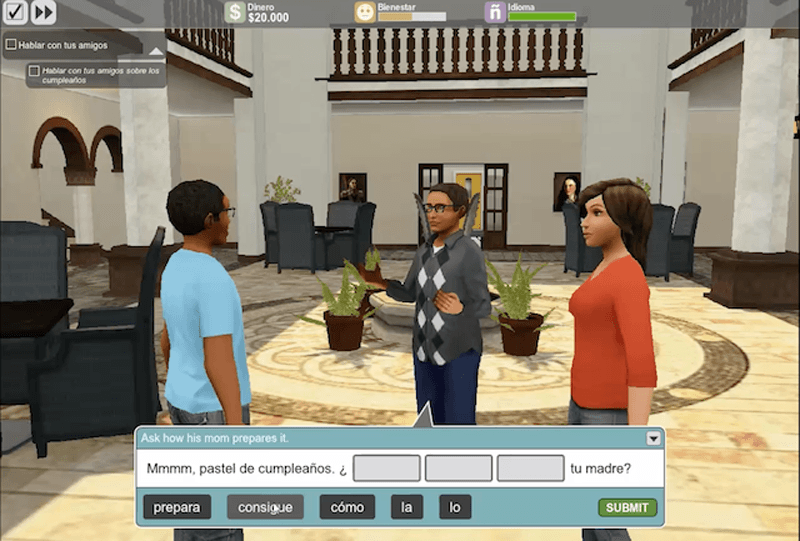 Now Available: A Unique Game-Based Experience Designed to Accelerate Spanish Language Skills
More than ever, today's digital learning resources need to move beyond static, skill and drill practice activities presented in a vacuum, to hands-on, immersive, learn-by-doing, visual interactions with new concepts to build meaningful, real-world applicable skills. Already today doctors, pilots, and engineers are being trained using immersive, 3-D virtual reality environments. Recent studies have shown that up to 75% of today's students are classified as "non-traditional", meaning they often are part-time learners, working parents, and/or commuters. Education is no longer exclusive to private and public institutions of higher learning, and there is no 'one-size-fits-all" solution to teaching and learning.
In partnership with the award-winning video game developer Muzzy Lane Software, McGraw-Hill has created Practice Spanish: Study Abroad - the market's first immersive 3-D language game. Practice Spanish: Study Abroad can be used in all introductory Spanish classrooms or as an independent practice tool for students interested in putting their developing language skills to the test. Students can "travel" virtually to Colombia, where they will problem solve, communicate, and navigate through a variety of cultural scenarios and adventures as they "study abroad" in a fictional Spanish-speaking town. Learners can access the all-digital learning system on smartphones, tablets, or computers. Watch the full program video trailer here.
Just as every student's learning process is an individual one, each Practice Spanish: Study Abroad student experience is unique. Students are asked to make individualized choices that will lead to differing paths and experiences as they accomplish learning tasks. New challenges, opportunities, and experiences are uncovered all while strengthening and expanding Spanish language skills. A wide variety of pre-task 'mini-games' are tailored to individual learners and must be mastered in order to "unlock" the full virtual experience, ensuring that all players demonstrate a degree of core competencies before playing each Quest.
In a classroom environment, game play (and the learning that takes place as part of it) can be assigned and closely monitored by instructors, with an eye toward specific skill development. And with "Self Study Mode", learners can access and play the game without being enrolled in a traditional campus language course. By playing in "Self Study Mode", anyone interested in developing their Spanish language skills can learn and practice without being enrolled in an Introductory Spanish course.
Practice Spanish: Study Abroad can be accessed online from any computer or via mobile apps in iTunes and Google Play. To learn more about this program or McGraw-Hill's other award-winning Practice products, try out the Practice Spanish: Study Abroad demo or visit www.mhpractice.com‌.