4 Authentic Game-Based College Learning Experiences
Published March 30, 2015
---
Gamified learning environments are increasingly common in college and trade school courses, and for decades now there has been a steadily growing body of
research
evidence supporting the potential of digital games in education. In addition to game-based learning (GBL) boosting engagement and accelerating the development of 21st century skills, it can also provide deep and enriching experiences that give students the practical real-world experience they need to be career-ready.
Here's a look at four of the countless authentic learning experiences available in our Practice Series of 3D games for college courseware:
1) Compete against classmates and the computer to heighten engagement and expand creativity. Practice Marketing simulates real-world marketing and sales scenarios and automatically tracks, evaluates, and compares class-wide student performance. Fully integrated into the Connect learning platform, Practice Marketing uses realistic purposeful play to generate course evaluation data while furthering student understanding of course content.
2) Collaborate & strategize against the computer, students, or even instructors to develop critical and strategic thinking skills. Government in Action lets students and instructors assume roles and interact in a simulated government. Students can gain first-hand knowledge of budgeting, ethics, and the impact of political decision making. Government in Action has even been called the "House of Cards of video games" by Forbes magazine.
3) Take an interactive 3D virtual tour of a foreign country for an immersive language learning experience. In Practice Spanish: Study Abroad students experience daily life in a fictional Colombian town complete with countless encounters with locals. A series of Quests take student avatars through unique learning scenarios to expand specialized vocabulary and provide differentiated practice opportunities.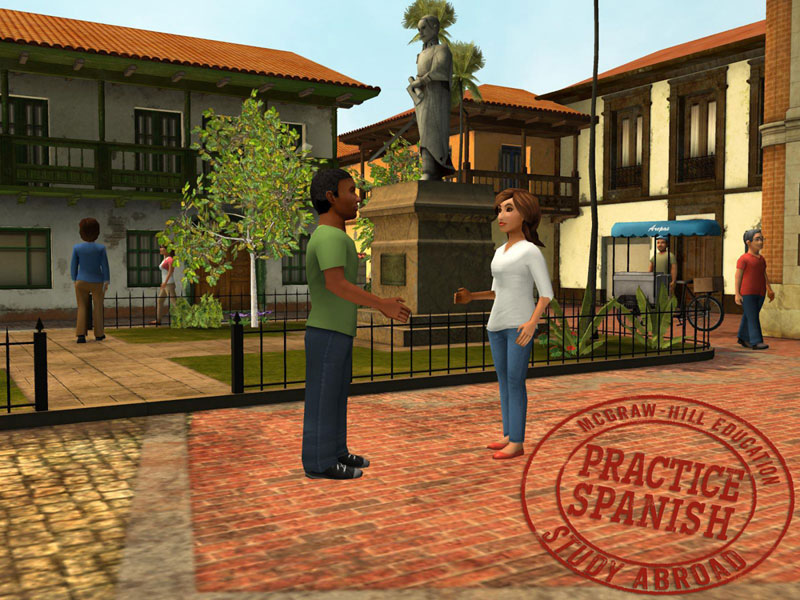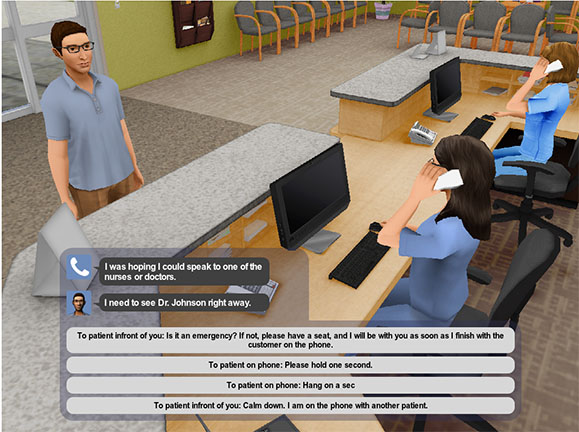 4) Practice and develop professional 'soft skills' in a realistic learning environment. In Practice Medical Office students interact with patients and clinical staff while assuming the role of a medical assistant. Realistic scenarios involving patients and staff require students to demonstrate their professionalism and knowledge of privacy and liability regulation in addition to understanding of office procedures and general medical information.