How a 74-year-old "typical" college student is finding her path to a new career
Published April 12, 2017
---
Technology-driven learning methods can make a quality college education accessible for all learners.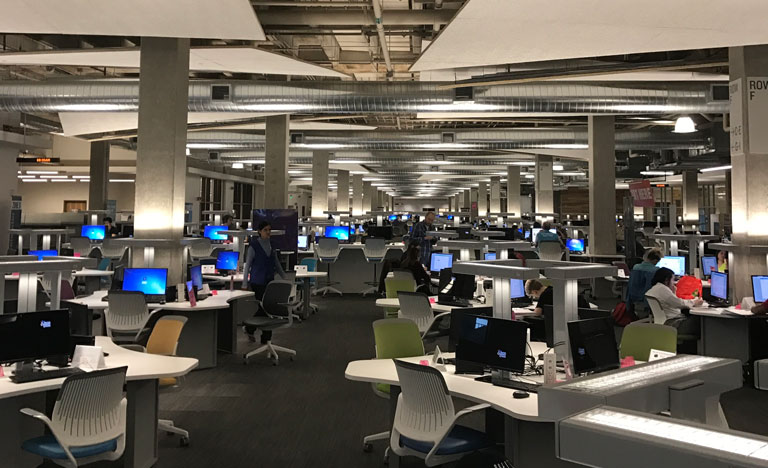 Earlier this month, I met a 74-year-old woman named Martha Ben Harrison who was looking to start a new career.
I was touring Austin (TX) Community College's stunning ACCelerator lab, a football field-sized computer lab housed inside a former JC Penney, when we met.
The 32,000 square feet of learning space at the ACCelerator is used for many purposes, one of which is for developmental math courses for students who need remedial support before taking college level mathematics. Martha Ben was one of those students, perched at a computer station working through math problems on our ALEKS software, which the college uses to give students individualized support and instruction targeted to their unique learning needs. Her plan is to start a new career in real estate, but before she can get her real estate license, she needs to refine her math skills and then take a college level math course.
When you picture a "typical" college student in your mind, I would bet the person you imagine isn't a whip-smart, no-nonsense 74-year-old with a Texas twang. But perhaps it should be.
According to federal education data, the so-called "traditional" student (any student enrolled full time and between the ages of 18 and 22) is now in the minority.
Martha Ben's story is actually quite typical (though still inspiring to me): an adult looking to change careers, enrolled part time at a college near her home, and in need of support in academic areas that are unique to her. A "traditional" college experience just wouldn't work for her – and fortunately, the ACCelerator is anything but traditional. Students work independently on the adaptive ALEKS software, with instructors able to see in real time when students are hitting learning roadblocks and in need of one-on-one support.
Martha Ben can work at her own pace, and isn't beholden to the collective instructional cadence of a 30-student classroom. And so far it's working for her.
She's on track to finish her remedial course this spring and plans to register for the college-level math course this summer.
The ACCelerator is working for students in a variety of disciplines. The facility opened in Fall 2014, and already between 17,000 and 18,000 students visit each month. They come to work on math, writing, research, computer graphics and more. The college has seen impressive improvements from developmental math students who work in the ACCelerator. Of the ACCelerator students who completed the entire developmental math content in one semester, 77% went on to pass College Algebra the following semester with over half of those students earning an A. This shows remarkable improvement compared to the overall 48% pass rate in College Algebra at the college.
Other students, like Martha Ben, need more time to finish the content, and the ACCelerator gives them the opportunity to persist at a slower pace without feeling ostracized. Math faculty member and ALEKS Administrator Anne Praderas Vance said much the same thing: "Teaching developmental math in the ACCelerator gives us the flexibility we need to customize content and meet students' needs. Our students are finishing remedial math more efficiently and better prepared to achieve their educational goals."
As we look to create learning solutions and experiences that can unlock the full potential of all learners, we must remember that "all learners" is a collection of millions of individuals – each with her own story, her own plan and her own path to success.
This post originally appeared on LinkedIn Pulse on March 30, 2017 and can also be viewed here.