#thankmyteacher Campaign Celebrates Great Educators
Published January 30, 2017
---
Help recognize teachers who made a difference in your life and support projects that inspire learning in today's classrooms.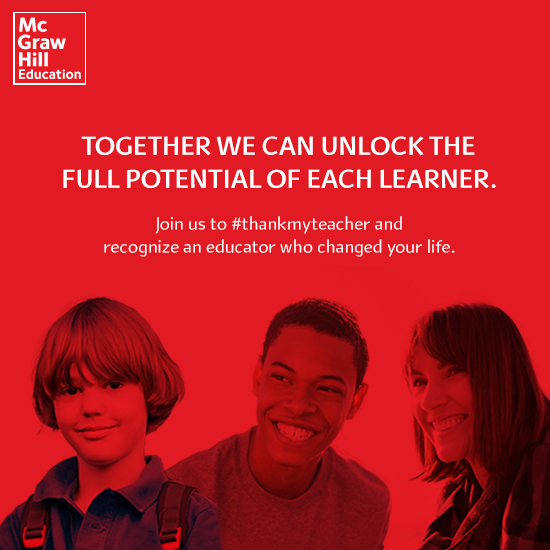 We all remember our favorite teachers – the ones who challenged us, inspired us or gave us the boost of confidence we needed to believe in our abilities. Great educators create impactful learning experiences that stick with students throughout their lives.
At this year's SXSWedu Conference & Festival we're launching our #thankmyteacher campaign to show appreciation for the teachers who have inspired us and created the 'a-ha' moments we'll always remember. The campaign runs from 9:00AM CT on March 6 until 9:00PM CT on March 10, 2017.
To enter the online #thankmyteacher sweepstakes just follow @mheducation on Twitter and tweet a "thank you" to a wonderful teacher using the hashtag #thankmyteacher.
Show your gratitude for an educator that you'll never forget and you could win a chance to pay-it-forward to a teacher in-need today! During the #thankmyteacher sweepstakes we'll randomly select winners to receive $100 gift cards that can be used to support classroom project ideas on DonorsChoose.org (full rules & conditions below). Donors Choose helps teachers get funding for the materials and items needed for classroom projects through online donations.
At McGraw-Hill we believe that teachers are the most valuable learning resource in any classroom, and their impact extends far beyond school walls. Enter #thankmyteacher to show appreciation for a memorable teacher in your life and you could get a chance to support a teacher who's creating a-ha moments for students today.
---
MCGRAW-HILL #thankmyteacher Sweepstakes Official Rules
You must agree to these Official Rules in order to enter the sweepstakes.
No Purchase Necessary: NO PURCHASE OR PAYMENT OF ANY MONEY IS NECESSARY TO ENTER. PURCHASE WILL NOT IMPROVE THE CHANCES OF WINNING. All federal, state and/or local rules and regulations apply. Void where prohibited by law.

Eligibility: Must be at least 18 years old and a U.S resident to enter. Employees of McGraw-Hill Global Education LLC, ("MHE") and its parent and affiliate entities (collectively, "Sponsors") are not eligible.

To Enter: Live sweepstakes entries must be submitted in room 406 of the Hilton Austin in Austin, TX between 9:00 A.M. (CT) on Monday, March 6 and 7:30 P.M. (CT) on Thursday, March 9, 2017. Entries must be filled out completely. Online sweepstakes entries may be submitted by following @mheducation on Twitter and posting a tweet using the hashtag [#thankmyteacher] between 8AM (CT) and March 6 and 9PM (CT) on March 10, 2017. Limitation: Only one entry per person for each entry method during the applicable entry period.

Prize (s): Prizes are twenty (20) $100 Donors Choose gift cards to be applied for Donors Choose projects.

Prize Conditions: Prizes are supplied by McGraw-Hill through DonorsChoose.org. Prize is non-assignable and nontransferable by Winner. Limit of one prize per winner, including both Live and Online sweepstakes. No substitutions by winner allowed. Prize is subject to availability and McGraw-Hill reserves the right to substitute a prize of equal or greater value. Winner is solely responsible for reporting and payment of any taxes on prizes and is solely responsible for any other incidentals in connection with the prize.

Selection of Winners: Five (5) live sweepstakes winners will be randomly selected at approximately 9:00PM CT on each of March 6, 7 and 9. Five (5) online sweepstakes winners will be drawn at random on March 11, 2017 at approximately 9:00AM CT. Both live and online winners must provide McGraw-Hill with a valid mailing address so that gift cards can be emailed.

Odds: Odds of winning will depend upon number of eligible entries received.

Winner Notification and Acceptance: Live contest winners will be announced live and also notified using the email address and/or phone number provided on winner's entry form. Online contest winners will be notified by direct message to their Twitter profile. Failure to reach winner within one week of notification may result in disqualification of winner, forfeiture of his or her interest in the prize. Winner may be required to complete an affidavit of eligibility/liability and publicity release (except where prohibited by law) which must be returned within ten (10) days of receipt. Failure to sign and return a requested affidavit or release within this time period, or to comply with any term or condition of these Official Rules will result in a winner's disqualification, the forfeiture of his or her interest in the prize, and the award of the prize to a substitute winner. Except where prohibited, acceptance of any prize constitutes winner's consent to the publication of his or her name, biographical information and likeness in any media for any commercial or promotional purpose, without further compensation.

Participation: By participating, entrants agree to be bound by these Official Rules and the decisions of McGraw-Hill. McGraw-Hill reserves the right to disqualify persons found tampering with or otherwise abusing any aspect of this contest as solely determined by McGraw-Hill. In the event the contest is compromised by a virus, non-authorized human intervention, tampering or other causes beyond the reasonable control of Sponsor which corrupts or impairs the administration, security, fairness or proper operation of the contest, McGraw-Hill reserves the right in its sole discretion to suspend, modify or terminate the contest in whole or in part. Should the contest be terminated prior to the stated expiration date, Sponsor reserves the right to award a prize based on the entries received before the termination date. Entry in the contest and acceptance of any prize award is subject to the policy of the entrant's employer regarding participation in, and accepting prizes in, promotions.

Construction: The invalidity or unenforceability of any provision of these rules shall not affect the validity or enforceability of any other provision. In the event that any such provision is determined to be invalid or otherwise unenforceable, these rules shall be construed in accordance with their terms as if the invalid or unenforceable provision was not contained therein. The decisions of Sponsors regarding the selection of winners and all other aspects of the contest shall be final and binding in all respects. Sponsors will not be responsible for typographical, printing or other inadvertent errors in these Official Rules or in other materials relating to the contest.

Disqualification: In the event that any winner fails to claim his or her prize within two (2) weeks of notification, or fails to meet the eligibility requirements or is otherwise disqualified, the unawarded prize will be awarded to an alternate winner selected at random from remaining entries.

Miscellaneous: All entries become the sole property of McGraw-Hill and none will be returned. Winner may be required to give McGraw-Hill his/her social security number, legal name, age, current address, and phone number for tax record keeping purposes only.

Privacy: McGraw-Hill respects your privacy. We use your contact information to provide you with information regarding MHE's and its affiliates' products and services, to fulfill your requests, and to service your account. Your information is located in a secure database in the U.S. and access is limited to authorized persons. For further details around our privacy policy, you can visit our Privacy Center on mheducation.com at http://www.mheducation.com/privacy If you wish to opt-out, review your data, or have a question around how we collect and use your information, you can contact our Chief Privacy Officer by emailing privacy@mheducation.com, or by sending your information and/or question via postal mail to 2 Penn Plaza, 20th Floor, New York, NY 10121.

Winner's List: For the winner list, send a self-addressed, stamped envelope, after Thursday, March 17, 2017 to McGraw-Hill SXSWedu 2017 Sweepstakes, c/o Jo Craig, Two Penn Plaza, 20th floor, New York, NY 10121.
This contest is in no way sponsored, endorsed or administered by, or associated with, DonorsChoose.org.