Ten Conversations Worth Having About the Future of Learning & Education
Published August 10, 2017
---
Help set the agenda for SXSW EDU in 2018 by voting in the Panel Picker by August 25, 2017.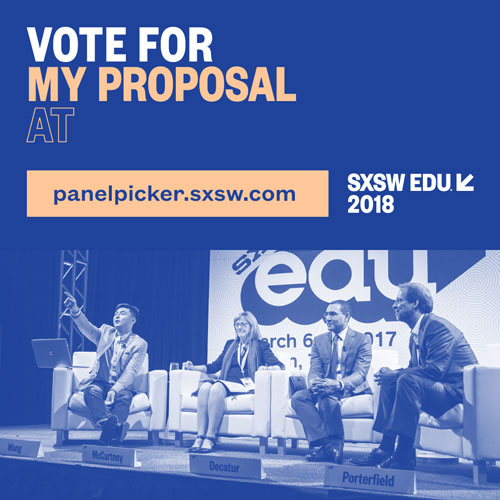 It's that time of the year once again when the SXSW EDU team opens the annual Panel Picker for attendees, speakers, and fans to help determine the session lineup for one of the world's most exciting education festivals!
We've reached out to some of the leading thinkers in school, collegiate, and professional learning to propose several engaging panels for SXSW EDU 2018. These ideas address some of the most urgent issues and innovative concepts in the education world today.
Remember to register & vote in the SXSW EDU 2018 Panel Picker no later than August 25th, 2017. You can learn about our Panel Picker submissions & guest speakers and vote using the links below.
PreK-12 Education
Teaching the First Majority-Minority Generation
As our nation's schools move toward a minority majority in public schools, topics regarding linguistic and cultural identities must be addressed. Our panel will discuss important questions in this growing topic such as preparing teachers to support ELs in the classroom and ways to close the achievement gap between non-EL and EL students.
Panelists:
Dr. Jane Echevarria, Professor Emerita at Cal State – Long Beach
Margarita Pinkos, Executive Director of the Multicultural Education Department, Palm Beach County Public Schools
Moderated by Dwight Jones, VP of National Urban Markets, McGraw-Hill (McGraw-Hill)
Architecting Future Ready Digital Schools
An effective digital transformation requires thoughtful planning, centered around concrete learning objectives. This panel will focus on creating a shared mission and vision about digital transformation in school with administrators, teachers, and community members.
Panelists:
Tom Murray, Director of Innovation, Future Ready Schools
Brianna Hodges, Director of Digital Learning, Stephenville ISD
Moderated by Lisa Carmona, Chief Product Officer of McGraw-Hill School
Community Partnerships That Break Barriers
Equity and access in urban education systems requires assistance from community members to parents to administrators. This panel will demonstrate new ways for urban school districts to partner with their community to benefit both students and the community.
Panelists:
Mark Bedell, Superintendent, Kansas City Public Schools
Traci Davis, Superintendent, Washoe County School District
Donna C. Bryant, President, B2B Strategic Solutions, Inc.
Ardena White, National Director of Strategic Accounts for McGraw-Hill School
Gifted 2.0: Can Every Student Become Advanced?
Although commonly believed that certain children are born geniuses while others are not, new research on personalized learning says otherwise. This panel discusses new instructional approaches that can help all students become "advanced learners" and achieve their full potential.
Panelists:
Pedro Noguera, Professor, Graduate School of Education and Informational Sciences, UCLA
Jonathan Plucker, Professor of Talent Development, Johns Hopkins University
Matthew Mugo Fields, Founder of GiftedandTalented.com and head of McGraw-Hill Consumer Group
Closing the Digital Gap in Urban Districts
Although the use of internet has become more accessible in today's schools, urban districts have a difficult time keeping up due to lack of funding and unequal device distribution amongst these schools. Panelists will discuss issues in urban school districts at length and provide potential solutions for schools to close the digital divide.
Panelists:
Pedro Martinez, Superintendent, San Antonio ISD
Bill Hite, Superintendent, School District of Philadelphia
Michael Hinojosa, Superintendent, Dallas ISD
Dwight Jones, VP of National Urban Markets, McGraw-Hill
Higher Education
Big Ideas on Solving the College Completion Problem
While graduation rates at two-year and four-year American universities are drastically low, most jobs require employees to have obtained a college degree. Panelists will provide potential solutions for this dilemma by approaching college completion from different perceptions.
Panelists:
Ethan Fletcher, Managing Director, Ideas42
Jane Dowling, KIPP Through College
Mark Dorman, President of McGraw-Hill Higher Ed, Professional & International
The Future Workforce: Are Students Prepared?
Due to the integration of technology in today's economy, about 65 percent of children now entering grade school will eventually work in jobs that do not currently exist. Institutions must rethink how to prepare children for the future workforce. This panel will tackle issues like credentialing, re-training, partnerships with business, and more.
Panelists:
Mary Argall, Student, University of Houston
Robert Duvic, Finance Professor, UT – Austin, McCombs School of Business
Brent Parton, Deputy Director, Center for Education and Skills, New America Foundation
Mark Dorman, President of McGraw-Hill Higher Ed, Professional & International
AI: Learning Game-Changer or Something to Fear
Artificial intelligence is making way to education, but many people are unsure how its integration into the education system can be beneficial. This panel looks at the issues we all must consider as this technology matures.
Panelists:
Lou Pugliese, Senior Innovation Fellow, Arizona State University
Scott Jaschik, Editor of Inside Higher Ed
Stephen Laster, Chief Digital Officer of McGraw-Hill
Business & Professional Learning
AI: Driving Employee Engagement & Efficiency
Concerns arise as artificial intelligence and automation begins to take over many human occupational tasks – but it doesn't have to be something to fear. This panel looks at issues to consider as this technology matures.
Panelists:
Jeanne Meister, Founding Partner, Future Workplace
Kevin Mulcahy, Partner, Future Workplace
Tal Goldhamer, Partner and Chief Learning Officer, EY
Zach Posner, SVP of McGraw-Hill Learning Science Platform Group
Targeted Healthcare Ed: A Road to the Middle Class
The traditional college experience causes students in disadvantageous circumstances to believe they are unable to receive a college education. New approaches to obtaining a college degree show otherwise. This panel explores how innovation in healthcare college education can change the economic trajectory of socioeconomically disadvantaged families caught in the skills gap. This session was faculty-submitted and is not sponsored by McGraw-Hill.
Panelists:
Ann Eady, Director of Academic Affairs, The College of Health Care Professions
Veronica Stidvent, President, CEA Consulting LLC
Marty Lange, VP of Product Management, McGraw-Hill
Erik Bing, CEO of The College of Health Care Professionals
Thank you for voting in this year's Panel Picker. We hope to see you in Austin next spring!